Over the week Bitcoin loses value causing altcoin to dip even further.
Market Breakdown
Currently trading fractionally below $42k, premier cryptocurrency Bitcoin has lost its value by 9.8% over the week as the coin went down by 2.5% during the last 24-hours only. However, Bitcoin is still up by 6% in the 30-days period, indicating that the coin has not yet lost all of the monthly gains.
During the third week of March Bitcoin was trading around $44k, before, on March 28  it hit an Year-to-Date high of $48,086. The coin continued to trade above the $45k price mark until April 6. Later that day Bitcoin started a downward rally and dipped down below $42k a few hours before. That is the lowest level Bitcoin has hit since March 23.
This recent price action has shattered people's confidence in the market as Bitcoin fear and greed index stands currently below 30, representing a fear Sentiment.
Consequently, all the major cryptocurrencies are at the moment in a red zone. While LUNA has emerged as the biggest loser, BNB has lost the least.
XRP Technical Analysis
In the meanwhile, Ripple's XRP lost its value by 13.6% over the week. Leading the coin to currently trade at $0.71, the lowest price level since March 7.
Similar to Bitcoin, XRP hit an Year-to-Date of $0.91, on March 28. The coin continued to trade above $0.80 until April 6, but later, following the course Bitcoin took, XRP dipped down below $0.80. Now, currently trading at $0.71 XRP is down 5.5% in the past 24-hours.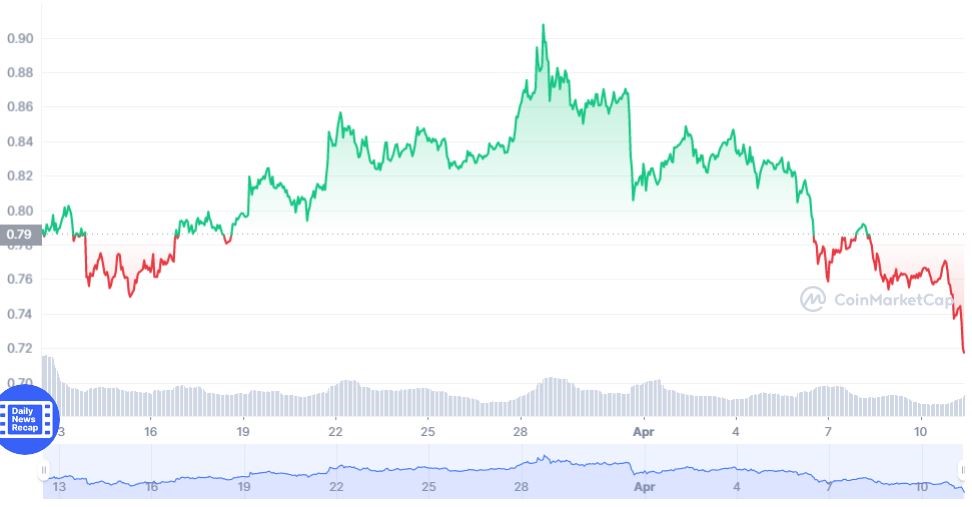 As for the technical analysis XRP is clearly trading below 4-hours-55 simple moving average as there is a key bearish trend line forming with resistance near $0.7920 on the 4-hours chart of the XRP/USD pair. If the coin continued to trade with the same trajectory and breakdown below $0.70, the next stop would be at $0.67. Whereas, on the upside XRP now has a resistance at $0.74, if broken above, the coin could go as high as $0.79 before facing the next resistance.