Non-fungible tokens (NFTs) have proven to be viable investments. These assets sell units worth billions of dollars across multiple collections, and investor demand for them continues to rise. Investors looking to capitalise on the NFT mania can do so by buying some of the best NFT coins.
Below, we'll explore some of the NFT coins with massive potential for growth in the long term.
1. Lucky Block (LBLOCK)
First on our list of the best NFT coins is LBLOCK. The asset is the native token for Lucky Block – an all-encompassing online lottery game. It is notable for bringing blockchain technology to online gaming, using its token to act in place of traditional lottery tickets.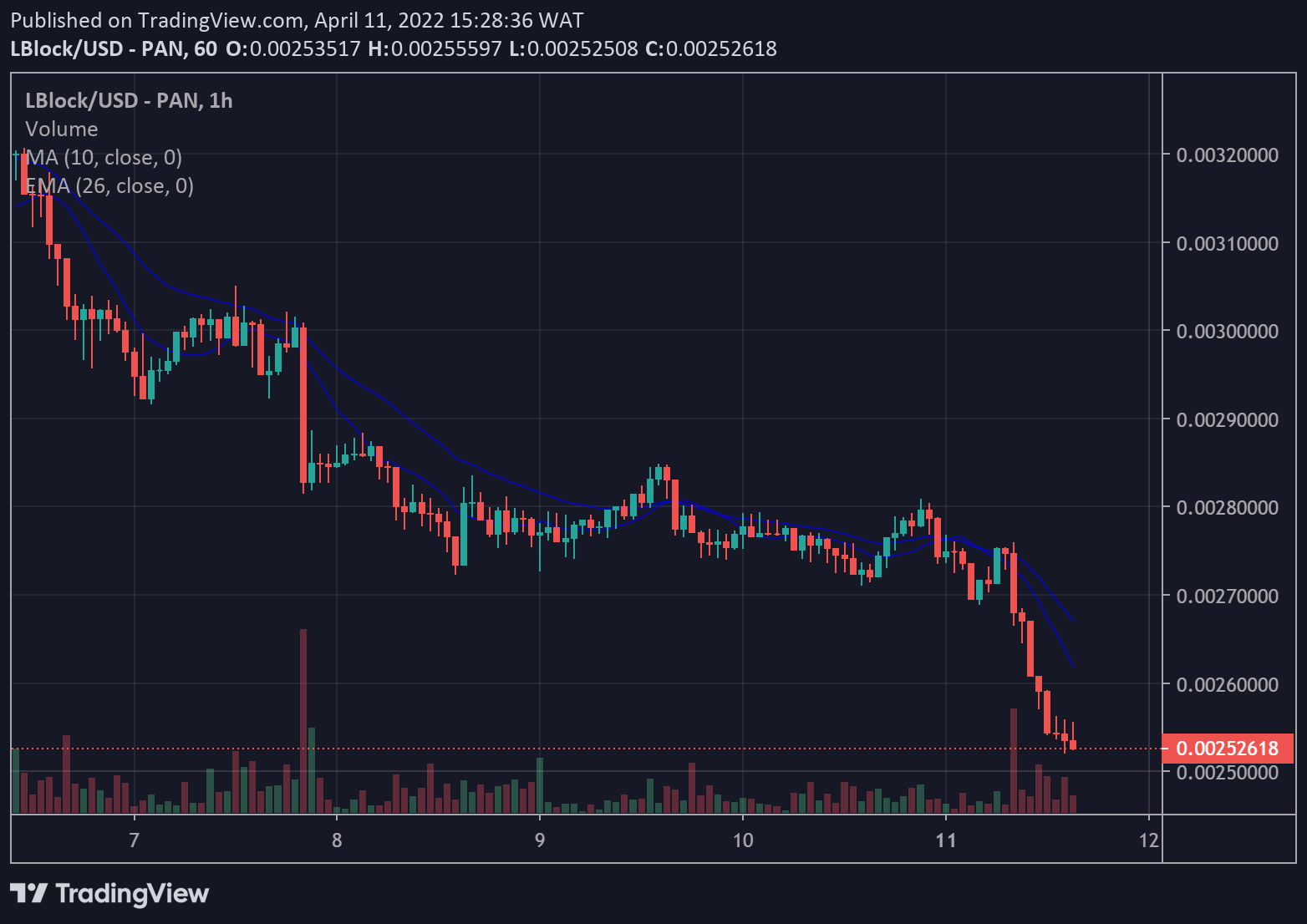 Although LBLOCK launched in January, the asset has had an impressive run. Its all-time high of $0.0096 is a jump of over 4,000% from its opening price of $0.00020. With a current price of $0.0025, LBLOCK has been down 7.58% in the past 24 hours.
We selected LBLOCK as the first among the best NFT coins because of the Platinum Rollers Club – an NFT collection launched by Lucky Block last month. The collection features 10,000 NFT pieces, with each piece minting for $1,500. They also come with 10% royalties, so each NFT secondary sale benefits the original buyer.
LBLOCK is also doing well. The asset has achieved over 50,000 holders in less than three months, showing massive investor demand. With the Lucky Block mobile apps rolling out soon, the future is bright for this asset.
2. Theta Network (THETA)
Next on our list of the best NFT coins is THETA – the native token for the Theta Network. Built in 2017, the Theta Network looks to revolutionise the video streaming space with its blockchain-based model. It also allows developers to build decentralised applications (dApps), including those focused on NFTs.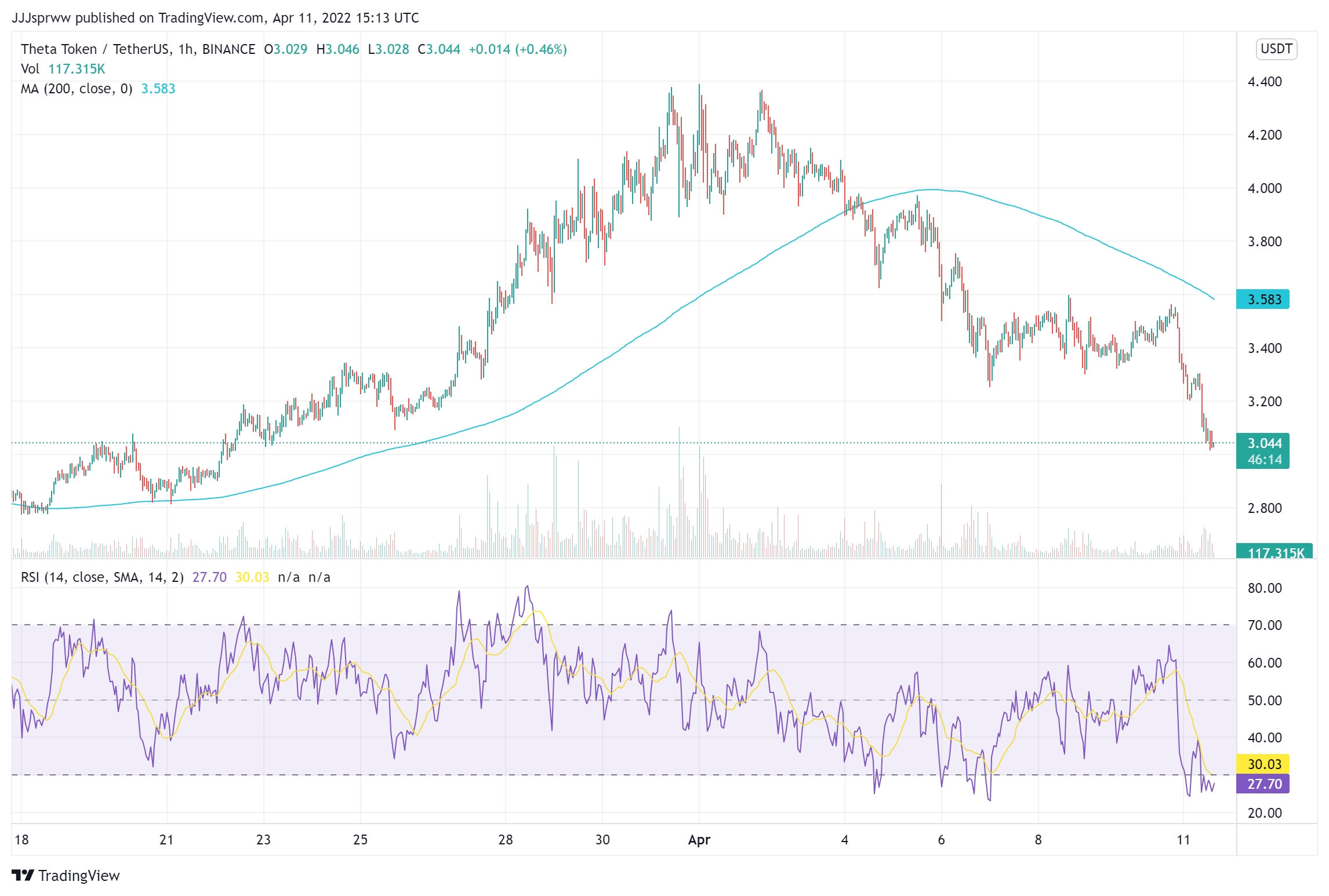 THETA currently trades at $3.04 – down 8.50% in the past 24 hours. With the Theta Network's ThetaDrop NFT marketplace seeing more traction, this asset seems like a strong long-term bet.
ThetaDROP already hosted an NFT collection launched by the Pittsburgh Knights esports team, and we expect to see more collaborations going forward.
3. Solana (SOL)
Solana's SOL token is another big name on our list of the best NFT coins. The digital asset managed to return almost 10,000% in 2021, although it had a slow start to 2022. Today, SOL trades at $102.18 – down by 8% in the past 24 hours.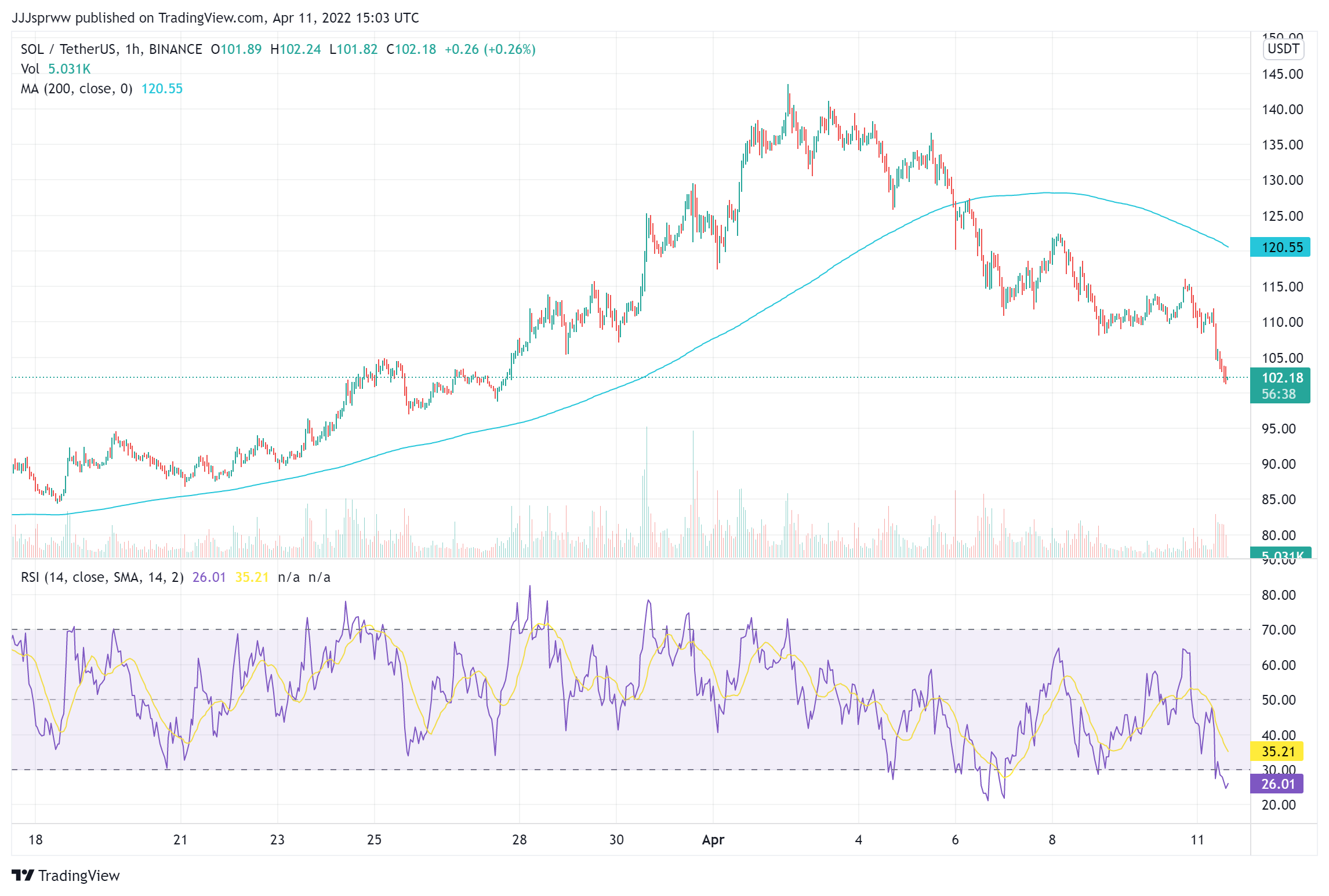 As a pure-play NFT coin, SOL is seeing improved traction. Activity on Magic Eden, Solana's biggest NFT marketplace, is on the rise, according to data from DAppRadar.
CryptoSlam data also shows that sales of Solana-based NFTs have now passed $1.6 billion in total value locked (TVL). It's a far cry from the Ethereum blockchain, but Solana is slowly becoming a home for NFT enthusiasts.
4. Enjin (ENJ)
Next is ENJ – the native token for Enjin. The platform looks to create an enabling environment for individuals and businesses to mint and use their NFTs. With its layer-two protocol, it offers access to Ethereum's resources while allowing users to bypass the blockchain's high fees.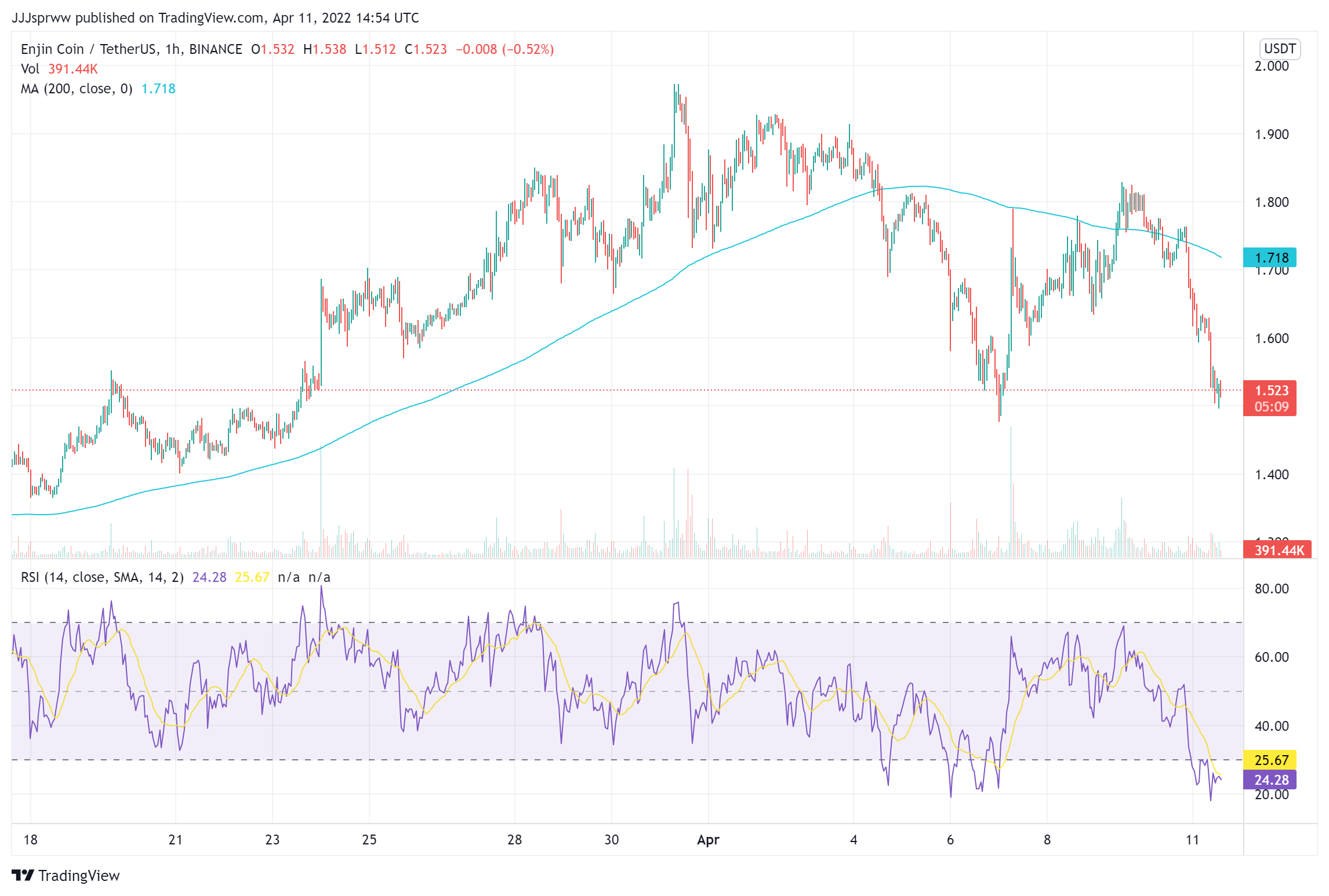 ENJ currently trades at $1.52, down 8.58% in the past 24 hours. The Enjin network itself bolsters its prospects – the network recently launched a parachain for the Polkadot network, allowing it to extend beyond just Ethereum.
The expansion is expected to bring Enjin in contact with more Polkadot-based NFT projects, thus bolstering demand for ENJ in the long run.
5. Chiliz (CHZ)
Chiliz is a famous platform that allows sports teams to engage with their fans using blockchain tools. It offers tools and assistance to these sports teams, from helping to build digital collectibles to allowing them to design their fan tokens. With more sports teams moving into Web3, we see a lot of potential for Chiliz.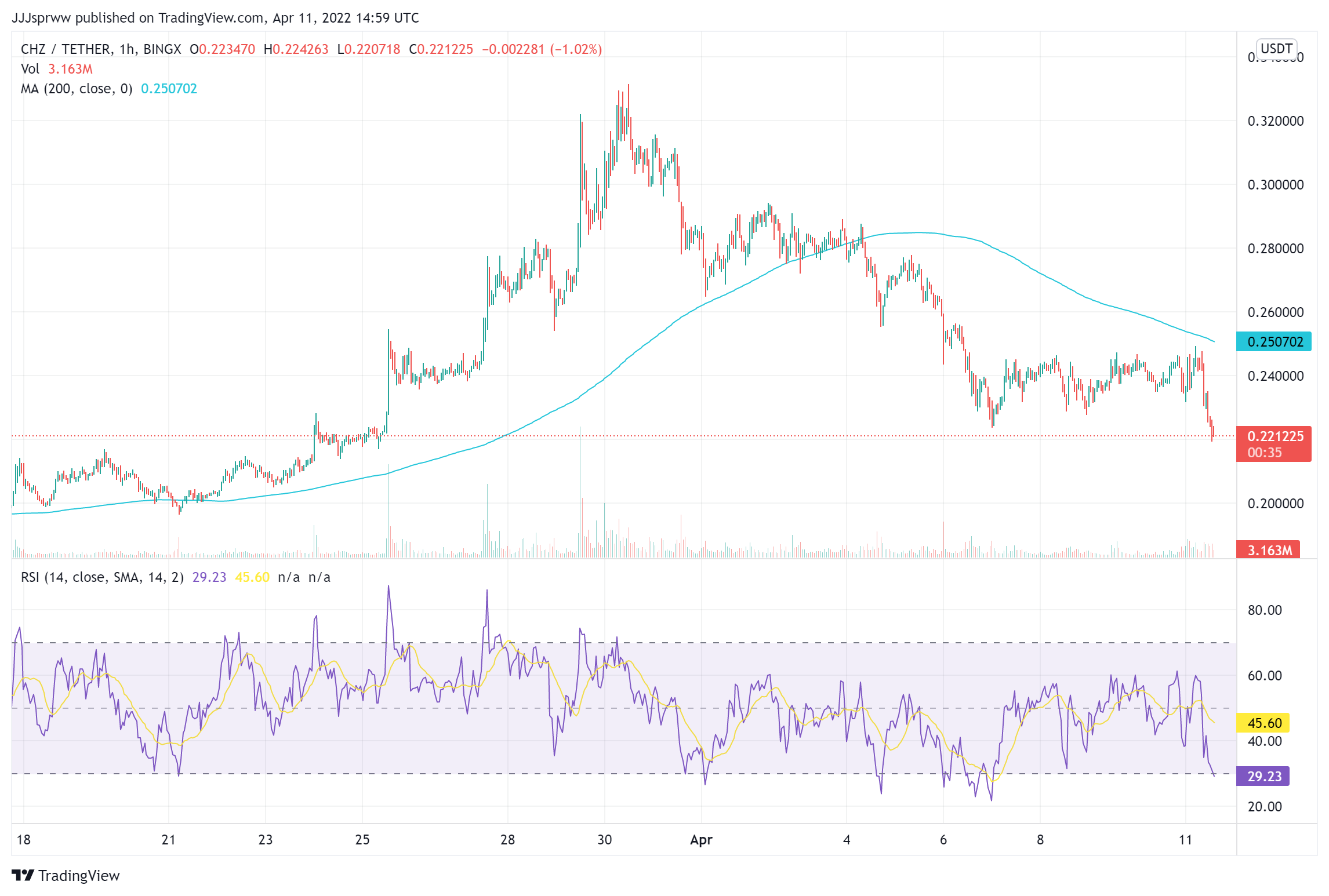 CHZ, the platform's native asset, trades currently at $0.22 – down 7.30% in the past 24 hours. However, with Chiliz recently launching a testnet for its layer-one network, things are looking bright for the network.
6. Axie infinity (AXS)
For an NFT enthusiast, Axie Infinity needs no introduction. The Ethereum-based blockchain game has been popular amongst gaming enthusiasts for a while now, and its AXS token makes our list of the best NFT coins to buy.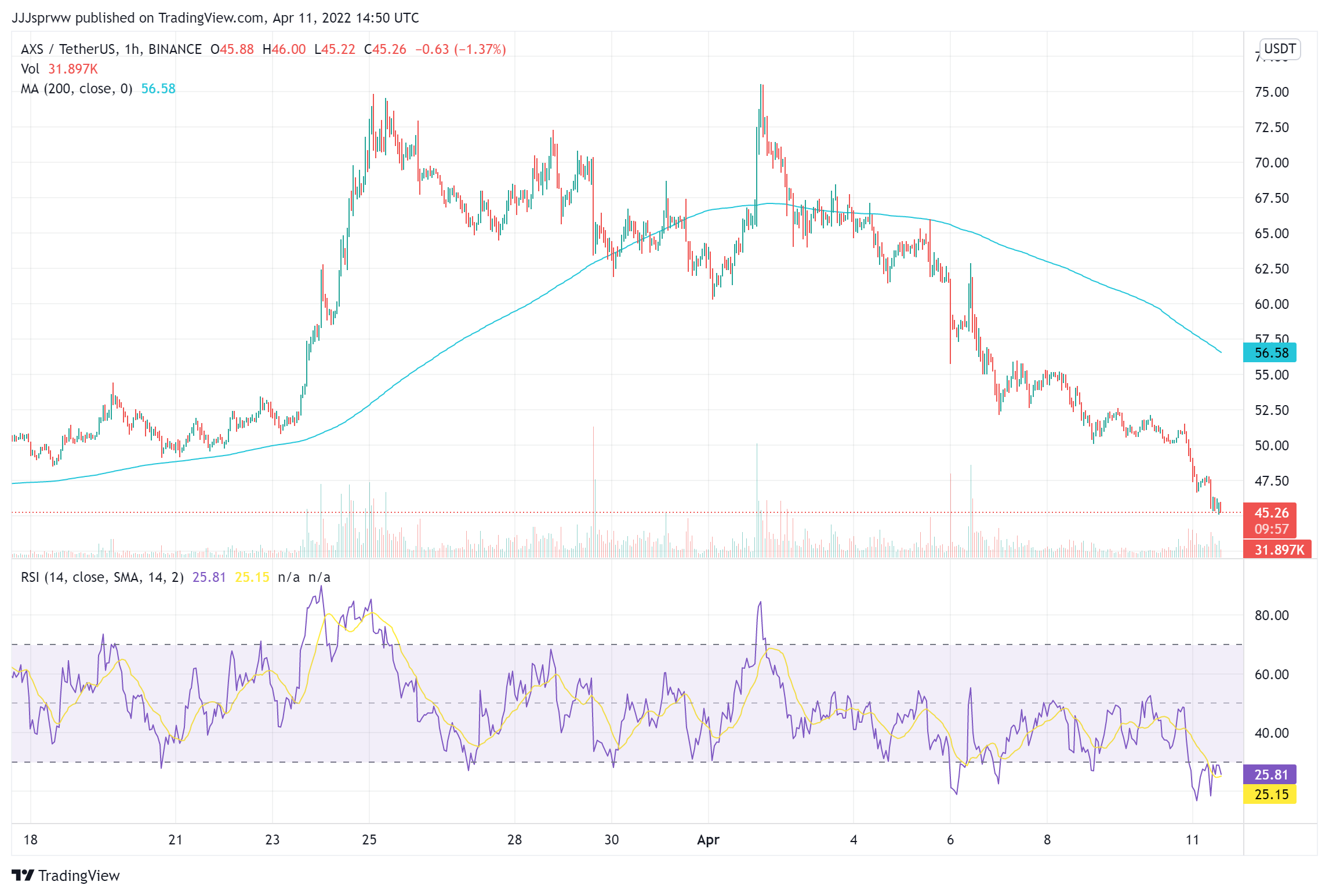 Currently, things aren't so rosy for Axie. The platform suffered a massive $610 million hack two weeks ago, with customers still hoping to get some funds back. The hack has weighed on the AXS price, which has dropped by 7.71% to trade at $45.26.
Axie is down but not out. The platform's developers announced a $150 million cap raise last week, led by Binance. The funds will reimburse the hack's victims and relaunch the Axie ecosystem to more users.
7. Decentraland (MANA)
Decentraland is no stranger to blockchain gaming and NFT enthusiasts. The platform seamlessly blends NFTs with gaming and the metaverse, providing an all-encompassing entertainment experience for Web3 enthusiasts.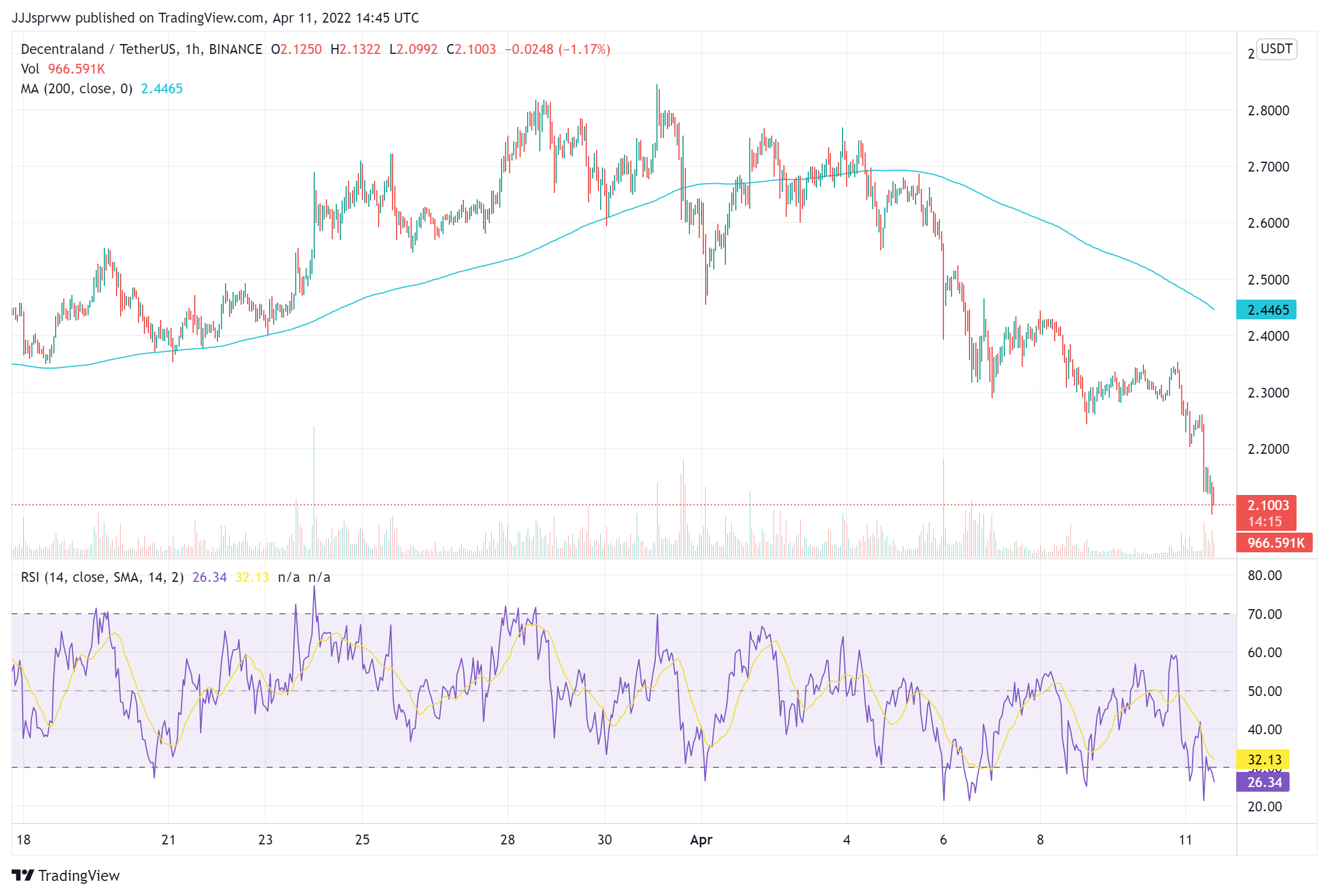 MANA, Decentraland's native token, is undoubtedly one of the best NFT coins to buy right now – even though the asset trades at $2.10 – down by 7.29% in the past 24 hours. With metaverse platforms inking partnerships across the board, we expect to see a return to gains once the market flips bullish.
Last month, Decentraland hosted the first Metaverse Fashion Week. The program saw impressive attendance, with brands like Dolce & Gabbana, Etro, Tommy Hilfiger, and many more.
8. The Sandbox (SAND)
The Sandbox isn't a new player in the metaverse and NFT space. The Ethereum-based virtual world allows players to explore its universe, play games, and engage in other immersive experiences.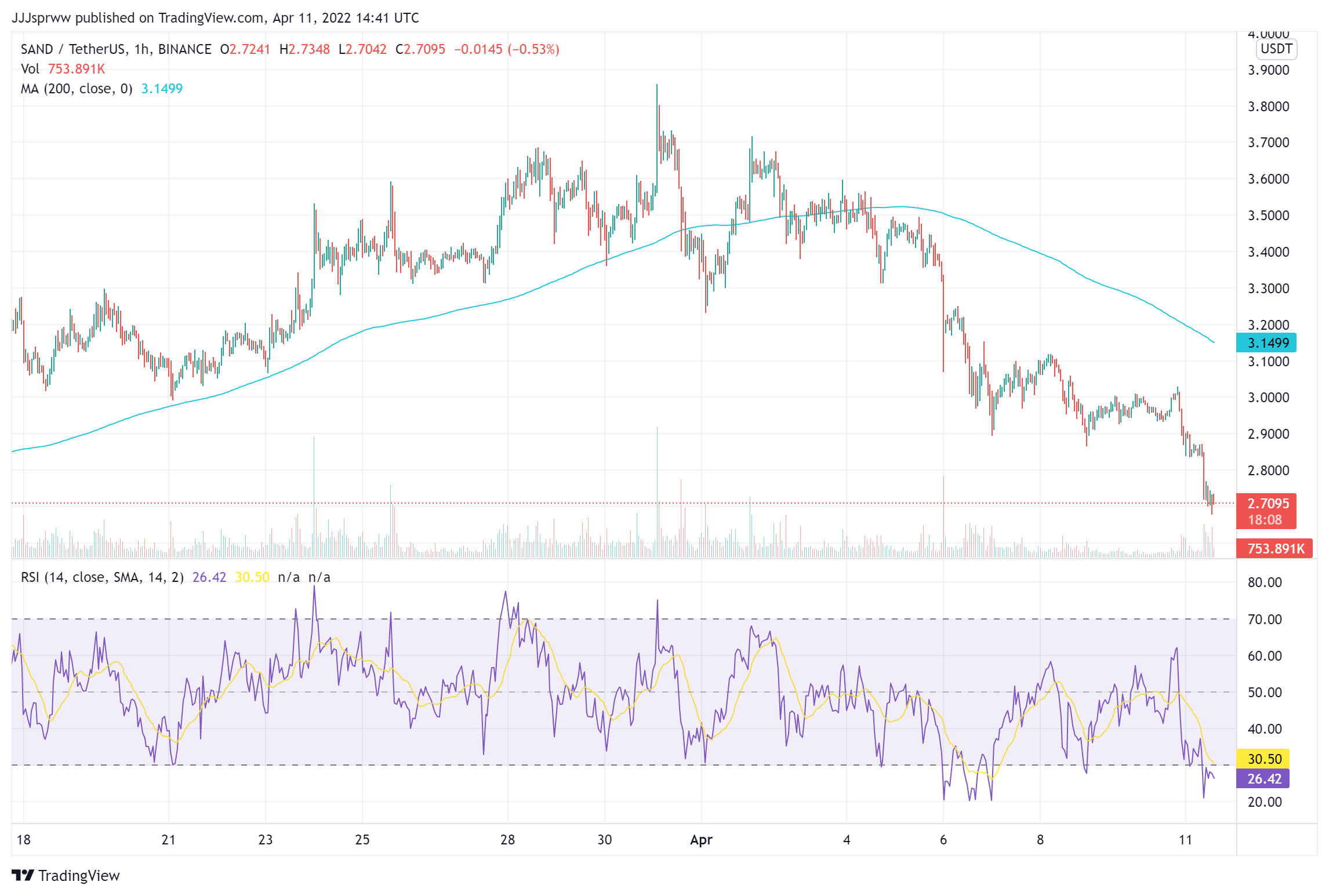 The asset's price of $2.70 has been down by 5.70% in the past 24 hours, but developments in The Sandbox are giving hope for possible gains.
In the past month alone, The Sandbox has welcomed Asian banking giant HSBC to its metaverse. The platform also signed a deal with wallet manufacturer Ledger to provide crypto education initiatives. With more brands expected to enter into the metaverse, The Sandbox – and SAND – should be on your watchlist.
9. Loopring (LRC)
Admittedly, Loopring's LRC token isn't among the most popular coins on the market. However, the platform is starting to get some traction.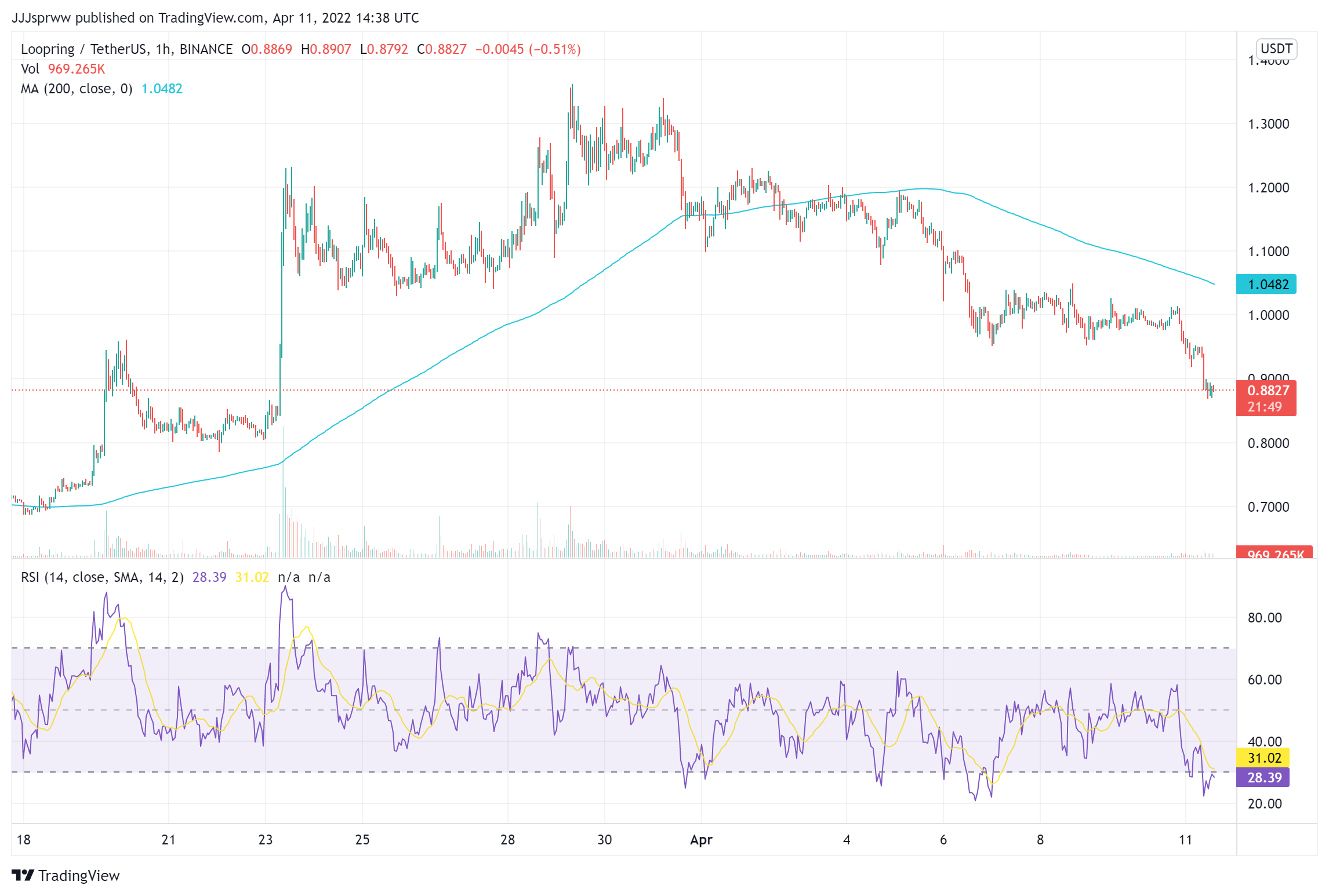 Built on Ethereum, Loopring focuses on helping developers to create and operate cryptocurrency exchanges. The service operates as a layer-two platform, giving access to Ethereum's resources without developers dealing with the blockchain's flaws. Its LRC token currently trades at $0.88 – down by 8.08% in the past day.
The biggest push for LRC is Loopring's launch of the GameStop NFT marketplace. The popular video game retailer launched its marketplace last month, with Loopring serving as its base layer. As GameStop drives more people to the marketplace, we expect to see upticks in LRC's metrics across the board.
10. Tezos (XTZ)
Last on our list of the best NFT coins is XTZ. The asset is the native coin for Tezos – one of the oldest blockchains, which focuses on evolving and optimising performance as new participants join in.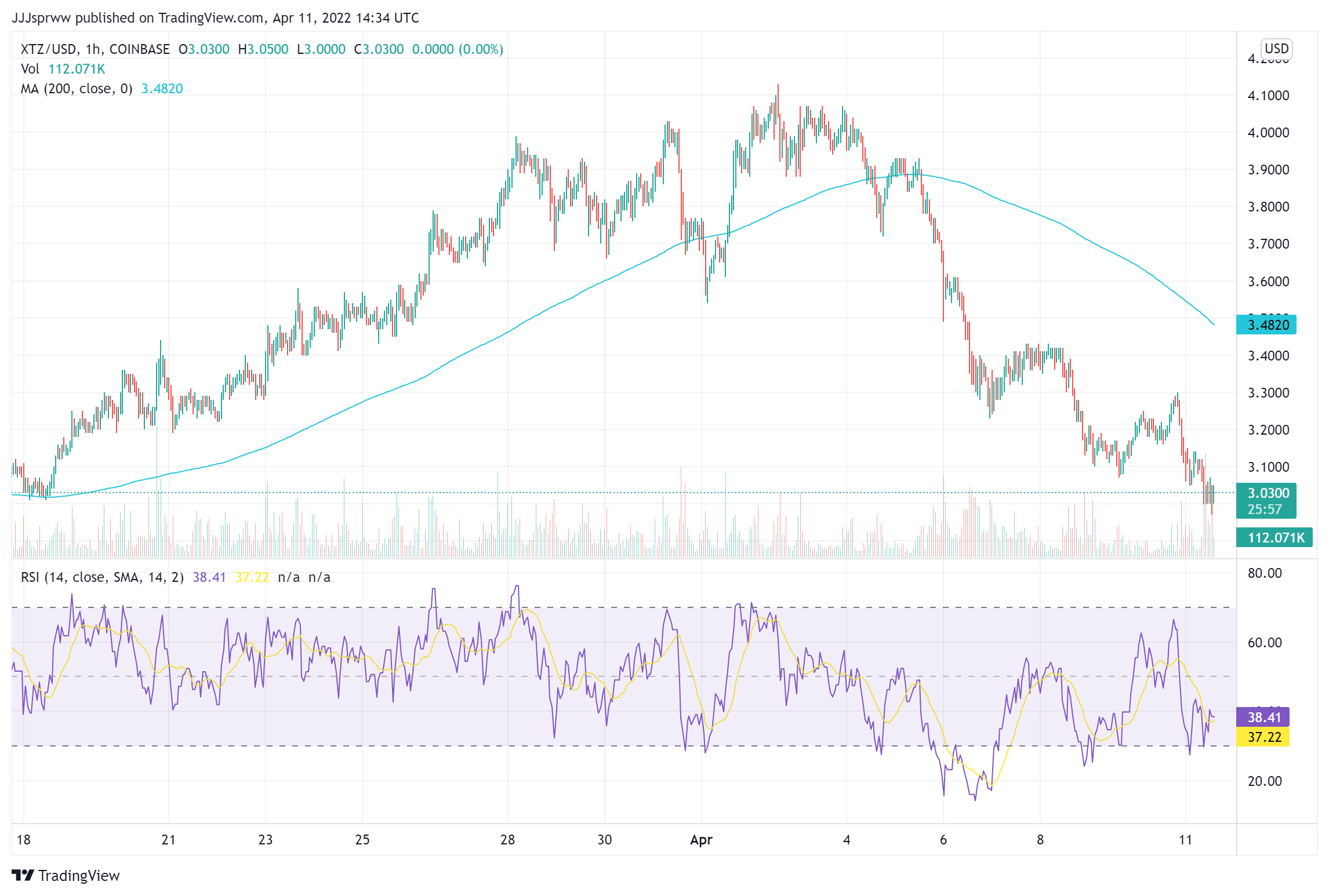 XTZ has joined the market downturn, trading at $3.03 – a drop of 3.19% in the past 24 hours. Despite the price drop, however, XTZ remains attractive to NFT enthusiasts.
Last week, the Tezos Foundation released Ithaca 2 – an upgrade to the blockchain that replaces the current consensus algorithm. Ithaca 2 will bring several benefits, including reducing block times and improving transaction speeds. As the blockchain race heats up, we expect to see some fireworks from Tezos.
Read more: