The non-fungible token lending market continues to gain massive adoption among investors and has recently surged to record-breaking highs not seen since the apex of the 2022 bull market. Since every innovation comes with advantages and disadvantages, we will dig in-depth into how one Azuki whale took advantage of a faulty lending protocol oracle and bought 50 Azukis for free.
NFT Investor Bought 50 Azukis For Free
Three days ago, an NFT investor renowned as "JpegMorganLiquidity.eth" bought 50 Azukis at around 9.65 – 9.80 ETH during the recent big dip. Then, he quickly borrowed 9.7 ETH from LiquidNFTs, a decentralized finance peer-to-pool app that recognizes blue-chip NFTs like Azuki as collateral to borrow against.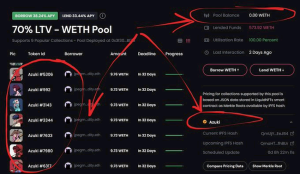 Earlier this week, Chiru Labs, the digital assets incubation studio and the team behind the popular Azuki NFT collection, launched a new NFT collection dubbed Azuki Elementals. Unfortunately, the much-awaited minting didn't meet the expectations of many NFT investors.
The new Azuki Elementals NFTs seemed nearly identical to the original Azukis. The move caused an uproar among many crypto investors, pushing Azuki's floor price to sink below 10 ETH from 14 ETH in hours. This means the liquidity JpegMorganLiquidity.eth borrowed was basically 100% loan-to-value.
How Was That Possible?
LiquidNFTs' oracle was slow to update and thought Azukis were still around its initial 14 ETH, which is not that risky to give a 9.7 ETH loan for 14 ETH of value. But the oracle was wrong since Azuki were already down more than 30%, issuing an incredibly risky loan.
Under the current market state, the non-fungible token lending protocol is exposed more than 90% loss. Since the price is below 9.7 ETH, it is highly unlikely for JpegMorganLiquidity.eth to repay his loans. In an instance, Azuki goes down more, to around 5 ETH; the lender would lose 50%. If Azuki rebounds to 9.7 ETH, they will be made whole.
On the other hand, JpegMorganLiquidity.eth now has a risk-free bet on Azuki, like a call option with a 9.7E strike price. If Azuki goes above 9.7 ETH, he can sell his 50 Azukis as he wants for pure profit. It would go as follows: repay the loan →, get Azuki back, → dump into Blur bids. If Azuki NFTs do not go above 9.7 ETH, then he simply does not repay the loans and keeps the 9.7 ETH, which is about breakeven.
Lessons NFT Platforms Learn From LiquidNFT's Oracle Fault
NFTfi, a technology that combines non-fungible tokens with decentralized finance, has recently gained momentum, with many NFT and metaverse players joining the market. In May, the well-known NFT marketplace "Blur" introduced Blend, a peer-to-peer lending platform that enables users to borrow liquidity using their NFTs as collateral.
Earlier this month, Binance followed Blur's footprints and introduced Binance NFT Loan, a feature enabling holders to obtain ETH loans using their NFTs as collateral. As the NFT lending market continues to expand, there are lessons platforms in the lending market must learn from the recent LiquidNFT's oracle fault.
The NFT lending platform should learn that offering crypto liquidity at 70% loan-to-value is risky and not conservative. Oracles need to update in a timely manner to avoid getting into these fateful situations. They should understand that blue-chip NFTs can also experience a rapid drop in price and trigger liquidations, just like crypto.
Related NFT News:
Wall Street Memes – Next Big Crypto
Early Access Presale Live Now
Established Community of Stocks & Crypto Traders
Featured on BeInCrypto, Bitcoinist, Yahoo Finance
Rated Best Crypto to Buy Now In Meme Coin Sector
Team Behind OpenSea NFT Collection – Wall St Bulls
Tweets Replied to by Elon Musk