Solana is one of the leading blockchain platforms, with its growth being attributed to its high scalability and speed. SOL tokens power the Solana platform, which means that growth in this network will contribute to an increased value for SOL tokens. Despite significant gains in the past month, Solana has also experienced some losses.
Solana is trading at $28.59 at the time of writing after a 6.9% decline in 24 hours.
Solana Price Analysis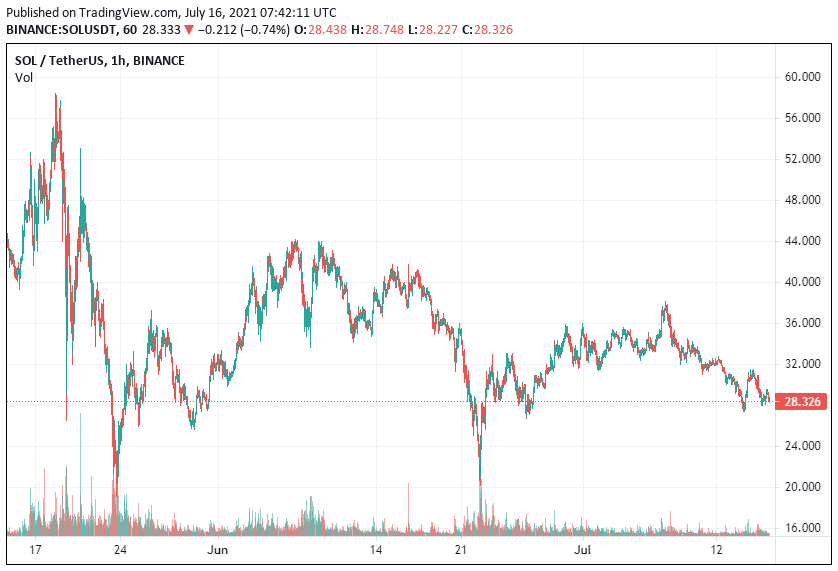 Solana is currently experiencing slight pullbacks that have raised the volatility of the token.
SOL could fail to go higher on the flipside and instead retest lower support of $25. At this support, SOL might present a new entry for investors; hence we might see prices consolidate here. However, if market support is not strong enough, SOL could go lower than this level and reach $20 due to strong bears.
SOL tokens have been trading slightly below $30, but a breakout past this level could be seen if there is general support from the broader market. If SOL races beyond $30, it could make the token favourable to investors; hence we might see more gains after this level has been achieved.
Solana has severally attempted to break past critical resistance zones, but every time, bears come into play, and SOL retreats to support. Nevertheless, the price of SOL is auspicious to investors because of the potential of the Solana project. Solana's efficiency and speed could enable it to outperform its competitors, leading to an upswing.
Phantom, a crypto wallet based on Solana, is making significant progress with its plan to achieve a multi-chain platform. The wallet recently received a $9 million funding round to aid in these plans.
Where to Buy Solana
To buy SOL tokens, one can create a crypto exchange account on the following platforms:
one of the leading crypto exchange platforms is eToro. The platform is recommended for new and expert traders. It has user-friendly features that make crypto trading easy. Moreover, eToro's trading fees are also highly competitive and favourable to traders.
The other cryptocurrency exchange that supports Solana is OKEx. OKEx also has user-friendly features that allow traders to navigate easily through the site. OKEx is one of the largest cryptocurrency exchanges; hence liquidity on the platform is high, making sure that traders are fulfilled at speed.
Looking to buy or trade Crypto now? Invest at eToro!
75% of retail investor accounts lose money when trading CFDs with this provider