Pepe Coin, a prominent player in the meme coin space, grabbed the crypto community's attention with its distinctive concept and approach focused on engagement. 
By drawing inspiration from the beloved Pepe the Frog, the coin quickly gathered a devoted following. The creators harnessed the power of memes to generate brand awareness and cultivate an enthusiastic community. Pepe Coin's engaging concept, featuring regular community events, propelled it to prominence in the world of meme coins.
The recent pump in the Pepe community has generated significant hype, leading many investors and analysts to set price targets around its previous all-time high (ATH). This scenario presents a substantial opportunity for whales to profitably offload their Pepe holdings due to the increased liquidity in the market. 
Additionally, the heightened liquidity allows short sellers to effectively counter-trade the prevailing trend and short Pepe easily. But will Pepe surge again? 
This is Why PEPE Price Might Surge Again
Pepe Coin's positive trajectory strengthens as its upward momentum grows stronger. This trend indicates a surge in demand among investors and an overall positive sentiment toward the token. 
Liquidations in futures contracts tracking PEPE exceeded $13 million, potentially contributing to the price spike as short positions, which bet on PEPE's falling, were settled. Only bitcoin (BTC) and ether (ETH) futures liquidations have surpassed this amount. 
Liquidation occurs when an exchange forcefully closes a trader's leveraged position due to a partial or total loss of the trader's initial margin. It happens when a trader fails to meet the margin requirements for a leveraged position, lacking sufficient funds to keep the trade open.
Large liquidations can indicate the top or bottom of a significant price movement, enabling traders to adjust their positions accordingly. 
In perpetual futures tied to PEPE futures, funding rates remain negative, indicating the prevalence of bearish positions in the derivatives market. A negative funding rate implies that shorts dominate and are willing to pay longs to maintain their bearish bets.
The Increasing PEPE Holders Indicate Promising Growth Potential
The number of Pepe holders is steadily increasing, which may contribute to further appreciation in value. Notably, the Pepe team recently tweeted to celebrate reaching a milestone of 125k total on-chain PEPE holders, which promises future growth potential for the coin. 
gm

today we celebrate breaching 125k on-chain $pepe holders 🐸💚

128.6k total, 121.9k on $ETH, 5.7k on $BNB, and 997 on $ARB pic.twitter.com/t2rUa6qver

— Pepe (@pepecoineth) June 22, 2023
Considering Pepe's parabolic nature, it would not be surprising if it surpasses the resistance level of $0.000002100 in the upcoming days. Since its launch in April, Pepe has experienced a staggering surge of 2,702%, with its market cap exceeding $1.8 billion.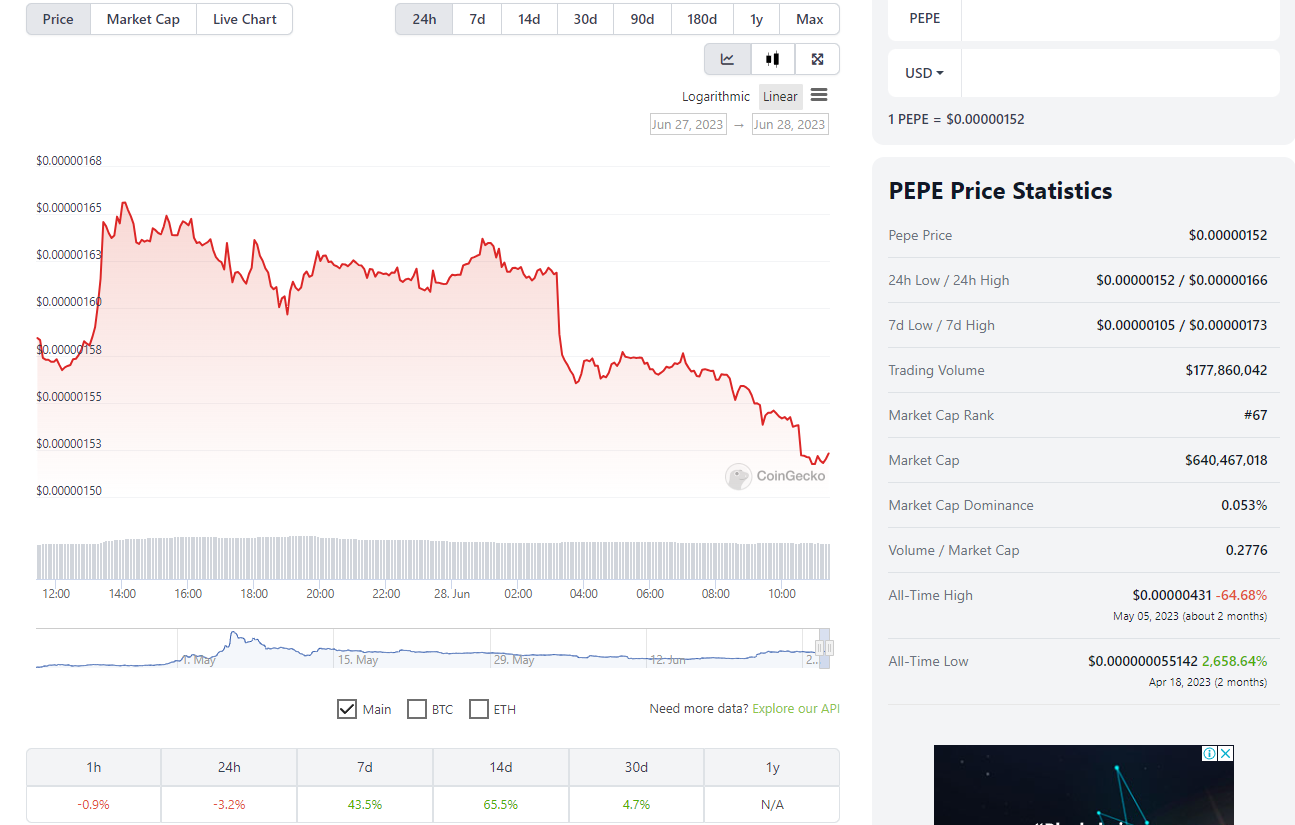 At the time of writing, Pepe (PEPE) is trading at $0.00000152, with a 24-hour trading volume of $181,935,685.27. Over the past 24 hours, it has experienced a slight price decrease of 3.2%, while in the past 7 days, the price has surged by 43.5%. With a circulating supply of 420 Trillion PEPE, the market capitalization of Pepe stands at $659,294,730.
PEPE/USDT Chart Analysis, Horizontal Pattern Resumes
The recent price bounce has led PEPE to resume a horizontal pattern trading within a narrow range. The small body of uncertain candlesticks has constrained the altcoin's trading range. The price of the cryptocurrency fluctuates between $0.0000015000 and $0.0000018000.
On the positive side, if buyers can successfully break through the resistance levels of $0.0000018000 and $0.0000020000, the cryptocurrency will initiate a new upward trend. 
On May 13, PEPE reached a high of $0.0000020000 but encountered resistance, resulting in a resumption of its downward slide. Conversely, if the bears manage to breach the $0.0000015000 support, the cryptocurrency may enter another period of decline.
PEPE is currently positioned slightly below the Relative Strength Index level of 48 for a 14-period, indicating the potential for further upward movement. Additionally, the price is trading above the 50-day and 200-day moving averages. This also shows that the potential for a bullish move above the resistance levels is still valid.
Based on the analysis above, all signs indicate bullish momentum. If the price bounces back on the lower trendline, we predict the price to reach $0.000002100. However, we expect the price to pull back to $0.000015012 on the downside.
As investors await the outcome of PEPE, this presale coin presents great opportunity and potential for great returns.
PEPE Alternative – $ECOTERRA Surpasses $5.5 Million in Presale Funding
Ecoterra is experiencing an impressive popularity surge and garnering increasing support. The initiative's cryptocurrency, $ECOTERRA, has achieved another noteworthy milestone by surpassing $5.5 million in presale funding. 
Given its continuous upward trajectory, the project is anticipated to quickly surpass the $5.7 million threshold, propelling it into the next phase of coin listing.
We've achieved a remarkable $100K increase in just 1️⃣ DAY 💰

We have now reached a total of 🎉 $5,500,000 RAISED 🎉

Join the #Presale now before stage 8 ends ⬇️https://t.co/1fYkPOsPYG pic.twitter.com/hmN3Y13V5T

— ecoterra (@ecoterraio) June 27, 2023
The project owes its remarkable success to the immense interest it has generated within its rapidly expanding community. Ecoterra stands poised and well-equipped to address pressing environmental challenges.
Buy $ECOTERRA and be a catalyst for positive environmental change 🌿💚

We integrated #Crypto, #Blockchain and #NFT in all of our green solutions for better transparency 🌱🧬

Join our #Presale today ⬇️https://t.co/1fYkPOsPYG#Web3 #DeFi #R2E #RecycleToEarn #Altcoins pic.twitter.com/K63NrBb7fg

— ecoterra (@ecoterraio) June 27, 2023
One of the core pillars of Ecoterra's success is its Recycle2Earn model (R2E), which actively rewards individuals for their engagement in recycling initiatives. 
By leveraging blockchain technology, Ecoterra employs its native currency, $ECOTERRA, to incentivize users and participating organizations within its reward program. Additionally, the platform motivates recycling companies by offering a range of cryptocurrencies as rewards.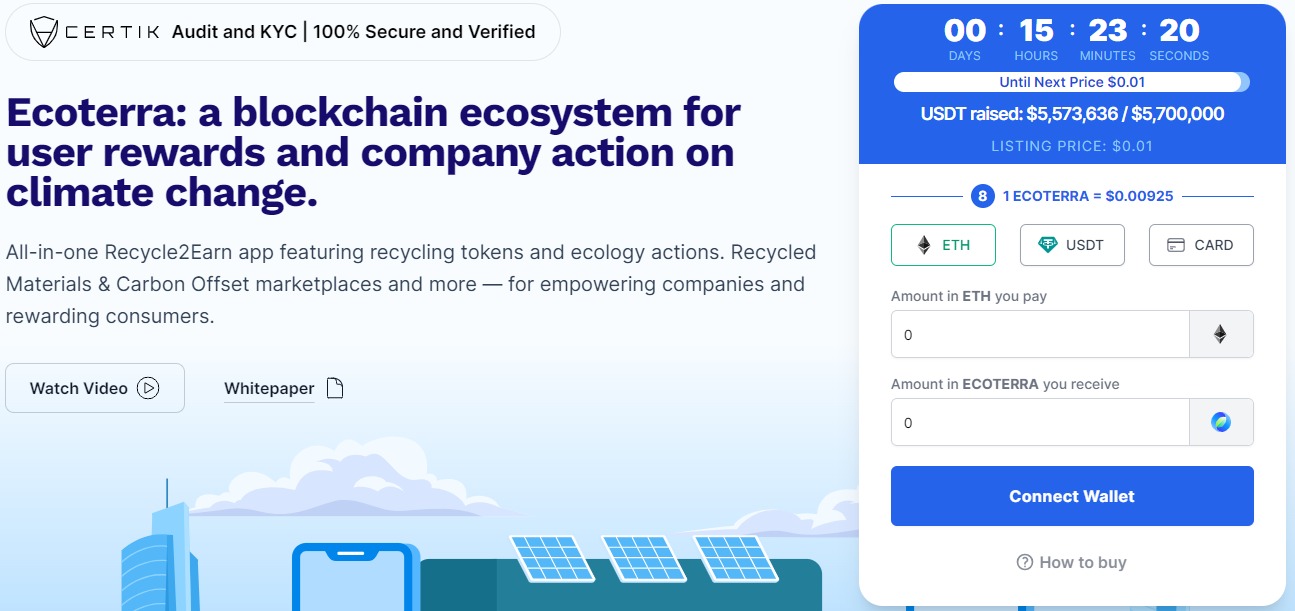 With less than 24 hours left in its current presale stage, the $ECOTERRA is currently at $0.00925 and is almost approaching its listing price of $0.01.
This situation offers a fantastic opportunity for investors to actively engage with the platform and position themselves to benefit from its potential future value appreciation. Additionally, investors can acquire Ecoterra by exchanging it for ETH, USDT, or CARD.
Related News
Ecoterra – New Eco Friendly Crypto
CertiK Audited
Doxxed Professional Team
Earn Free Crypto for Recycling
Gamified Environmental Action
Presale Live Now – $2M+ Raised
Yahoo Finance, Cointelegraph Featured Project