Despite the drop in trading volume across the board in the cryptocurrency market today, new coins still went on sale in the last 24 hours. The last update of the new cryptocurrencies listings shared some fascinating coins and presales. Today's update builds on it with presale offers that are poised to make our world a better place. The aim is to keep you updated about the new offers in the market. Similarly, it aims at revealing what's happening across the market and the sector of crypto that's welcoming the highest influx of tokes. 
New Cryptocurrency Releases, Listings & Presales Today
Meme coins are often the highest entry on every list of new cryptocurrency releases. One reason for this is that they are easy to understand and they create a sense of belonging to the investor. Following in its trails are utility tokens that are dedicated to improving our environment. One of these tokens is featured below. The interesting thing about Ecoterea is that it's still in its presale. Read the information to find out more about Ecoterra and why it's' gathering so much momentum. 
1. Jared From Subway (JARED)
Jared From Subway describes itself as the most rewarded Meme token on the Ethereum network. According to the information available in its whitepaper, it is creating a community of fun lovers who want to become part of upbeat meme lovers. It claims to be out to revolutionize how people invest in meme coins. In its plans, it promises to grant members access to exclusive meme content and other perks. Likewise, it claims that users get rewarded according to their level of vibrancy and engagement with the community. The CoinMarketCap excerpt below tells more about it.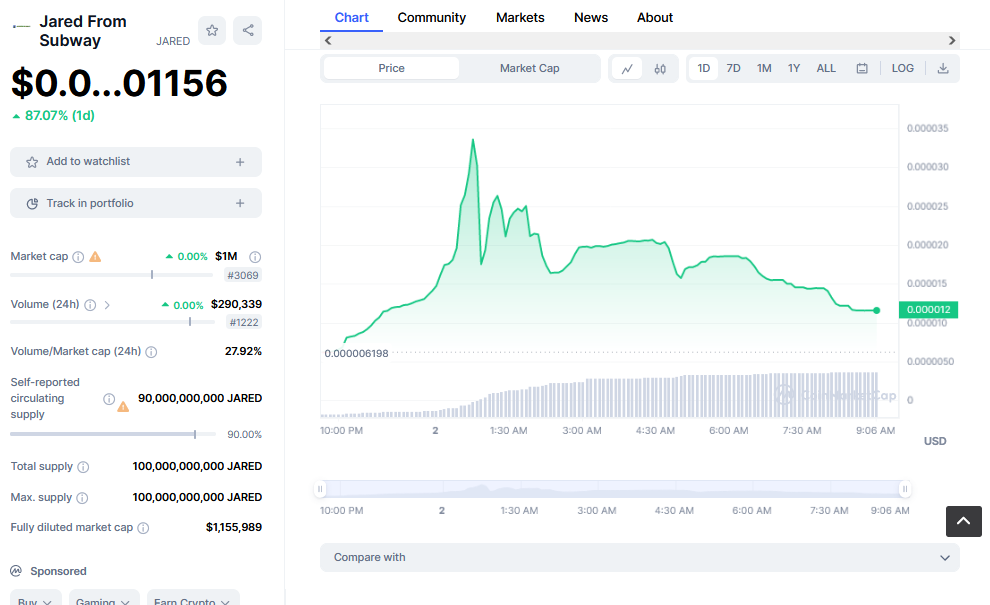 JARED is rewarding meme tokens on the Ethereum network. With the JARED meme token, you become a part of a vibrant community that celebrates humor, creativity, and digital art. Our token rewards you for your loyalty and engagement, allowing you to unlock a world of possibilities and laughter. JARED meme token offers you the chance to earn rewards that go beyond monetary gains. We believe in the power of laughter and creativity, which is why we offer one-of-a-kind perks such as personalized memes, shout-outs, and even the opportunity to have your memes featured in our community. Being a part of the JARED meme token community means joining a group of like-minded individuals who share a passion for humor and digital art. 
JARED is currently priced at $0.000012 with a $290,339 trading volume. Currently, the coin ranks at #3069 on the CoinMarketCap. Its max supply is pegged at 100 million coins and it has a market cap of $395,023 according to coin market cap. The coin is listed on Uniswap v3 (Ethereum). 
For some similar assets to $JARED see our best memecoins page. 
2. FINO (FINO)
Fino, according to the project's whitepaper, is a blockchain-based platform that's implementing a DAO buyback system. It claims that its idea is to improve the value of the FINO tokens in the open market. It claims that the concept is first being deployed in its FINO DAPP and can be scaled across the DeFi space. More information about its operation is featured on CoinMarketCap and captured below.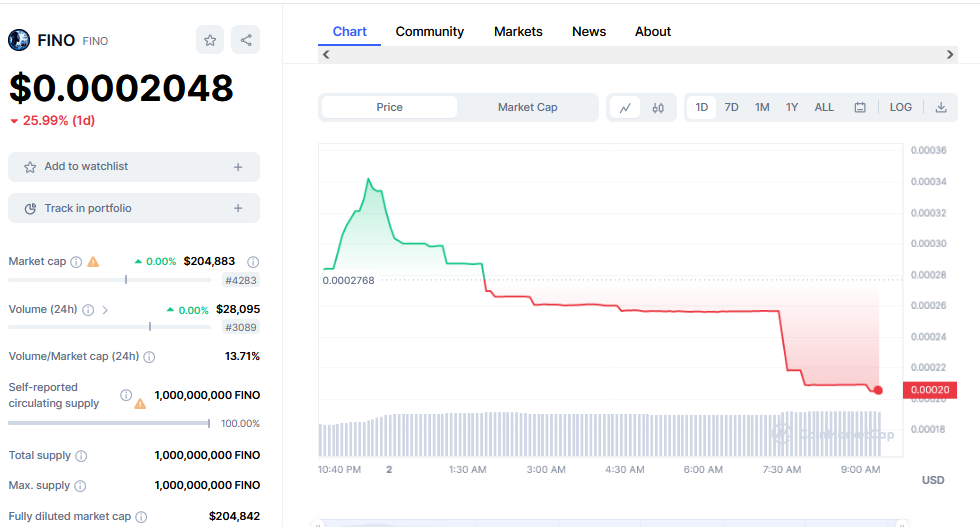 FINO is an innovative blockchain-based platform token created on the Ethereum blockchain that has introduced a decentralized autonomous organization (DAO) buyback system. The main idea behind this system is to improve the value of FINO tokens for holders by utilizing a portion of the platform's revenue to purchase FINO tokens in the open market. The FINO DAO buyback system is a unique mechanism in the DeFi space that allows for the creation of a buyback pot from the fees collected on token transactions. Specifically, 3% of all token fees are allocated to this buyback pot. With the creation of this pot, token holders can then vote on when buybacks occur for the tokens. 
In the last 24 hours,  $28,792.72 worth of FINO changed hands in the market and it is priced at $0.000209. Its max supply is pegged at 1 billion coins. At the moment, FINO's market cap is currently unknown, but its market cap is $193,286. FINO is also featured on CoinMarketCap, ranking at #4277. 
For some similar assets to $FIINO see our best utility token page.
3. ROFL (ROFL)
ROFL is an acronym for Rolling On The Floor Laughing according to the information available on its website. The platform is designed to be a community-driven blockchain network built on the Ethereum chain. According to its website, the platform is out to disrupt the meme coin sector by becoming a big player in the space. How it intends to do this is by raising a strong community of passionate people who want to grow together and reach the zenith in the crypto space. It describes the ROFL token as the force that keeps the community together. Below is how CoinMarketCap describes the platform.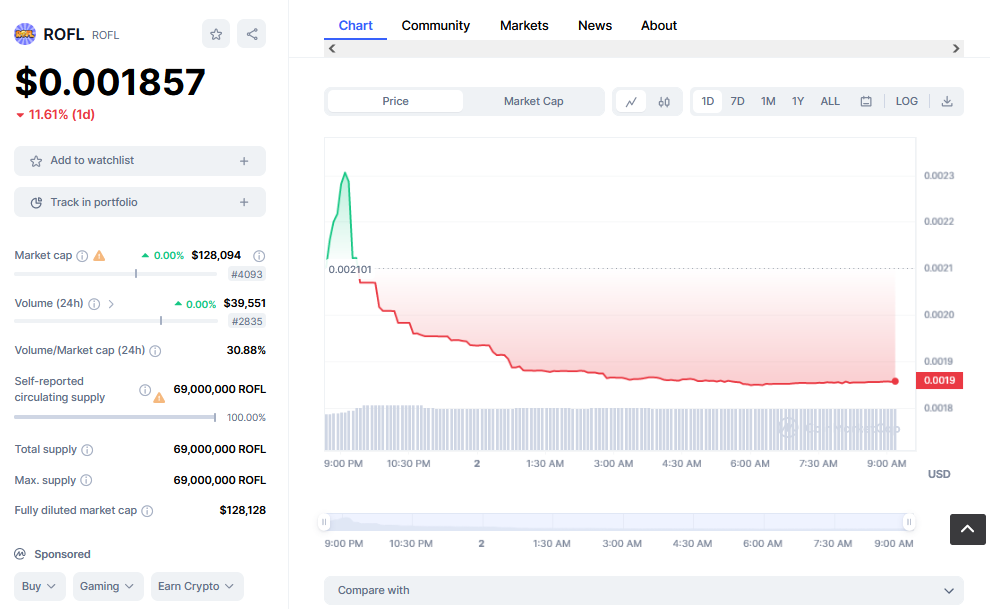 ROFL is an Ethereum-based token that revolutionizes the world of memes by adding an extra layer of laughter and excitement. With ROFL, you can take your memes to the next level, injecting them with humor and entertainment that will leave everyone rolling on the floor laughing. One of the core aspects of ROFL is its community-driven nature. This vibrant community serves as the driving force behind the token's success and ensures a continuous stream of fresh and hilarious content. Another enticing feature of ROFL is its zero-tax structure. The creators of ROFL understand that investors appreciate the simplicity and benefits of 0% tax tokens. By implementing a zero-tax model, ROFL allows users to fully enjoy the returns on their investments without any additional fees or deductions, enhancing the overall value proposition of the token.
The price of ROFL right now is $0.001854 (press time). Over the past 24 hours, $39,550.85 worth of ROFL changed hands in the market. In the meantime, the circulating supply of the token is unknown but the max supply is pegged at 69,000,000 coins. Furthermore, the coin is featured on CoinMarketCap ranking at #4092. There is currently no information about its listings. 
For some similar assets to $ROFL see our best memecoins page.
4. Lillian Token (LYF)
According to the information obtained from its website, Lillian is on a mission to rewrite the future of health, wealth, and Happiness. It wants to revolutionize how people access knowledge and services in these three areas through the use of next-generation solutions. Through its solution, it hopes to influence every level of the healthcare industry. It claims that its team currently comprises medical professionals, information technology, specialists, blockchain developers, privacy experts, educators, geneticists, government contractors, and business experts from around the world. Below is a quick overview as provided on CoinMarketCap.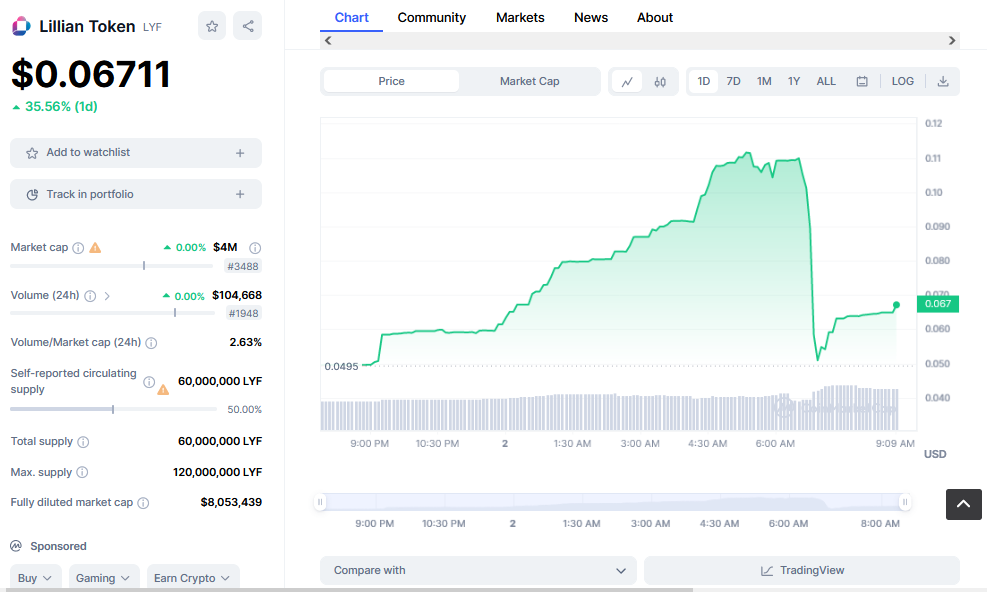 At Lillian, we propose a solution that leverages blockchain technology and enables seamless digital money transfers between payers and payees. Our system allows transactions to occur effortlessly, regardless of the country, currency, digital payment method, or whether the transaction is business or consumer based. By utilizing blockchain and digital currencies, we aim to revolutionize the way healthcare payments are processed and simplify the overall financial management within the industry. Lillian Finance understands the importance of prioritizing individuals in the development of the initial global ecosystem as a crucial element for achieving success. 
As of today, LYF is valued at $0.066287 and it has a trading volume of $104,641 in the last 24 hours. LYF's max supply is pegged at 120 million coins with a market cap of $4 million. In the meantime, information about its circulating supply and the exchanges where it is listed is not available. 
For some similar assets to $LYF see our best utility token page.
5. Ecoterra (ECOTERRA) 
Ecoterra project is out to clean the damages that the proliferation of deindustrialization and indiscriminate handling of waste is doing to our world. In its solution, it launched a novel initiative that would incentivize users to participate in the recycling effort. According to the research carried out by the Ecoterra team, it was discovered that people are more motivated to participate in recycling if they expect rewards. 
As a blockchain-based solution, Ecoterra has its native token that serves as the currency of the platform. Users are rewarded with the ECOTERRA token and on rare occasions the reward comes in other cryptocurrencies. Not only individuals are set to benefit from this revolution. Industries and businesses in various sectors of the economy would equally be rewarded for participating in the movement. 
🚀 @Polygon team has introduced a groundbreaking upgrade for the #Polygon #PoS sidechain, transforming it into 'zkEVM Validium,' an #Ethereum-secured Layer 2 network

Be an early adopter of $ECOTERRA when the price is still low ⬇️https://t.co/1fYkPOsPYG#Crypto #Presale pic.twitter.com/gIcURxzM6N

— ecoterra (@ecoterraio) July 2, 2023
At the moment, the Ecoterra token is up for sale and it is going for $0.1. This is more of a call to heal our environment. And the call goes to climate-conscious investors. There is no time to waste as the presale is in its final stage. Any moment from now, it goes on exchange and the price becomes competitive. 
Visit Ecoterra presale.  
Read More
Wall Street Memes – Next Big Crypto
Early Access Presale Live Now
Established Community of Stocks & Crypto Traders
Featured on BeInCrypto, Bitcoinist, Yahoo Finance
Rated Best Crypto to Buy Now In Meme Coin Sector
Team Behind OpenSea NFT Collection – Wall St Bulls
Tweets Replied to by Elon Musk