With the recent drop in crypto prices across the market, now may be the time to look out for new cryptocurrencies. This article spotlights New Cryptocurrency Releases, Listings & Presales Today. The goal is to present an overview of what's going on in the market and showcase new tokens. The assets featured in this article went live on CoinMarketCap and other exchanges in the last 24 hours or more. Also, it includes basic details of the new cryptos to provide insight into the basics of what each project is all about. In 
New Cryptocurrency Releases, Listings & Presales Today
Another list of new cryptocurrency releases is featured below. In addition, the article features one of the latest presales on the market currently. It allows investors to benefit from the first mover's advantage. Discover more in the review. 
1. Pepe 2.0 (PEPE 2.0)
Pepe 2.0 is a new addition to the memecoin category. According to the update on its Twitter handle, the coin is out to make up for the lapses of the popular Pepe coin. It claims that Pepe has some loopholes, and people missed out on its launch. Therefore, the new coin, dubbed Pepe 2.0, wants to make up for that. In the meantime, there's no specific utility to the Pepe 2.0 token. The coin is the identity of users who believe in the movement, according to the information available on its website. Further description is available on CoinMarketCap and featured below. 
Learning from past tokens mistakes, blacklisting some investors, launching on a weekend when you were spending time with your family and friends – Pepe 2.0 wants to make things right and redo his billion-dollar run, he's a new version of himself, he is now PEPE 2.0. #PEPE2. Backed by a great team, with good experience and decent personal funds to work with, this will begin MEME but become far from that shortly. Utilities secured, branding on point, and an outreach second to none.
#PEPE2 is a movement about fairness and decentralization.

We love $PEPE but the launch was not FAIR and some innocent people who got lucky were blacklisted.

That's why Pepe 2.0 was created. – to give those who missed the original Pepe a SECOND CHANCE.https://t.co/fxhTCKga54

— Pepe 2.0 #PEPE2 (@pepe2coineth) June 28, 2023
PEPE 2.0 claims to be a decentralized token with a renounced ownership. It's currently priced at $0.00000003698 as of today and has a 24-hour trading volume of $21,495,502. PEPE 2.0 is featured on CoinMarketCap ranking at #2625. PEPE 2.0 has a $16 market cap, according to CoinMarketCap and it has a max supply of  420,690,000,000,000 coins. Information about its circulating supply is currently unavailable. 
For some similar assets to $PEPE2.0 see our best memecoins page. 
2. Thug Life (THUG)
Thug Life is described as the baller's meme coin. Within barely 48 hours of its presale launch, Thug Life Token ($THUG) has sold over $103,000 and reached nearly 2k followers on Twitter. What's special about the coin? First, it's the drive for difference. It set itself apart from the regular memecoin sentiment of Pepe, dogs, or birds. It focuses on promoting the feeling of a section of society that's not ready to follow the stereotyped feeling of being like everybody else. In addition to that, $THUG is a promising small-cap coin that's going for as low as $0.0007, making it almost a giveaway crypto token.
Word pic.twitter.com/EnDC985BNW

— Thug Life Token (@thug_life_token) June 27, 2023
Presale investors get 70% of THUG tokens offered at $0.0007. Also, another 15% is reserved to be distributed to the community as rewards. That's over $400,000 tokens sent into the community. Then, the final 15% goes into influencer marketing. Invariably, the entire token goes into the community. 
As a small-cap memecoin, first movers who buy $THUG can enjoy up to 15x – 20x of their initial investment when the asset reaches its full potential. Looking at its presale price and the current market cap of approximately $2.4 million, $THUG could easily put at least 5x gains in the pocket of investors if it pushes its market cap into $10 million.
Getting in early means enjoying the first early bird benefits. The goal is to raise $2,058,000 before it goes on the market. Ultimately, the price goes through the roof when it hits the market and you miss out on a chance to be a part of a disrupting movement that gives voice to a major section of society. 
Visit Thug Life presale.
3. SMP Finance (SMPF)
SMP Finance is described as an e-commerce platform, according to its whitepaper. It claims to feature products from many business groups that partner with the platform. It further states that its main goal is to provide blockchain-based payment solutions to its partners. In addition, it positions itself as a press-to-pay solution that users can use from anywhere in the world while shopping for curated products on its platform. For more description, the snippet below features its details on CoinMarketCap. 
Items are compiled by category to facilitate the consumer's search for specific products. SMP Marketplace provides an avenue for convenient and secure payments which are verified through blockchain. The system connects to Wallet where the customer can pay automatically in just a few steps: Press to pay for the product, connect to the wallet, and press to confirm the payment. Every transaction made through SMP Bonus will receive an SMP Bonus. The SMP Bonus Team is a diverse group of highly skilled developers and marketers. The mission of the SMP Bonus Team is to use unparalleled marketing execution, robust influencer connections, and proven digital marketing strategies worldwide to turn $SMP Bonus into a powerhouse ready to serve its clients and its customers.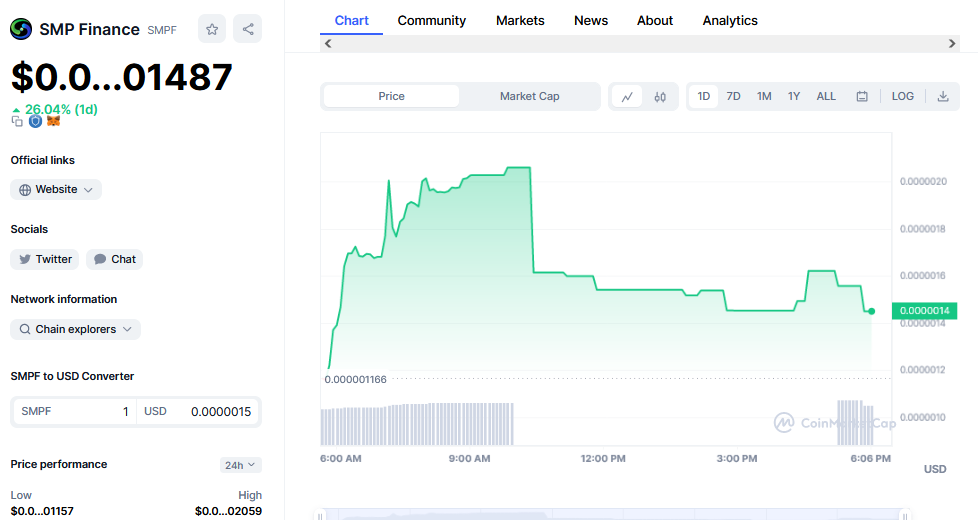 SMPF is priced at $0.000002, with a 24-hour trading volume of $161,207. It has a market cap of $104,739, but its circulating supply is currently unknown. Its max supply is pegged at 100 billion coins. At the moment, CoinMarketCap ranks SMPF at #3331 and the coin is listed on PancakeSwap v2 (BSC). 
For some similar assets to $SMPF see our best utility token page. 
4. GenieBot (GENIE)
GenieBot is a project that's out to solve the problem of information overload and inadequate moderation, according to the information offered on its website. It claims it uses AI-driven bots to resolve questions around crypto questions on the telegram platform. Further information available in its whitepaper states that GenieBot solution can assist crypto project owners with community moderation using its AI solution. Below is its CoinMarketCap description.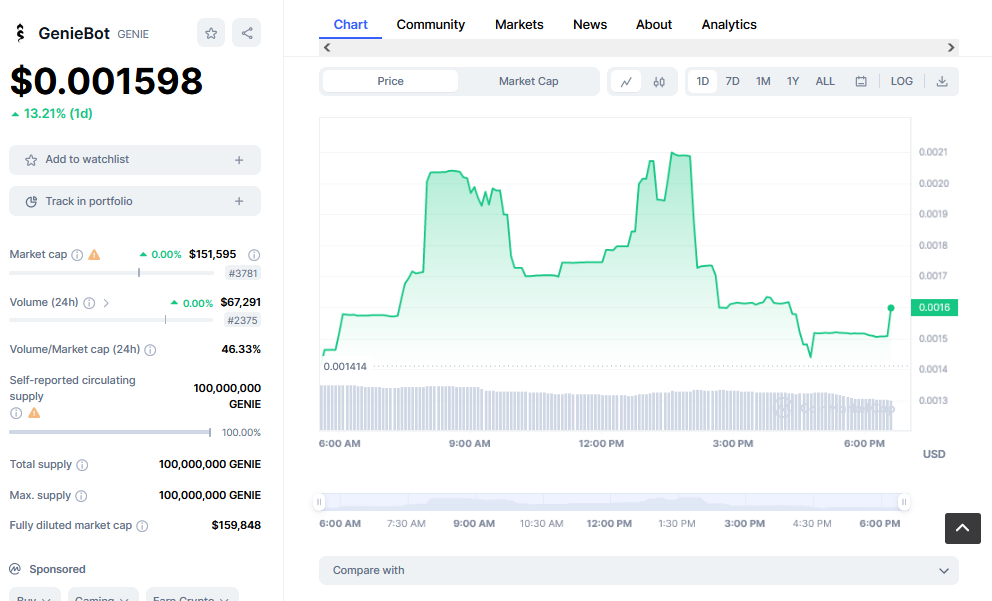 GenieBot is An AI-driven Telegram bot that effortlessly tackles project questions updates its knowledge base with admin input and smartly adapts to your whitepaper or website content. Discover a new level of convenience and efficiency in project support through Telegram. Why GenieBot? The 24/7 nature of the crypto community means that users may ask in-depth questions at any time, and moderators might not always know the correct answer or be available to respond. Our AI-powered Telegram bot offers a simple and reliable solution to this challenge. The bot learns all about your project and can chat with users just like a real person would. This means clear, friendly, and efficient communication for your users. The best part? While the bot is busy answering questions and keeping users informed, you're free to focus on the important tasks that move your project forward.
GENIE's price today is $0.001519 and it has a 24-hour trading volume of $77,572.58. Also, it has a max supply of 100 million coins. Information about its circulating supply is available at the moment. However, it has a market cap of $110,516.  GENIE is listed on Uniswap v2 and featured on CoinMarketCap with a ranking of #3717.
For some similar assets to $GENIE see our best utility token page.
5. Hola Token ($HOLA)
Hola Token is a new crypto project that claims to focus on bringing the world of crypto to everyone. According to the information available on its website, it seeks to become a search engine that curates the available crypto products and services to everyday users. In addition, it also claims to offer a Hola telegram bot that helps users find products and services from verified sources. An additional description from CoinMarketCap is featured below.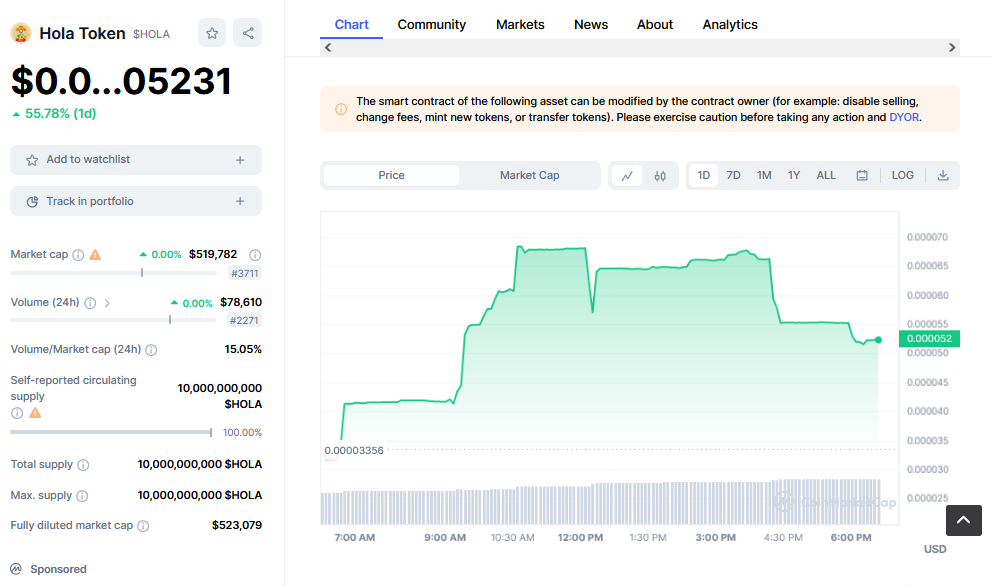 Hola Token is a decentralized utility token providing a platform for digital creators. It introduces the first-ever Fiverr-style platform dedicated to crypto products and services, where individuals can collaborate and connect without the fear of scams. The HOLA ecosystem offers multiple features to enhance user experience. Users can connect with the HOLA Telegram bot or utilize the user-friendly decentralized application (DAPP) to access the platform. Registered and doxxed users can enjoy the platform's services for free, with the option to create a creator account or utilize the Telegram bot for convenience. Privacy is prioritized, as third-party managed data management ensures maximum confidentiality for users.
As a quick note, Hola Token CoinMarketPage has a warning notification that indicates that its contracts are mutable. Currently, the price of $HOLA is $0.00004439. It has a daily trading volume of $77,575.91, a max supply of 10 billion coins, and a market cap of $446,399. However, information about its circulating supply is unavailable. Besides being featured on CoinMarketCap, HOLA is also listed on Uniswap v2. 
For some similar assets to $HOLA see our best utility token page. 
Read More
Wall Street Memes – Next Big Crypto
Early Access Presale Live Now
Established Community of Stocks & Crypto Traders
Featured on BeInCrypto, Bitcoinist, Yahoo Finance
Rated Best Crypto to Buy Now In Meme Coin Sector
Team Behind OpenSea NFT Collection – Wall St Bulls
Tweets Replied to by Elon Musk