Litecoin (LTC) is a digital currency created in 2011 due to changes to the Bitcoin blockchain. Bitcoin's creators worried that powerful entities were becoming too controlling, so they altered Litecoin to remedy this issue.
As Bitcoin was becoming too controlled by a few giants, Litecoin made some changes to address this. Basically, they wanted to make it harder for big mining companies to dominate. While it wasn't entirely successful, Litecoin has evolved into a cryptocurrency that can be mined and used for peer-to-peer payments.
Litecoin was initially created to prevent large mining companies from taking over the mining process. Despite this, these companies continued to expand their mining operations.
In the same way as Bitcoin, Litecoin can be mined using specialized machines called ASIC miners. The Litecoin blockchain contains transaction information verified by mining software. A verified block is visible to miners participating in the network who receive Litecoin in return.
Former Google engineer Charlie Lee created Litecoin 2011 as a global payment network without a central authority. Lee called Litecoin a "lite version of Bitcoin" and compared it to silver, while Bitcoin is considered gold in the cryptocurrency world.
Rather than focusing on its functionality, many investors are interested in Litecoin as a potential long-term holding. They speculate that Litecoin will build relative wealth over time, like other investments.
Will It Surge to $150 and Beyond?
Currently, Litecoin is trading at $114.44 based on a simple moving average of 4 hours. In the immediate future, resistance will be around $115.58, followed by significant resistance around $124.50. The price could increase significantly if it breaks above the $124.5 resistance.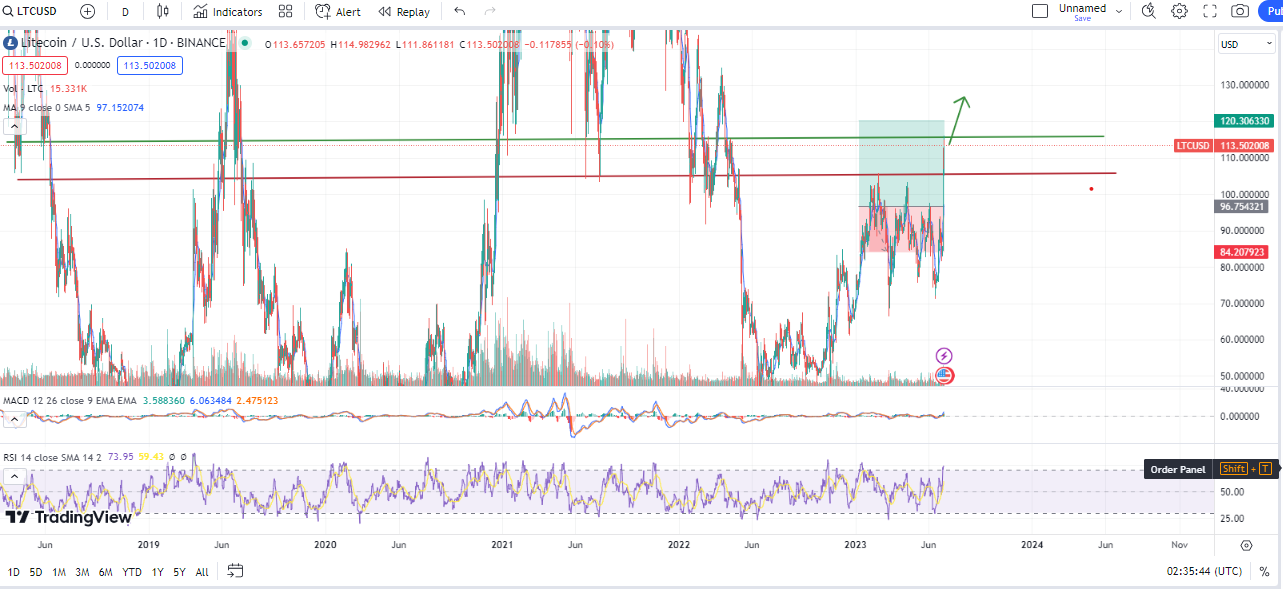 In such a scenario, the price could rise to $125 or $133. The price of LTC could rise further toward the $134.7 resistance zone if further gains are made.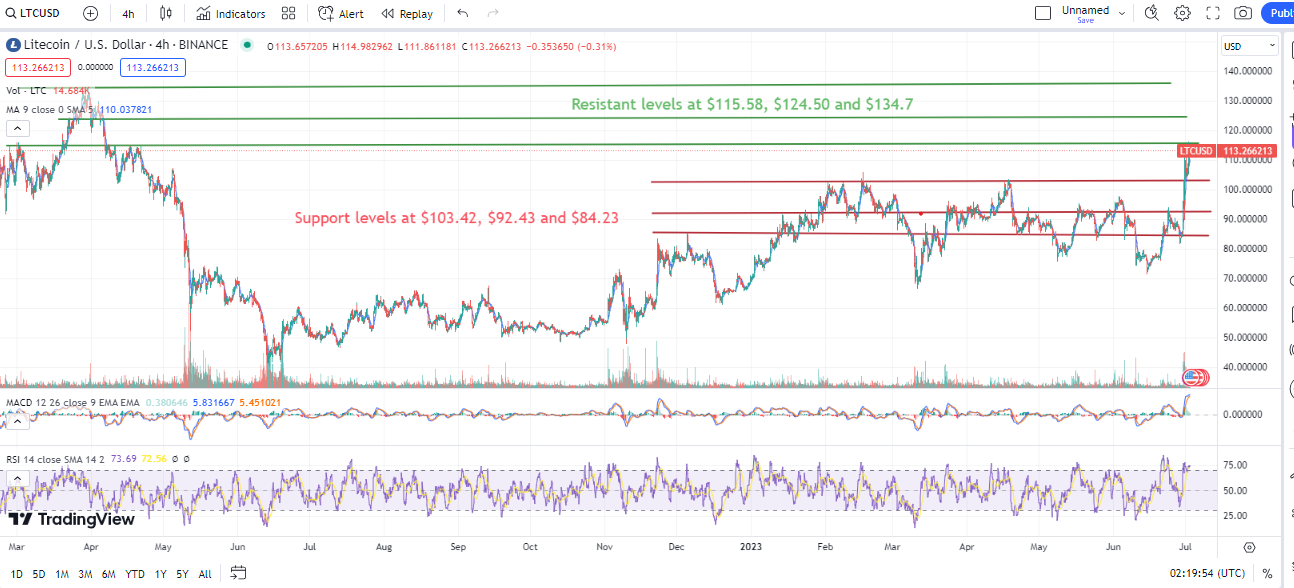 Litecoin might experience a downward correction if it cannot overcome the $115.58 resistance level. Around $103.42 is the first level of support on the downside.
Currently, a significant support level is being formed, nearly $92.43.
LTC Statistics Data
Today's price now: $114.44
Market cap: $8 Billion
Circulating supply: 73,276,977 LTC
Total supply: 84,000,000 LTC
Coinmarketcap ranking: 9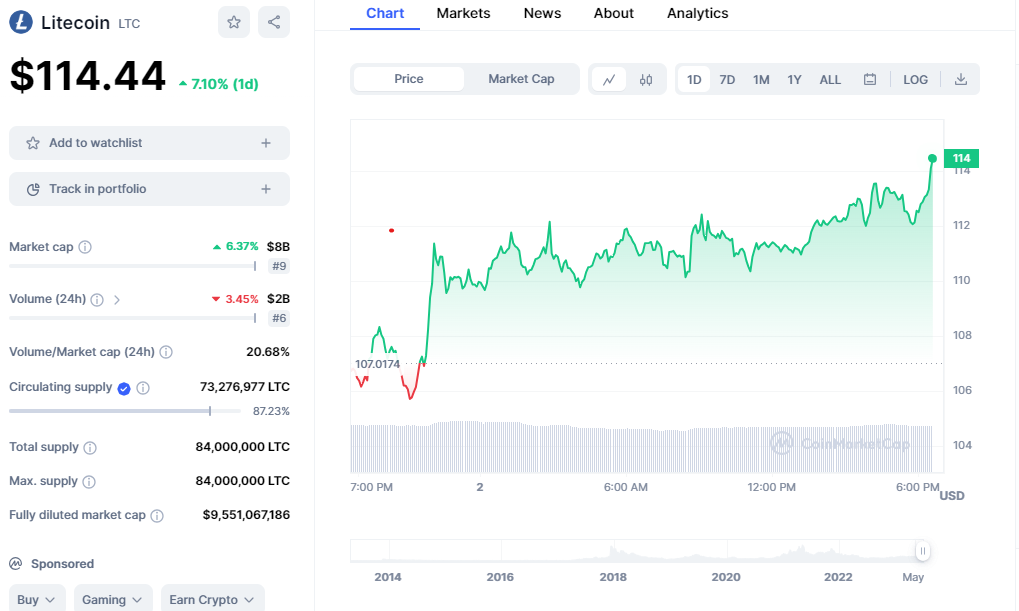 Thug Life Token ($THUG): Rising Star in the Crypto World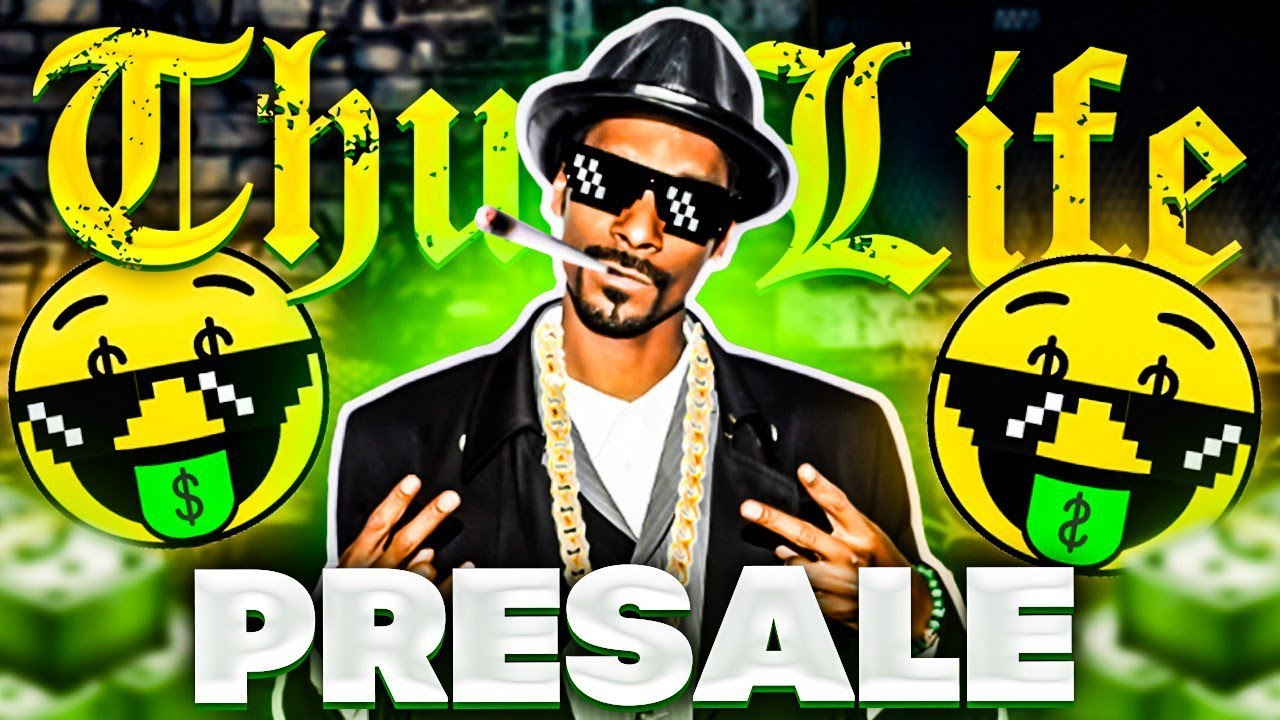 Since June 28, the Thug Life Token, known as $THUG, has become extremely popular. The presale of $THUG raised $275K within a short period of time.
$THUG's goal is to gather $2 million and build a community that can outperform other memecoins such as Pepe, Dogecoin, and Shiba Inu. Tokens like $THUG can become widely known.
Thug Life Memecoin: Laughter, Unity, and Potential
In today's crypto market, Thug Life has a great chance of becoming really popular. After its presale begins, it aims to become widely known through memes and famous characters like the Dogecoin dog, Snoop Dogg, Hasbulla, and Pepe the Frog.
Using Thug Life, memecoin owners can turn their "losses" into "wins" by making fun of missed opportunities. Pepe, Shiba Inu, and Dogecoin embody laughter, fun, and playful teasing.
The success of meme currencies like DOGE has surprised skeptics. See our guide to the best altcoins to buy now here.
A strong and supportive community is key to Thug Life's success. Historically, meme-based coins have been successful, and Thug Life wants to follow in their footsteps.
Tag a friend that's $THUG enough. @SnoopDogg pic.twitter.com/Awqn0dejZ7

— Thug Life Token (@thug_life_token) June 27, 2023
Despite Elon Musk's unique style, he might find inspiration in Thug Life videos. $THUG emphasizes resilience, comedy, and playful teasing. Check out our guide to the best altcoins for more information.
Don't underestimate this coin's potential because it doesn't take itself too seriously. Early investors made huge profits from Dogecoin, a joke that led to Thug Life.
Despite past less successful investments, there is still hope. $THUG helps you turn losses into profits. Even if someone influences you to buy a coin at its peak price, it's still possible to make money.
Thug Life Token: Empowering Crypto Influencers
The Thug Life Token offers a fresh start to those influenced by cryptocurrency. Web3 aims to redefine the crypto landscape with hard work, humor, and unity.
To ensure transparency, Thug Life Token sets a fixed price of $0.007 for 70% of its tokens during the presale period. In addition to being listed on decentralized exchanges (DEXs), 15% of tokens will be dedicated as community rewards, encouraging engagement and participation.
The remaining 15% will be used to boost the visibility and adoption of the token through strategic marketing initiatives. Liquidity will be locked to prevent sudden sell-offs from safeguarding stability.
Thug Life Token is priced at $0.0007 per token, with a market cap of under $2 million. In recent years, it has gained considerable attention and investment due to the "Thug Life" meme.
Even if the market cap remains below $60 million, investors participating in the presale have the potential to achieve exceptional returns. On the Ethereum network, the token can be exchanged for ETH and USDT.
Become part of the Thug Life Token revolution to avoid FOMO and set yourself on the path to financial success.
Get exclusive token sale bonuses and discounts by investing now. Make the most of the current market conditions with the Thug Life Token. Join the revolution today, and don't miss out.
Wall Street Memes – Next Big Crypto
Early Access Presale Live Now
Established Community of Stocks & Crypto Traders
Featured on BeInCrypto, Bitcoinist, Yahoo Finance
Rated Best Crypto to Buy Now In Meme Coin Sector
Team Behind OpenSea NFT Collection – Wall St Bulls
Tweets Replied to by Elon Musk