Bitcoin (BTC) price seemingly lost its strength in the first half of July 5th, which led to a drop from $30.8k at the start of the day to $30.2k.
The drop was a continuation of the price rejection after the coin tried to breach a resistance level at $31.2k the day before, and while several smaller supports attempted to stop it, BTC kept sinking.
Many analysts and investors believed this price drop would take BTC back to the mid-$20k range, but the support at $30.2k managed to hold. However, Thursday, July 6th, brought another sharp shift in the coin's price action.
As of the time of writing, BTC started seeing a rapid surge that took it up to $31.4k. The coin briefly stumbled after reaching $30.8k, which was a strong resistance yesterday.
However, it managed to break it after a short pause, which allowed it to hit $31,421 at the time of writing. The price continues to rise, so further gains remain possible.
The current bullish behavior was predicted by some analysts, who noticed a bullish pattern after the breakout of the trendline earlier today. As the analyst suggested, a bullish pattern after a breakout typically means that the coin wants to retest the broken trendline.
One analyst even predicted that Bitcoin would break the previous high of $31,380 in the new bull run, which already happened since the prediction was made.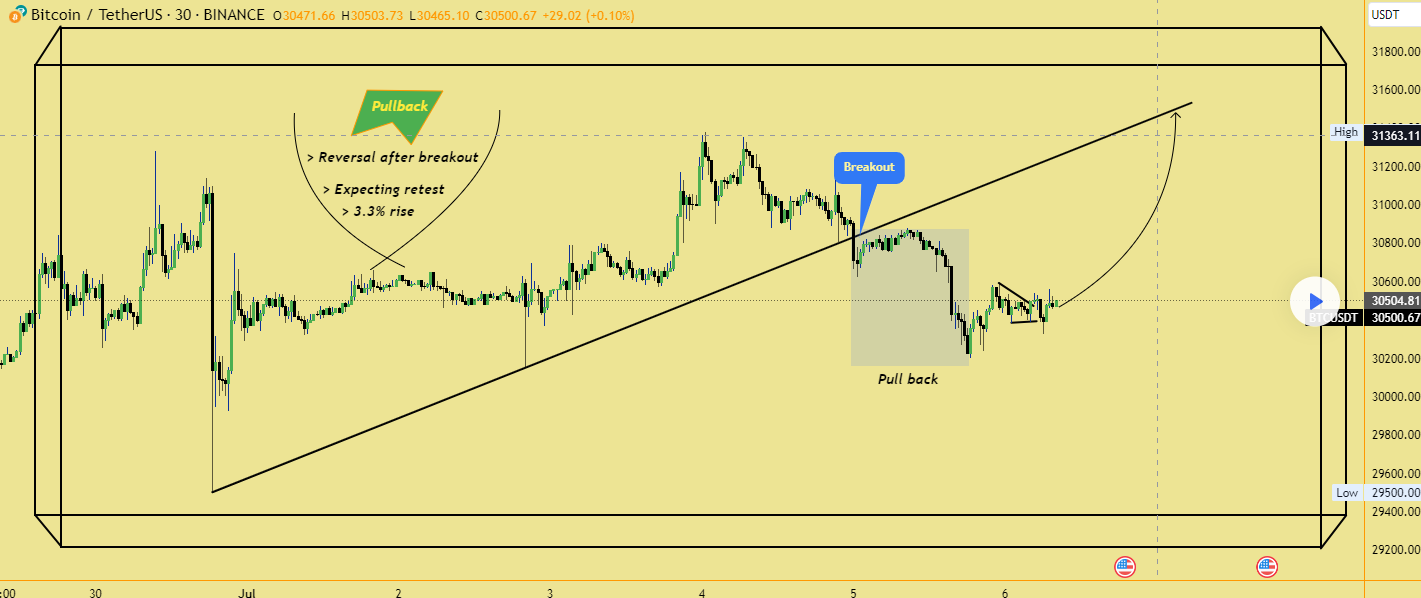 Given that some experts believed that Bitcoin price would crash following the price rejection on July 4th, the opinions are split regarding what will happen next.
Many did not expect for the support level at $30k to hold, but BTC did not even break the support at $30.2k.
After BTC found its support yesterday, analysts predicted that the coin would bounce to $32,250. If this happens, the coin will reach a new 12-month high.
However, it appears that the $31.4k resistance is currently holding it from progressing.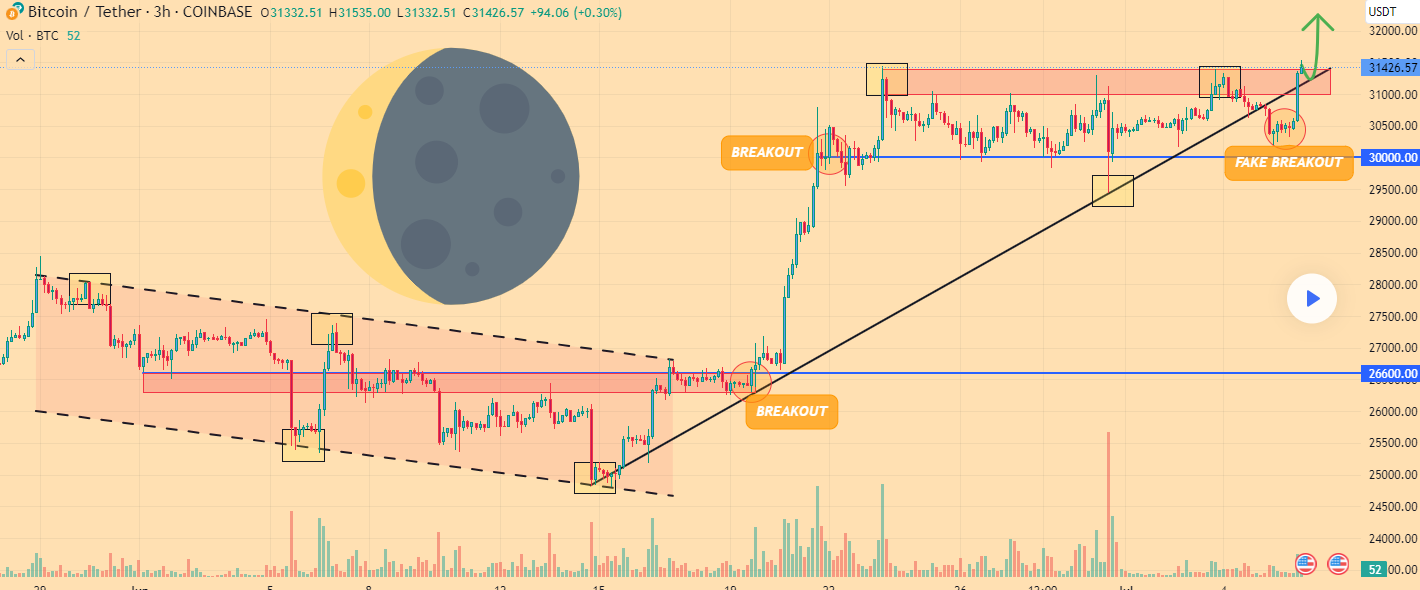 BlackRock CEO: Bitcoin is new gold
Bitcoin's attempts at a bull run started about three weeks ago, after BlackRock submitted its Bitcoin spot ETF filing with the US SEC. The move disrupted the market for several reasons.
First, BlackRock, the world's largest asset manager, attempted to get the SEC to approve a Bitcoin ETF in the middle of its crypto crackdown.
Last Friday, June 30th, the SEC rejected BlackRock's application, mainly due to the lack of clarity. However, BlackRock re-filed the application earlier this week, once again surprising the crypto community.
In a recent interview, Larry Fink, the CEO of BlackRock, said that he views Bitcoin as digital gold. Speaking of Bitcoin spot ETF, he said that it will democratize crypto. Fink also said that Bitcoin is an international asset that could revolutionize finance.
Changpeng Zhao revealed his thoughts on when BTC will start a bull run
During his recent AMA session on Twitter, which took place on July 5th, the CEO of Binance, Changpeng Zhao (CZ) gave his thoughts on Bitcoin's price acting.
When asked when Bitcoin might start the next big bull run, Binance CEO said that the year after Bitcoin halving is usually the bull year.
This fits with historical data regarding the asset, as Bitcoin typically surged anywhere between 6 and 12 months after the halving.
With the next halving scheduled to take place in 2024, that means that the next bull run should start in late 2024 or potentially in 2025.
Zhao was also asked whether BlackRock will eat up Binance's market share, to which he responded by saying that he is not concerned.
Anyone who's coming into crypto that's not in crypto today will bring additional people into crypto. Will they compete for any of the existing users with us? Yes, probably a little bit. But to be honest, look at our user base. The overlap is minimal.
Launchpad XYZ is closing in on its next presale goal
While speculation about Bitcoin is growing, a number of investors is turning to much younger assets.
Specifically, those that are not even on the market yet, and are, instead, still in their presale stage. One big example of this is Launchpad XYZ (LPX), which managed to raise over $1.1 million.
The project's LPX token is available at the price of $0.0445 at the time of writing, but the next stage of the presale is coming closer with each passing day.
Once the current phase ends, the next one will offer LPX at $0.046. The price will continue to increase until it reaches its listing price of $0.056.
Launchpad XYZ is a Web3 project that aims to provide developers with all the tools needed for them to be successful in Web3 development.
That includes insight and learning tools and those used in trading, analytics, and strategy. The project's token can be obtained in exchange for ETH, BNB, and USDT or purchased via credit or debit card.
Related
Wall Street Memes – Next Big Crypto
Early Access Presale Live Now
Established Community of Stocks & Crypto Traders
Featured on BeInCrypto, Bitcoinist, Yahoo Finance
Rated Best Crypto to Buy Now In Meme Coin Sector
Team Behind OpenSea NFT Collection – Wall St Bulls
Tweets Replied to by Elon Musk