The year 2021 witnessed a massive rise in the demand for NFTs with some NFTs being traded for a surprisingly high value in the market. The usage offered by NFTs in the world of Art and Culture has attracted the interest of celebrities and public figures as well.
The best thing about them is besides being an investment option, they offer various other incentives to their holders. New NFT projects are constantly evolving over time, with different underlying incentives and objectives behind each.
If you are considering buying any NFT, then 2022 is the best time to go ahead. But, before making a decision, it is recommended to learn about different NFTs and what they have to offer.
To make this task easier for you, we have come up with a list of 5 Top Trending NFTs that you can include in your investment portfolio.
5 Top Trending NFTs to Buy This Week
1. Silks
Silks NFT is a part of the Silks ecosystem. Silks is a play-to-earn metaverse gaming platform built on the blockchain to represent the real world of thoroughbred horse racing. That means, the Silks ecosystem is completely based on actual events and participants get benefitted when the real-world horse performs well in races.
In this game, players can acquire and own racehorses & horse farms, and take part in horse racing with minimized risks and high returns.
The Silks Avatar is the NFT that represents a user's digital identity in the Silks Ecosystem. Every user is required to own a Silks Avatar to take part in the Silks game, earn tokens, and mint Silks horses.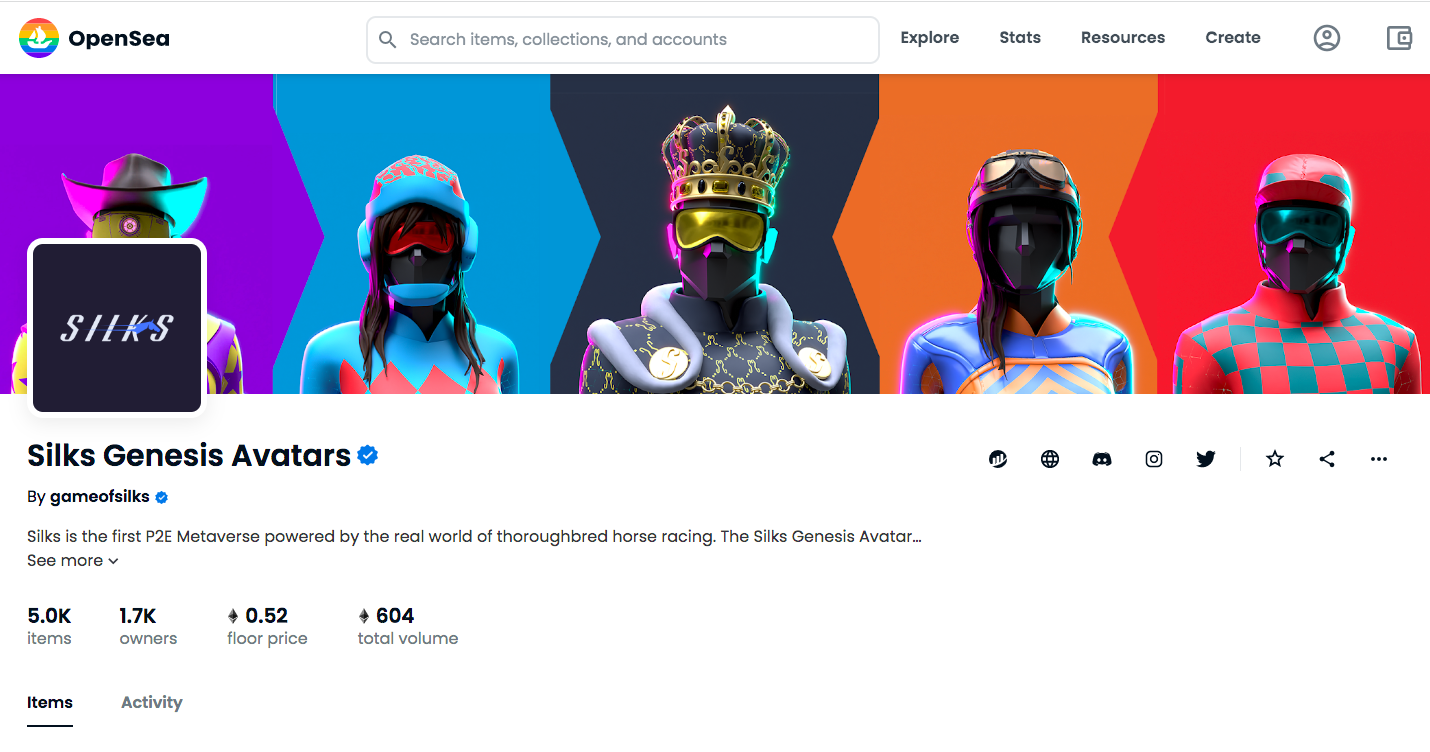 The Silks Horse is a derivative NFT that is linked to the real-world thoroughbred racehorse. The traits of each Silks Horse are derived from the traits of its real-world counterpart. When a real-world racehorse wins a race or breeds an offspring, the derivative Silks Horse earns token rewards.
The NFTs represent the plots of land on the Silks ecosystem. Each plot measures 1 acre, which must be acquired by horse owners to build horse farms. Owners can stake their horses on these lands to earn rewards. The Silks Stable NFT represents the stables that are used for housing the horses.
As per Silks' initial projected roadmap, the presale of Silks Avatar began in Q1 of 2022 and now is available for public sale. The public sale of land and stables will begin in Q3.
Buy Ethereum for Silks NFTs Now
Your capital is at risk.
2. Awesome Possums
Awesome Possums NFT is an NFT project that addresses a very serious social issue. It is a part of a movement that seeks to solve addiction issues and raise awareness regarding mental health. It is the first NFT project with the objective of solving the problems of mental health and addiction, which is very common in today's time.
It aims to provide investment opportunities to the masses by contributing something at large to the community as a whole. It offers the following benefits:
Development Opportunities: Each Awesome Possums owner get access to a community of artists, entrepreneurs, investors, venture capitalists, collectors, and visionaries to exchange ideas and opinions. It provides a platform for the owners to display their talent and uniqueness.
Charity: A large chunk of the revenues is donated to charitable organizations working toward mental health issues. Some of these organizations are Rethinkstigma.org, Childmind.org, and Shatterproof.org.
Incentives for Holders: Opportunities to earn rewards, crypto lotteries, vacations, tickets to events and seminars, and more.
These NFTs are minted on the Ethereum blockchain. The first set consisting of 12,000 NFTs is scheduled to be launched in a public sale on Jul 12, 2022. The pre-sale will begin 48 hours prior (on Jul 9, 2022).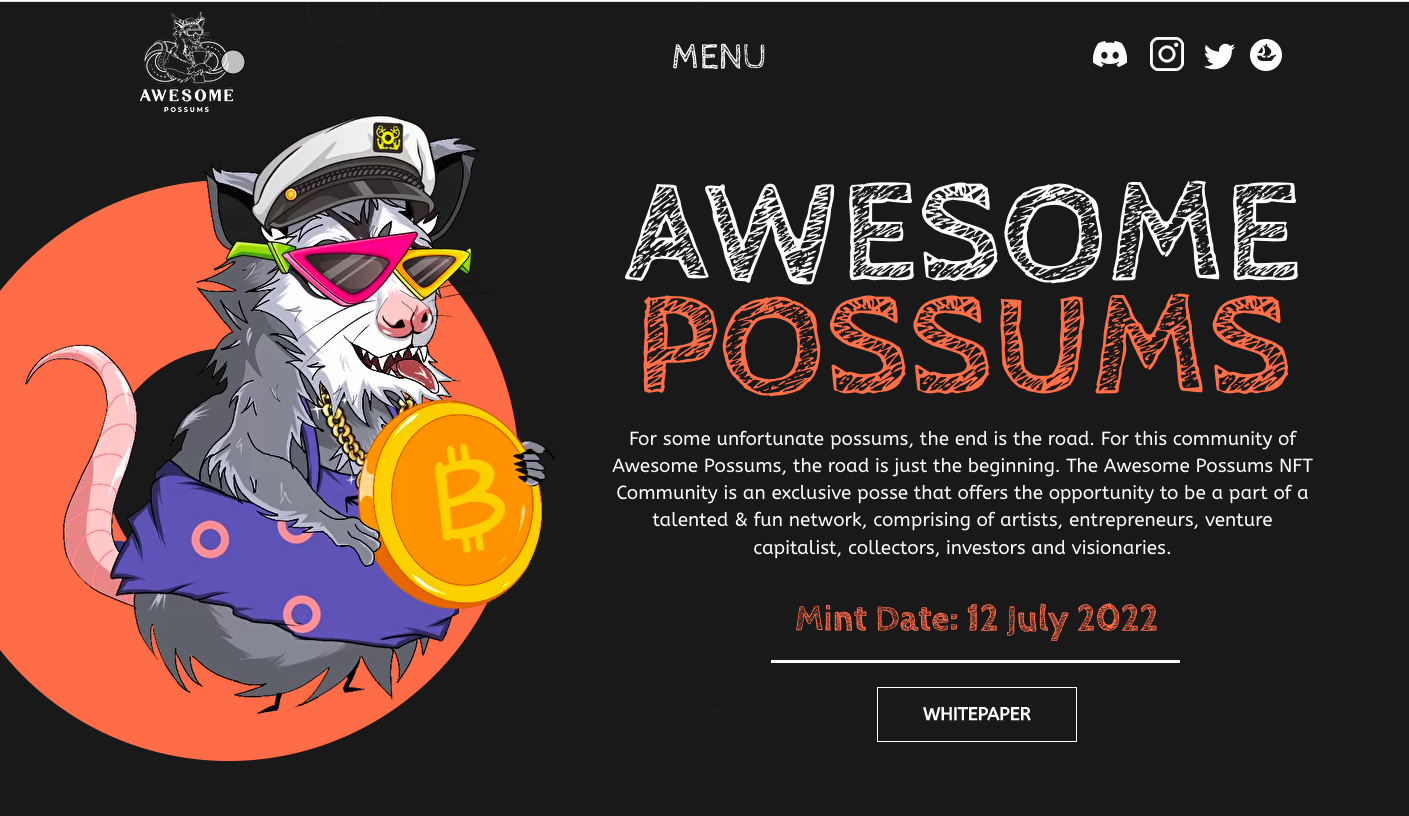 The team behind these NFTs consists of members who have personally witnessed their own people struggle with mental health and addiction issues. Hence, they have a better understanding of the issues and work hard to provide their constant support to these charitable organizations.
Because of such a unique underlying cause, some experts have predicted these NFTs to become high-demand assets in the future.
Buy Ethereum for NFTs Now
Your capital is at risk.
3. Mutant Ape Yacht Club (MAYC)
Mutant Ape Yacht Club is the second NFT-based project of Yuga Labs after the Bored Ape Yacht Club. It originally started with a total collection of 10,000 NFTs, which were an instant hit among NFT holders. The whole collection was sold out for a whopping amount of $96 million. Another set of 10000 Mutant Serum Vials was airdropped to holders of Bored Apes.

These NFTs possess unique features and provide the owners with access to Yacht Club. They also provide commercialization rights to the owners.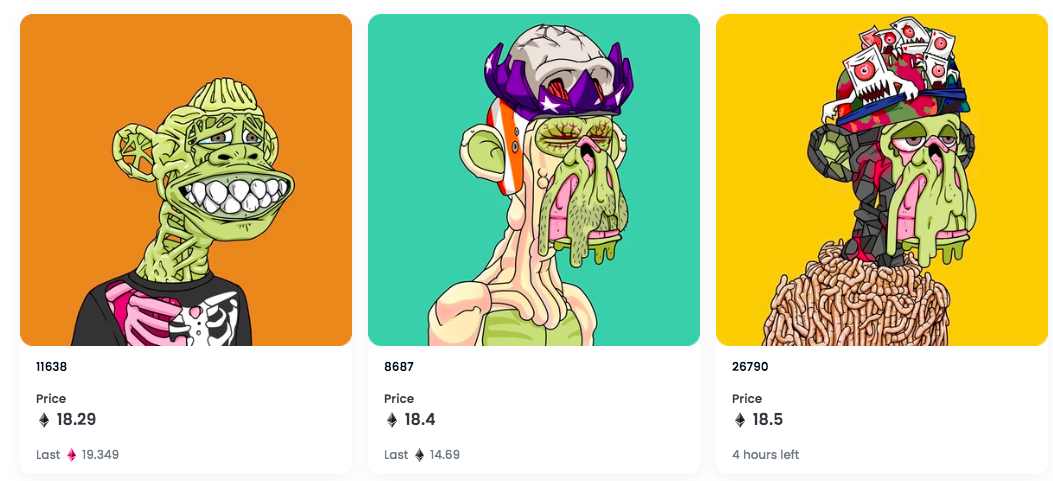 MAYC NFTs can be created using a vial of mutant serum or by minting them in public sale. Hence, these can be applied to the Bored Ape Yacht NFTs to convert them into Mutant Ape Yacht NFTs.
The MAYC NFTs were released by the team to provide new users with a cheaper way to join their club.
As per the team's roadmap, MAYC NFTs will become a part of the utility of the Bored Apes ecosphere. They will be able to utilize the 3D recreants of their avatars. These 3D avatars will provide the holders with the access to explore the virtual applications of the ecosystem.
Buy Ethereum for MAYC NFTs Now
Your capital is at risk.
4. LuckyBlock NFTs
The LuckyBlock NFTs were launched by the popular blockchain platform Lucky Block to grant owners exclusive access to the regular and additional prize draws.
There are 10000 unique LBLOCK NFTs added with valuable benefits. Each NFT provides a lifetime entry to the Lucky Block's NFT prize draw. The NFT prize draw runs separately from the crypto-lottery draw. 2% of the daily prize pool is allotted for LuckyBlock NFT holders.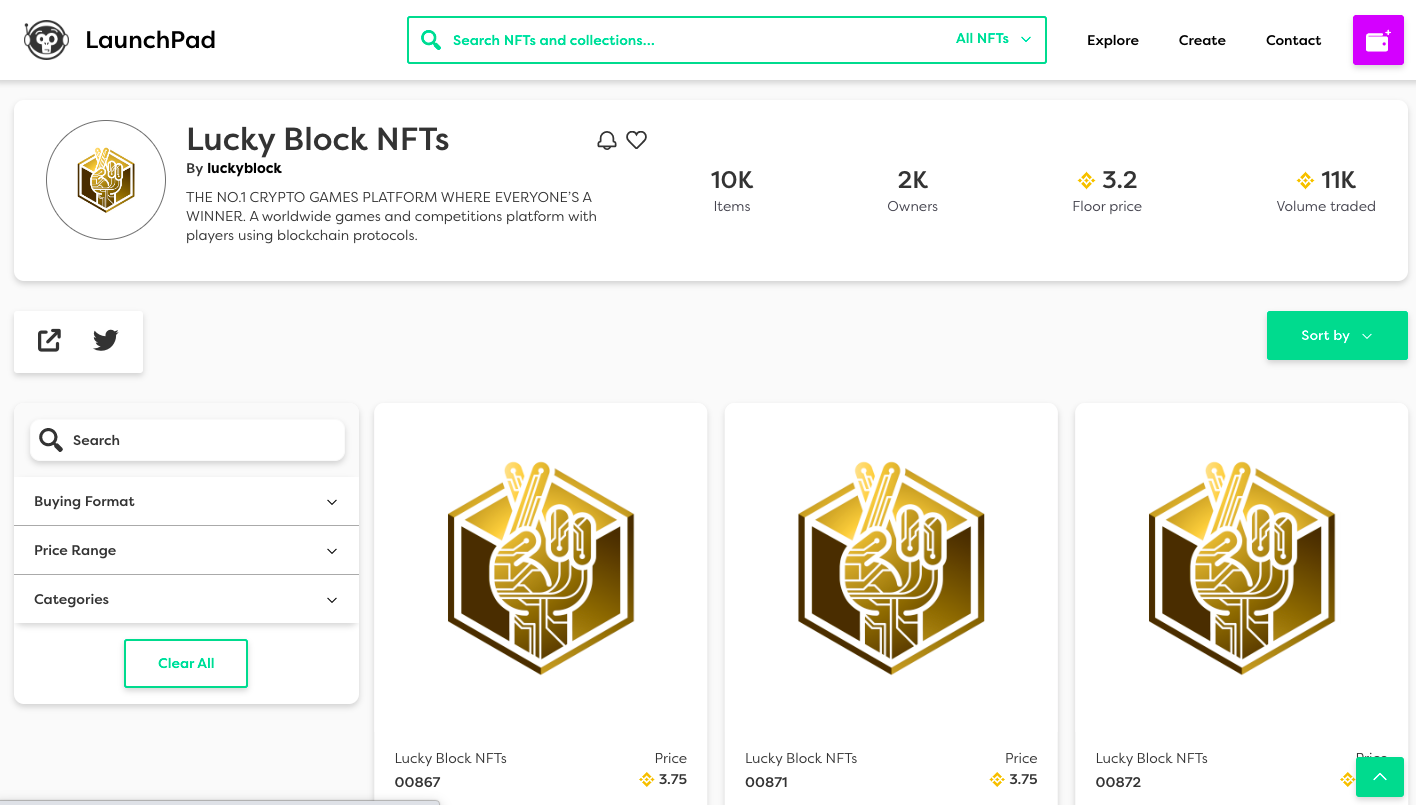 These 10,000 NFTs were part of the Platinum Rollers Club collection that was minted on March 19th 2022, out of which there were 25 'Rare Edition' NFTs. If a holder has a rare edition NFT, his earnings through the lucky jackpot will double automatically.
An NFT holder can also take part in the daily prize draws held on the Lucky Block's app, thus providing him/her with 2 chances of winning.
The team contributes 10% of each daily jackpot to charity. The causes of the charity are also e being voted on by Lucky Block's users. The most voted cause receives 70% of the allocated fund, whilst the remaining 30% is divided equally amongst other foundations.
Buy LuckyBlock NFTs Now
Your capital is at risk.
5. CryptoPunks
CryptoPunks NFT project was launched in 2017 by Larva Labs Studio. Hosted on the Ethereum Blockchain, this NFT collection consists of 10000-pixel images of a punk (dimension 24*24). Each punk possesses different attributes and appearances depicting humans, zombies, apes, and aliens. The apes, zombies, and aliens are considered the most popular and widely loved.
The maximum number of traits one punk can have is 7, the minimum being zero. These attributes play a key role in determining the value and demand of a CryptoPunk. There is only one punk that has a total of 7 attributes, Punk #8348.

In today's time, CryptoPunks NFTs are in very high demand. The most expensive CryptoPunk sold to date (in 2021) is Punk #7523 for a price of $11.75 Million. They are considered a symbol of status and trust. Its community mainly consists of celebrities and venture capitalists.
In March 2022, Yuga Labs acquired CryptoPunks from Larva Labs. They are considered the ideal stewards of the CryptoPunks by its community. The new owners haven't announced any plan of carrying out major changes in the existing punks. However, given their popularity with the Apes NFTs, the future of Cryptopunks seems to be in safe hands.
Buy Ethereum for CryptoPunks NFTs Now
Your capital is at risk.
Read More:
eToro – Our Recommended Ethereum Platform
Monthly Staking Rewards for Holding Ethereum (ETH)
Free Secure ETH Wallet – Unlosable Private Key
Regulated by FCA, ASIC and CySEC – Millions of Users
Copytrade Profitable Ethereum Investors
Buy with Credit card, Bank wire, Paypal, Skrill, Neteller, Sofort
68% of retail investor accounts lose money when trading CFDs with this provider.
FAQs
What is an NFT?
NFT stands for Non-Fungible token. It is a digital asset that is unique and cannot be replaced by another asset unlike cryptos or regular money. That is why, different NFTs of the same NFT project have different values.
What is NFT marketplace?
NFT marketplaces are blockchain-based platforms that facilitate buying and selling of NFTs.
What kind of NFTs to invest in?
It depends on the individual choice of the investor. Different NFT projects have different underlying objectives. Some benefit the society as a whole, while some only benefit the individual holder. It solely depends on what the investor wants in return.
What's the connection between NFTs and cryptocurrency?
Both are completely different digital assets. However, they are built using similar technology- blockchain. Hence, both have unique identities and ownership. The records of all transactions connected to both NFTs and Cryptos are maintained on the blockchain.