October is here, and it's another period to consider the best long-term cryptocurrency. After mixed performances in September, crypto investors will hope to strike gold with their investment choices this month.
To that end, we've selected some of the best long-term cryptocurrency options to buy as the tenth month of the year begins. Take a look:
1. Cardano (ADA)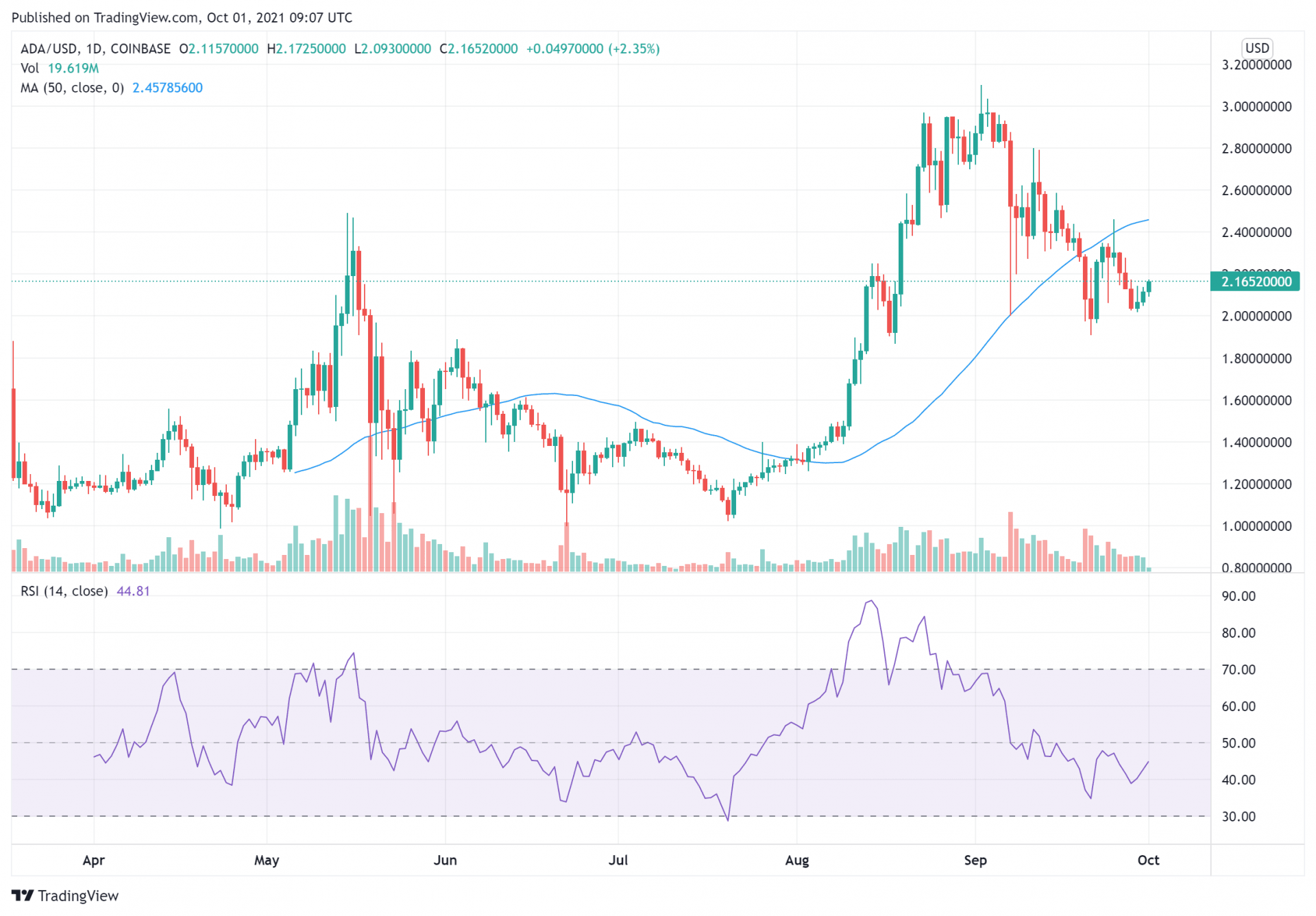 ADA is the native token for the Cardano blockchain. The coin is one of the oldest cryptocurrencies in the market, and it has the benefit of being backed by a solid project.
Much has been said about ADA already. The asset made big splashes in August as the Cardano blockchain's Alonzo hard fork drew nearer. Alonzo was eventually implemented in September, bringing smart contract functionalities to the Cardano blockchain.
Since then, Cardano has been on a massive adoption campaign. Its founders launched several partnerships with the goal of making the blockchain more attractive to developers. These include partnering with decentralized blockchain oracle service Chainlink to offer off-chain data to projects on Cardano. The developers also partnered with Coti to launch Djed – a decentralized finance (DeFi)-focused stablecoin – on the Cardano blockchain.
All of these show that Cardano is making a big play towards DeFi – a sub-industry that is still fledgling. Once adoption ramps up, ADA should jump in value.
For now, ADA trades at $2.16 – up 4.33 percent in the past day, but down 5.43 percent in the past week. The coin is trading below all of its short-term moving average (MA) indicators but above its long-term indicators. So, if you're looking for long-term returns, ADA is a good buy option. Its relative strength index (RSI) of 44.72 definitely shows that it is underbought.
2. Binance Coin (BNB)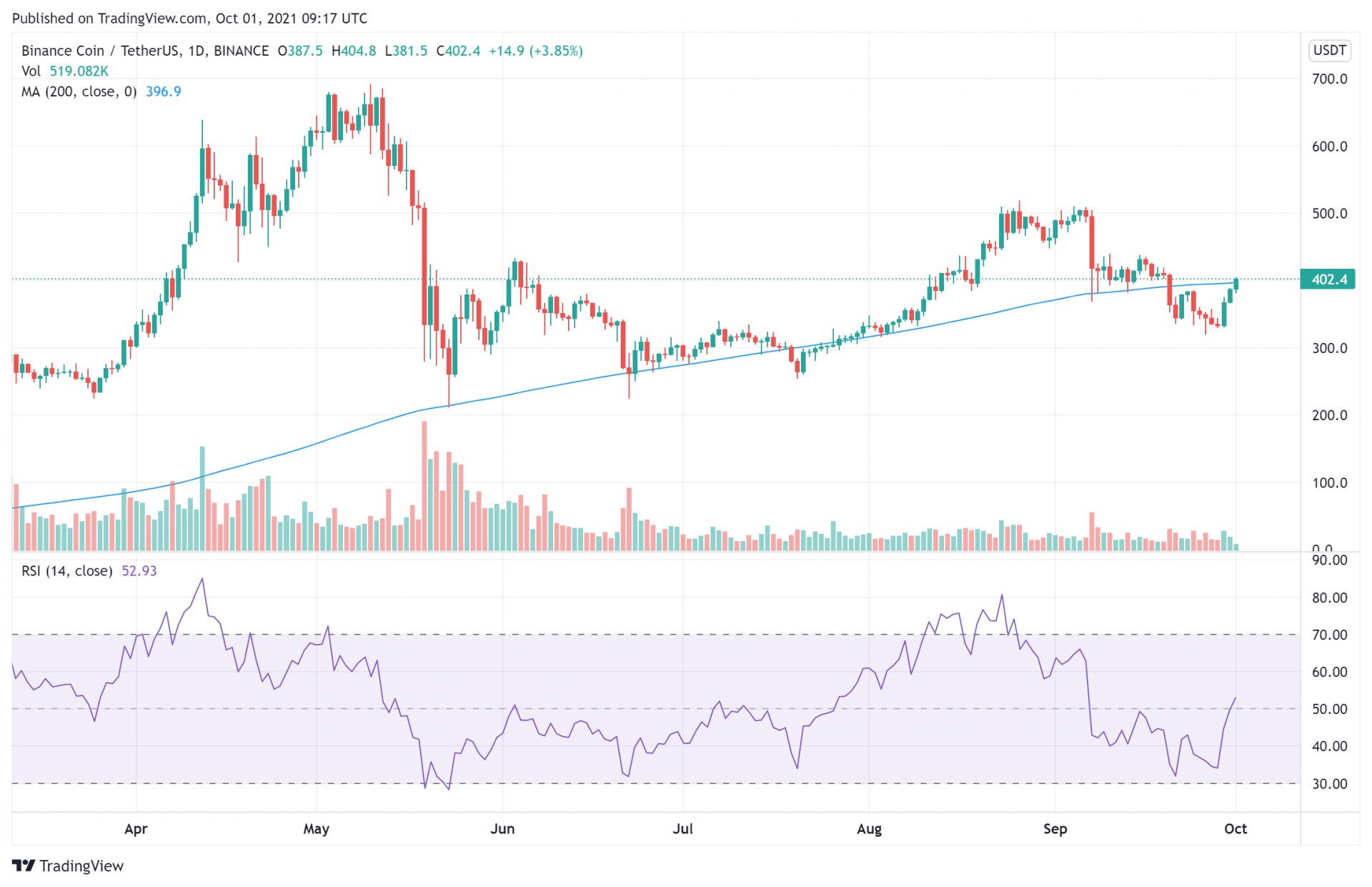 Binance Coin features in our list of the best long-term cryptocurrency options. The asset has had a stellar year, rising to the top of the CoinMarketCap charts and presenting a blueprint of what exchange tokens can and should be.
Currently, BNB is suffering a great deal due to Binance's woes with governments and regulators. The top exchange has had tussles with several countries – including the United Kingdom, South Africa, Australia, and Singapore. Binance is also facing a class-action lawsuit from some of its customers who blame it for losses suffered in the heat of the downturn.
Still, there is much to be optimistic for. BNB's position in the market means that it will lead any rally that comes.
The exchange has also made several hires as it looks to position itself in the best way going forward. Just yesterday, Binance hired Tigran Gambaryan -a former special agent at the Internal Revenue Service (IRS), to lead its intelligence division. News like this should keep BNB investors happy.
BNB's current price is $401.89 – up 7.08 percent and 12.29 percent in the past 24 hours and past week respectively.
The coin's price has crossed its 10-day and 20-day MAs, as well as MAs for the 50, 100, and 200-day ranges. So, besides being a good long-term cryptocurrency, BNB could deliver some short-term results too. With an RSI of 53.26, BNB is looking highly attractive.
3. Uniswap (UNI)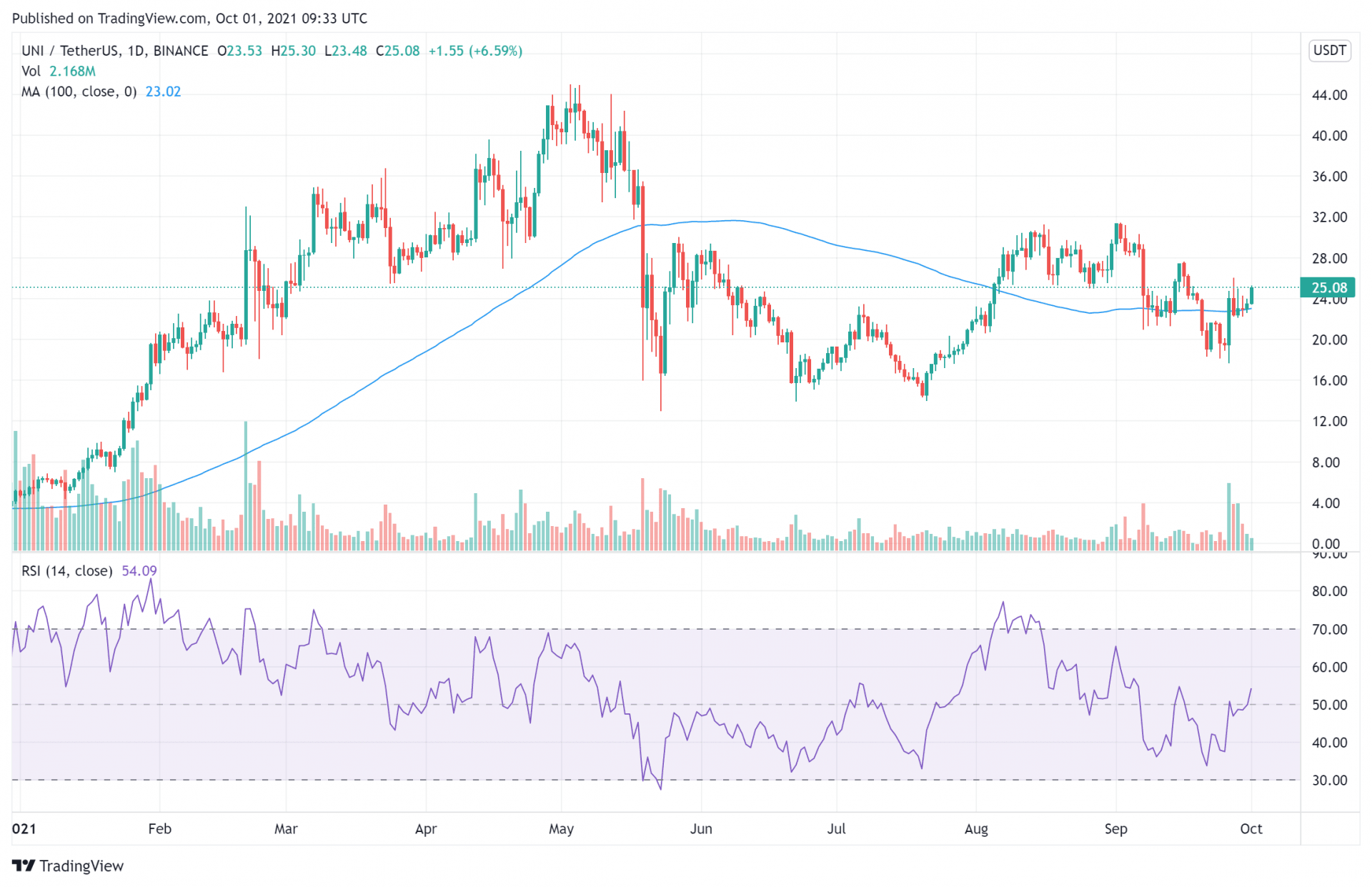 UNI is the governance and exchange token for Uniswap – the world's largest decentralized exchange. The coin itself is growing in popularity, but we're including it as a long-term cryptocurrency thanks to updates from China.
Last week, the Peoples Bank of China announced that it would coordinate with several other agencies to ban all cryptocurrency transactions. The move has led several top centralized exchanges to flee the country, opening a place for decentralized exchanges to thrive.

Recent data from Chainalysis shows a significant amount of regional Bitcoin flows happening in eastern Asia. This suggests that crypt holders are moving their cash in response to the crackdown. The fact that cash isn't flowing out of these regions – even after top exchanges have left – shows that decentralized exchanges have stepped in to fill the void. It will be an interesting few months for services like Uniswap.
UNI's price currently trades at $25.18 – up 9.53 percent and 19.64 percent in the past day and week respectively. Its recent performance has taken it above all MA indicators, save for the 50-day MA.
UNI's RSI of 55.18 is still relatively underbought, so you can feel comfortable buying it.
4. XRP (XRP)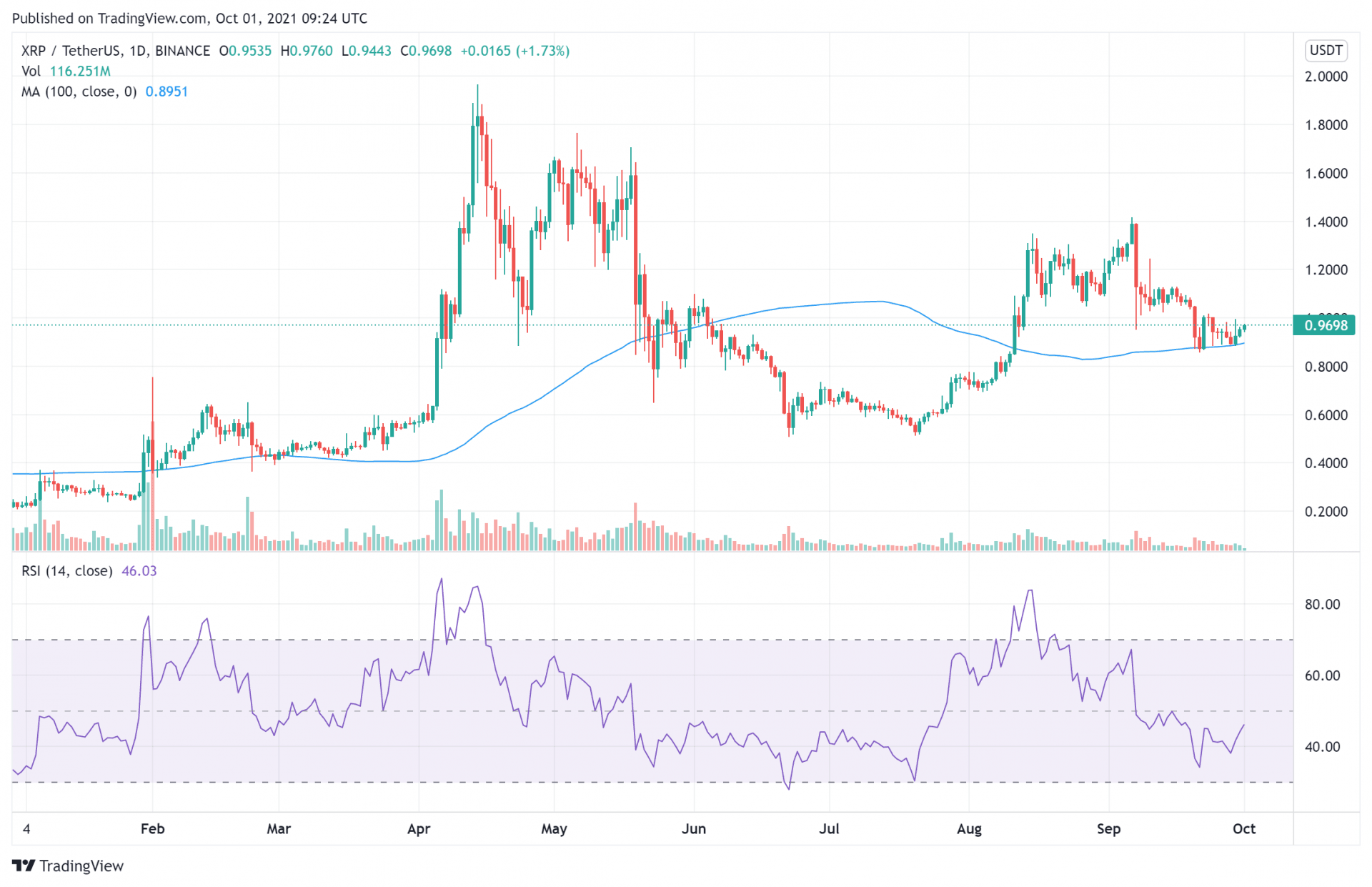 XRP is the crypto industry standard as far as cross-border payments are concerned. While it has lost its place in the highest echelons of the CoinMarketCap rankings, it remains one of the most popular cryptocurrencies in the world.
Despite a legal tussle between Ripple Labs – XRP's developers – and the Securities and Exchange Commission (SEC), the coin has continued to perform quite well this year. We're including it as a viable long-term cryptocurrency because of recent developments coming from the Ripple camp.
Ripple had quite a good week. The company has put its hat into the ring for non-fungible tokens (NFTs), launching a $250 million fund for NFT creators to mint their work on its XRP Ledger blockchain. It would appear that Ripple also wants to be an "Ethereum killer."
XRP itself got a stirring endorsement from Rosa Rios, a former U.S. Treasurer. In a tweet, Rios hailed the coin's functionality- while getting in a good dig at Bitcoin. Good times for XRP investors.
XRP trades at $0.96 currently – up 3.51 percent in the past day and 2.81 percent in the past week. The coin's price has crossed its 10-day MA, although it remains below other short-term MAs. it is also above its 100-day MA, but lower than the 200-day indicator.
With an RSI of 46.58, XRP is underbought. But, you might want to be careful with it.
5. Polygon (MATIC)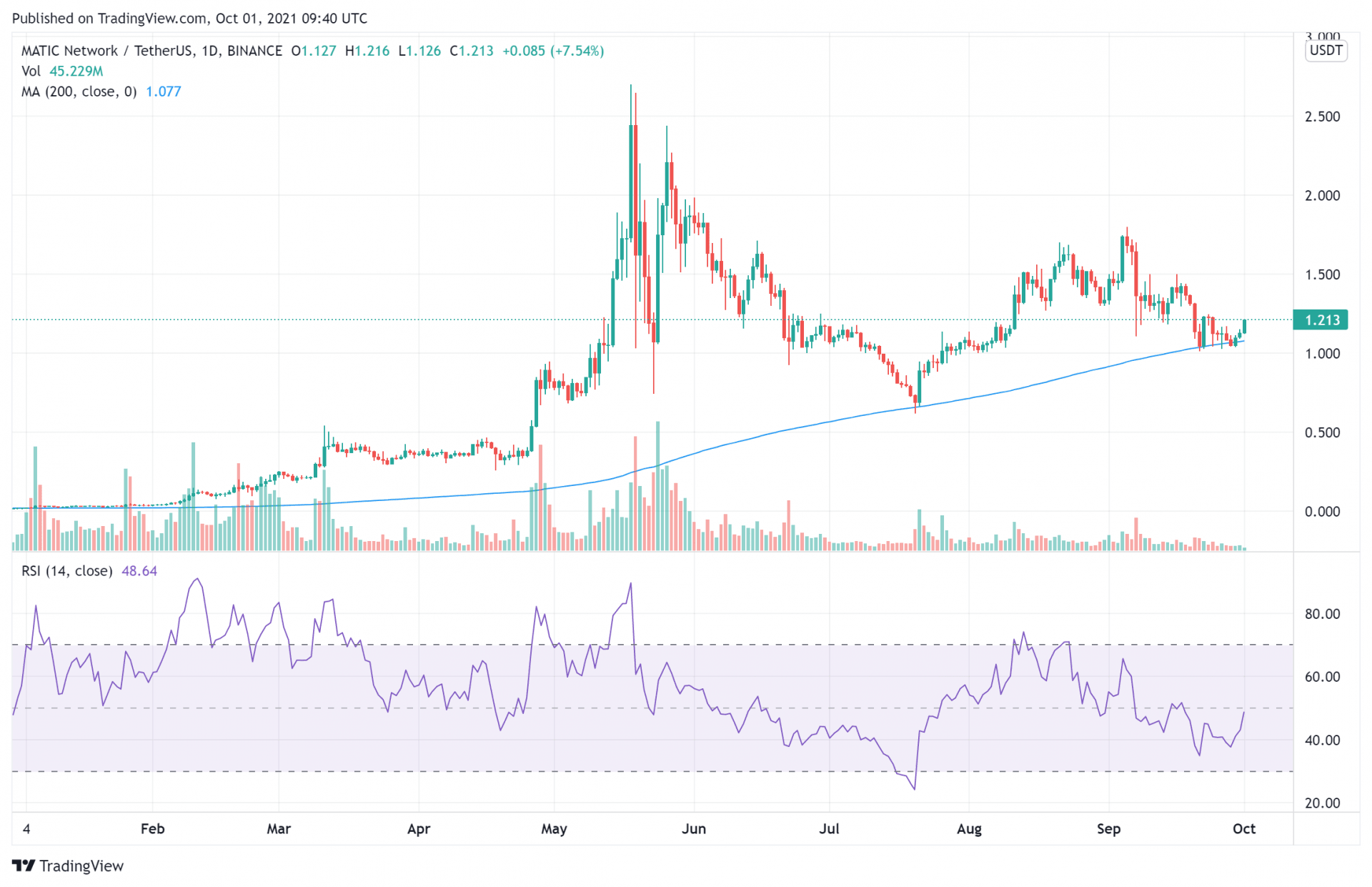 Polygon is another highly popular blockchain platform. With recent developments coming for the platform, MATIC is looking more attractive to long-term buyers as well.
Just yesterday, the Swiss national postal service announced that it would launch a crypto stamp – essentially, a digital collectible linked to a physical stamp – on Polygon. The stamp will provide digital representation for the physical ones and be accessible via Polygon alone.
Interestingly, the number of daily active unique addresses on Polygon also briefly surpassed that of Ethereum on Wednesday, suggesting greater adoption for the protocol. More developments are expected, so MATIC investors should be pretty happy.
With a price of $1.21, MATIC is up 9.41 percent and 1.19 percent in the past day and week. The coin's price is above the 10-day MA, but below other short-term MA indicators. As expected, it is still trading above its long-term MA indicators – even though the 100-day MA is inching close.
MATIC's RSI of 49.43 shows that it is underbought. So, you should feel confident buying it.
Read more: