The cryptocurrency market has remained flat after its recent small drop. Its total value now stands at $2.05 billion according to CoinMarketCap, having been $2.128 on Sunday. This is a fall of 3.6%, with a number of major coins falling by similar percentages over same couple of days. However, not every cryptocurrency has dropped recently, with a number of low-priced altcoins actually rising. As such, we've picked the 5 best cryptocurrency to buy on low prices right now. This generally covers coins priced around or below $100.
5 Best Cryptocurrency To Buy On Low Prices
1. Terra (LUNA)
Terra (LUNA) is one of the best-performing coins over the past month. At $33.90, it has risen by 3.3% in the last 24 hours and by 14% in the last week. It's also 53% up across the past fortnight and 212% over the last 30 days. Not only that, but it set a new all-time high only two days ago, reaching $36.61.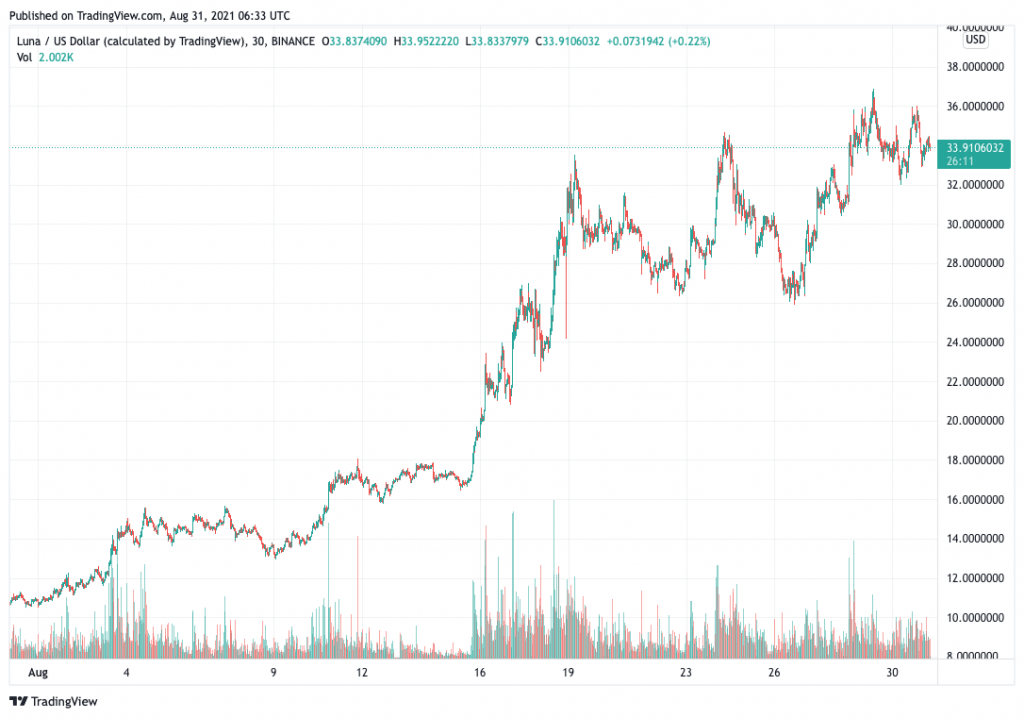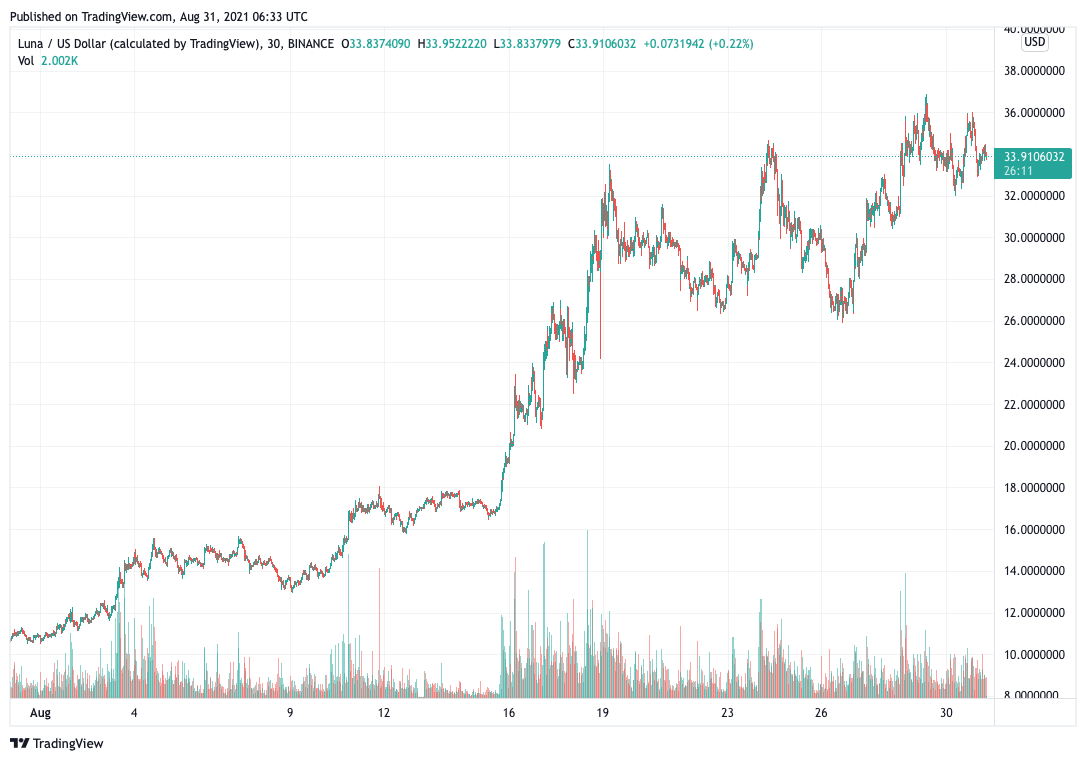 LUNA has really taken off since the launch of Wormhole on August 9. Wormhole is a cross-chain messaging protocol, letting users transfers assets between Terra, Ethereum, Solana and Binance Smart Chain. Its launch has greatly expanded the Terra ecosystem and its number of users, with LUNA's price rising from $13 since launch.
1/Today we're incredibly excited to announce Wormhole: a generic cross-chain messaging protocol. Wormhole will launch with support for the thriving @Ethereum, @Solana, @Terra_money, @binancechain ecosystems. https://t.co/pEKdeOW821

— Wormhole (@wormholecrypto) August 9, 2021
Even without Wormhole, the Terra ecosystem has been growing on its own account recently. It hosts and provides stablecoins pegged to various national currencies, with its largest UST token expanding its supply from $2 billion to $2.3 billion in less than a month. Because the supply of UST has grown, the Terra system has burned a proportionate amount of LUNA.
#Lunatics – biweeky updates for ecosystem map are out @ https://t.co/HUhAAx5ZMn

updates:
➕@CoinbasePro lists $UST $wluna
➕@krakenfx lists $Luna
➕@CoinMetro on/off ramp
➕@terraworld_work new project on Terra
➕@TerraRoll – new project/live (use caution/likely unaudited) pic.twitter.com/KAJty6LwPk

— Smart Stake (@SmartStake) August 22, 2021
More than anything else, it's arguably this burning that has sent LUNA to new highs. However, it has also benefitted from growing interest in DeFi.
Global total value locked in DeFi just reached $148 billion and is rapidly approaching new ATHs.

Ethereum, Terra, and Solana are leading the way, with the latter two printing new ATHs in recent days.

Some insights below by ecosystem.

— Ryan Watkins (@RyanWatkins_) August 16, 2021
Given that it's rising so strongly, LUNA is easily one of the 5 best cryptocurrency to buy now on low prices.
2. Axie Infinity (AXS)
Axie Infinity (AXS) has slipped somewhat since its all-time high of $82.40 on August 21. It's currently priced at $71.81, marking a nearly 5% drop over the past day. It's also down by 6.6% over the last week. On the other hand, it remains 7.5% up across the past fortnight and 67.1% up across the past month.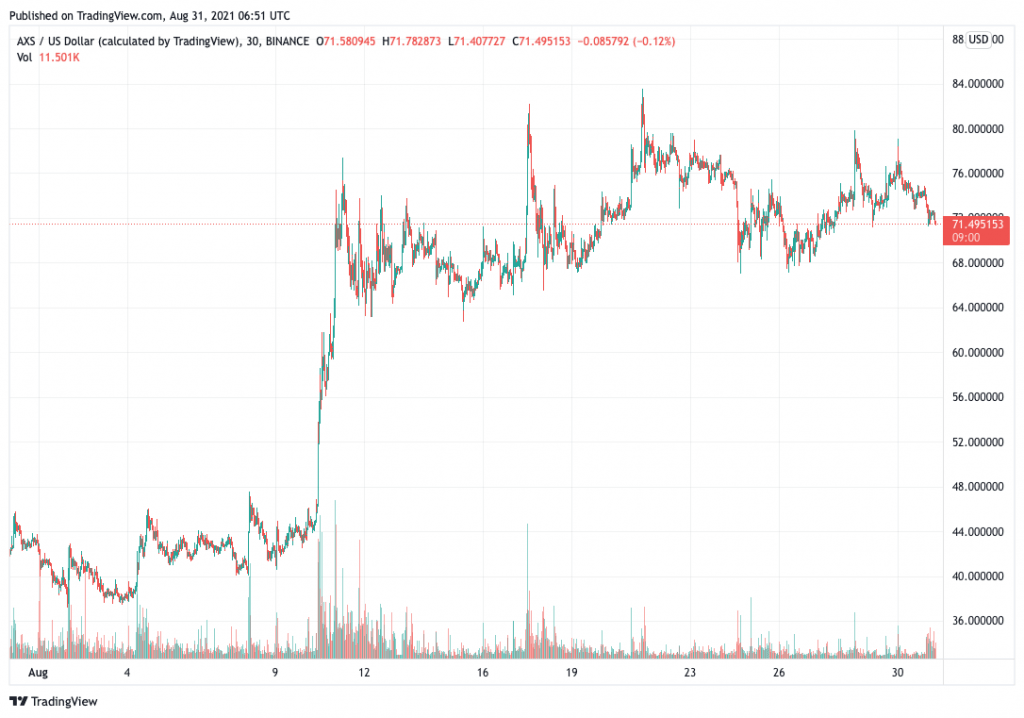 Despite its recent shaky performance, AXS's fundamentals remain encouraging. Axie Infinity's popularity as a decentralised game continues to increase each week. It now boasts just over at 1.4 million daily active users, despite having only 61,125 as recently as the end of May. This represents over 2,100% growth in less than four months. And so far, the game's growth is showing no sign of coming to a halt.
3. Cardano (ADA)
Cardano (ADA) has also fallen a little since reaching a new record high. At $2.76, it's down by nearly 3% in the past 24 hours. It's also down by 5% in the past week. On the other hand, it is up by 32% in the past fortnight, 108% in the last 30 days, and 2,200% in the past year.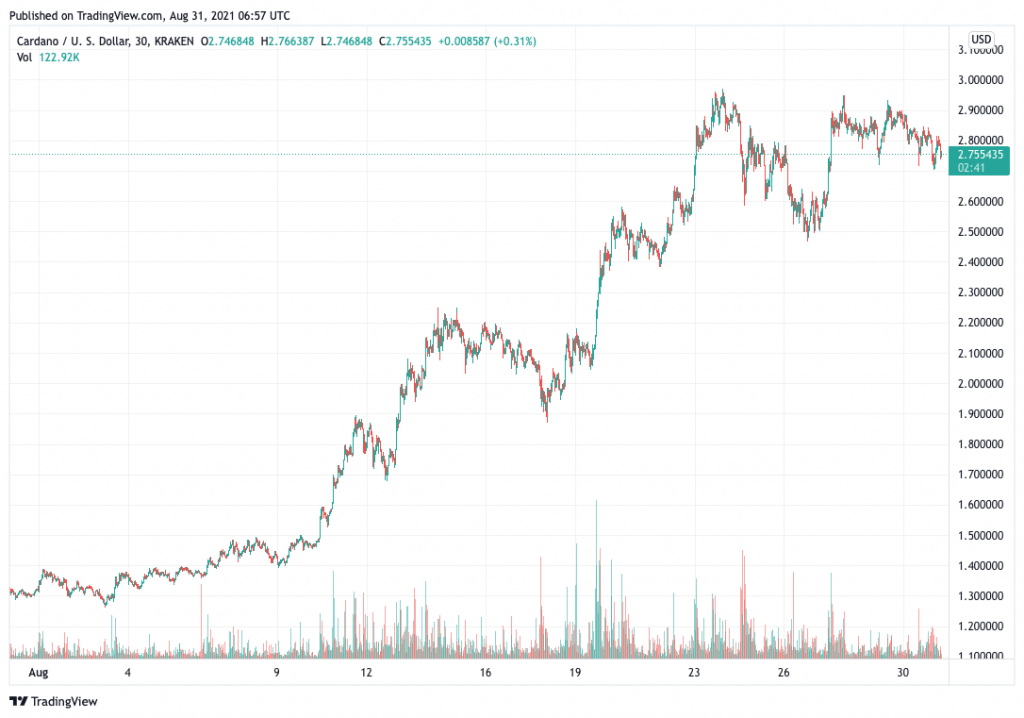 ADA hit an ATH of $2.95 on August 23. Despite falling by 6% since then, it's one of the likeliest coins to experience a surge in the coming days. This is because smart contracts are due to launch on Cardano on September 12. These will enable the platform to host its own native decentralised applications, something which will help it to grow its own DeFi ecosystem.
#Cardano #smartcontracts are coming…

We're on track to meet the projected HF dates for both testnet & mainnet #Alonzo upgrade, as Nigel outlined in last week update👇

A new era is set to begin on Sunday 12th September 2021 🌅 $ADA pic.twitter.com/HrdrqYizhP

— Input Output (@InputOutputHK) August 17, 2021
Indeed, founder Charles Hoskinson has previously claimed that over 100 companies are waiting to leave Ethereum for Cardano. Regardless of just how true this claim is, Cardano is likely to experience noticeable growth after September 12. This is why it's one of the 5 best cryptocurrency to buy on low prices right now.
4. Ripple (XRP)
Ripple (XRP) is currently standing at $1.11. This is down by 1.6% in the last day, by 10% in the last week, and by 6.5% in the last fortnight. However, XRP is up by 48% in the past 30 days, having sunk as low as $0.525 in July.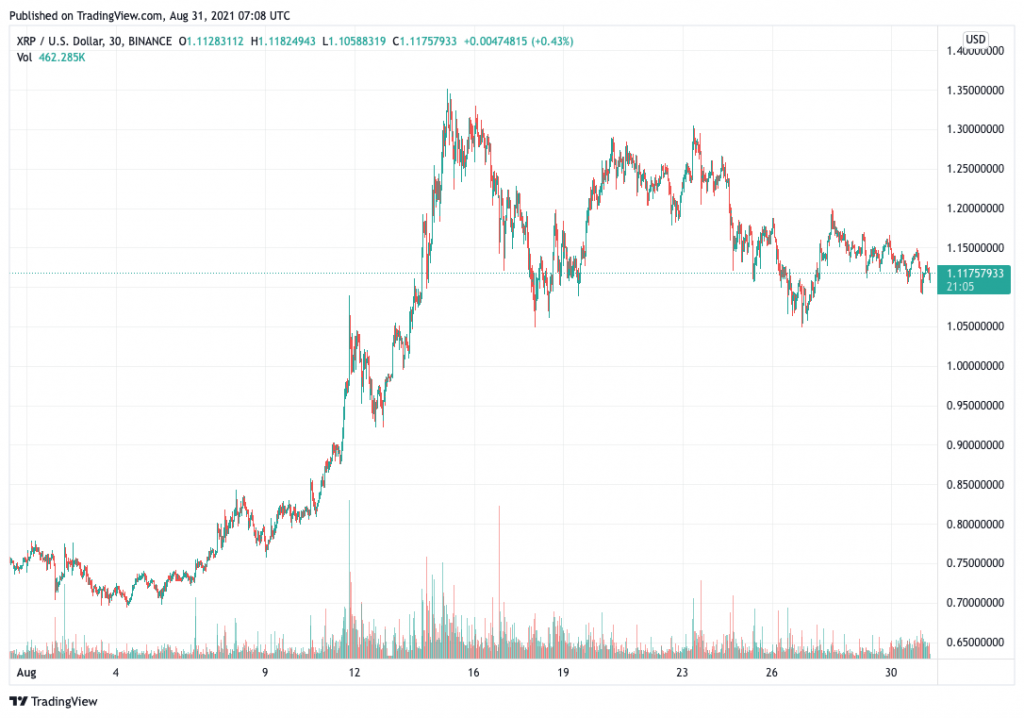 XRP has retained most of its recent gains, which largely followed from the market-wide resurgence of mid-August. The cryptocurrency has also been helped by continuing confidence surrounding Ripple's legal case with the SEC.
In particular, a hearing for today (August 31) may very well produce a ruling favourable to Ripple. As attorney Jeremy Hogan explained in a YouTube video, this hearing could be key to obtaining a settlement. "Ripple could potentially get some documents that could really help it advance its position that 'XRP is like Ether and in 2018 the SEC said Ether is not a security and therefore XRP is not a security'," he said.
Assuming that this hearing and other developments go Ripple's way, XRP could be in for some more rises. It could even break the $1.20 level, something it's been struggling to do for over a week now.
5. Uniswap (UNI)
Uniswap (UNI) is one of a select number of coins that has actually risen over the last 24 hours. It now sits at $27.08, a 3.5% rise. That said, it's still down by nearly 6% in the last week, although it's 23% up over the past month.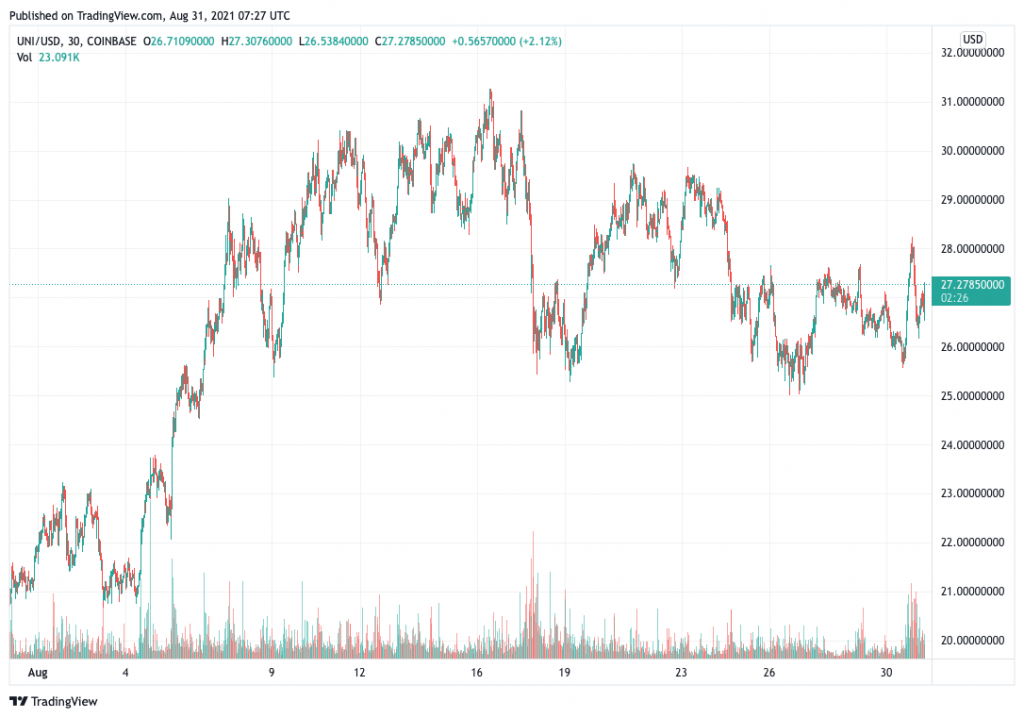 As one of the leading decentralised exchanges, UNI is primed to rise in parallel with the overall growth of DeFi. It's currently ranked sixth among DeFi platforms (in terms of total value locked), according to DeFi Pulse.
It's possible that Uniswap will benefit, in an inadvertent kind of way, from the Infrastructure Bill. Currently, being debated in Congress, this would extend tax reporting and know-your-customer requirements. In particular, it would expand the definition of 'broker' to include more than centralised crypto-exchanges. However, an amendment explicitly excludes DEXes such as Uniswap.
1/ We didn't get the language we wanted in the final bill text. It's better than where it started, but still not good enough to clearly exclude miners and similarly situated persons.

Here's how it started and the final with the changes we were able to get. pic.twitter.com/Y0LSUf7UEY

— Jerry Brito (@jerrybrito) August 2, 2021
If excluded from the provisions in the bill, Uniswap could benefit considerably. It may attract more customers, who would look to avoid the need to report taxable gains. In turn, this would likely boost UNI.
67% of retail investor accounts lose money when trading CFDs with this provider