Crypto investors looking for long term returns understand that the market is filled with coins that could deliver just that. The market has matured quite nicely, and this means that you can easily find an assortment of coins to help you meet your investment goals. ==With September moving into its third week, you might be wondering which coins will give you the best chances of making great long term returns. We've got an incredible selection for you, so check the list out.
1. Ethererum (ETH)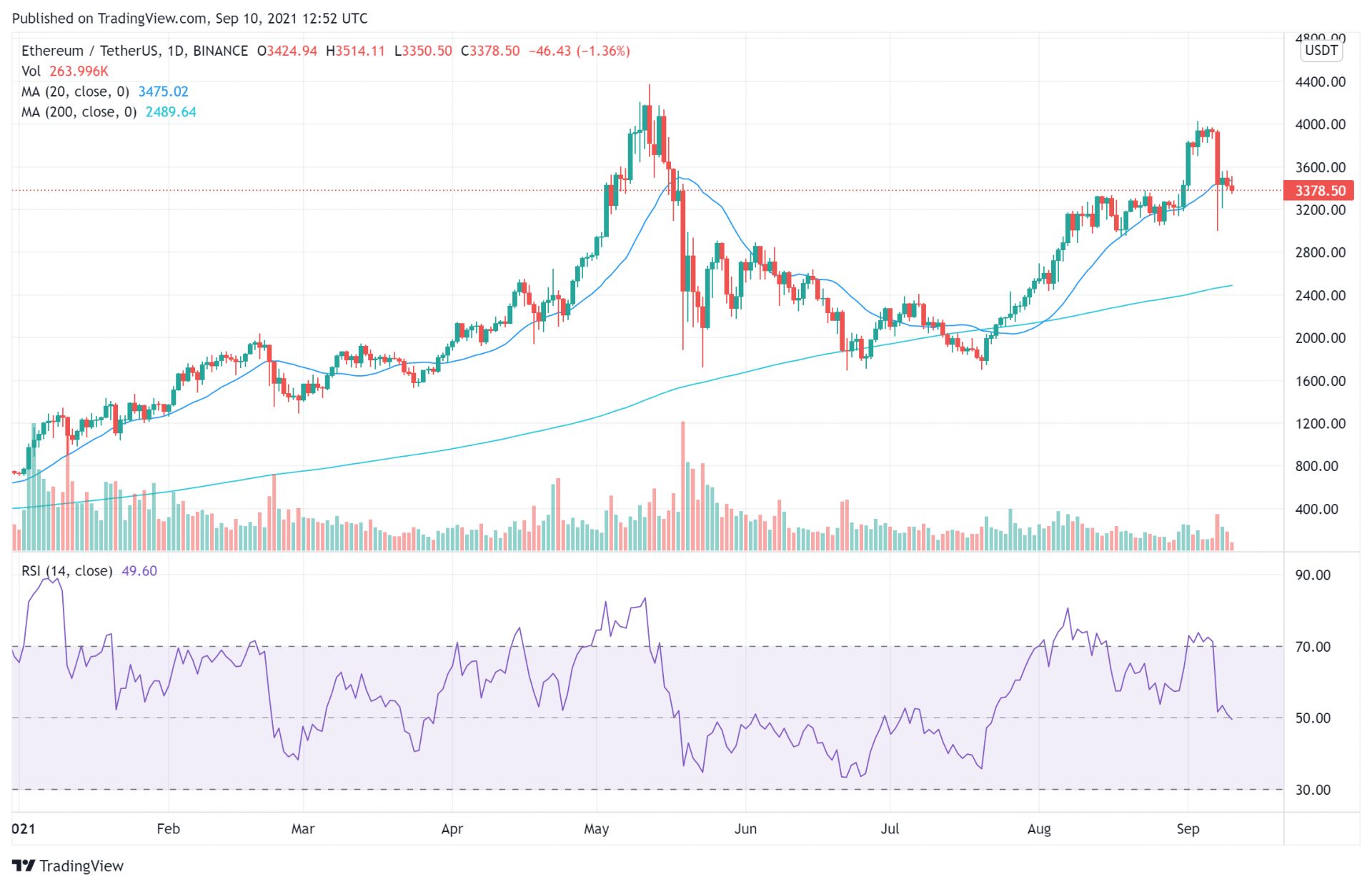 If you're looking for long term returns on crypto, ETH is an impressive asset for you to buy. The coin has performed excellently this year, and there is still some upside for ETH to go as we move into the third week.
Ether has been riding on the successful London hard fork that came to the Ehereum blockchain last month. The hard fork takes the blockchain one step closer to its ETH 2.0 upgrade, which will make the blockchain more scalable.
Many- including banking giant Standard Chartered – have touted the impending upgrade as the catalyst for bigger ETH gains. It is expected to roll out in 2022, so keep an eye out for it. ETH currently trades at $3,378 – down 2.4 percent in the last 24 hours and 14.6 percent in the past week. The coin's 20-day and 200-day MAs stand at $3,491 and $2,4823, respectively. Its RSI is also dropping, currently standing at 50.57.
2. Bitcoin (BTC)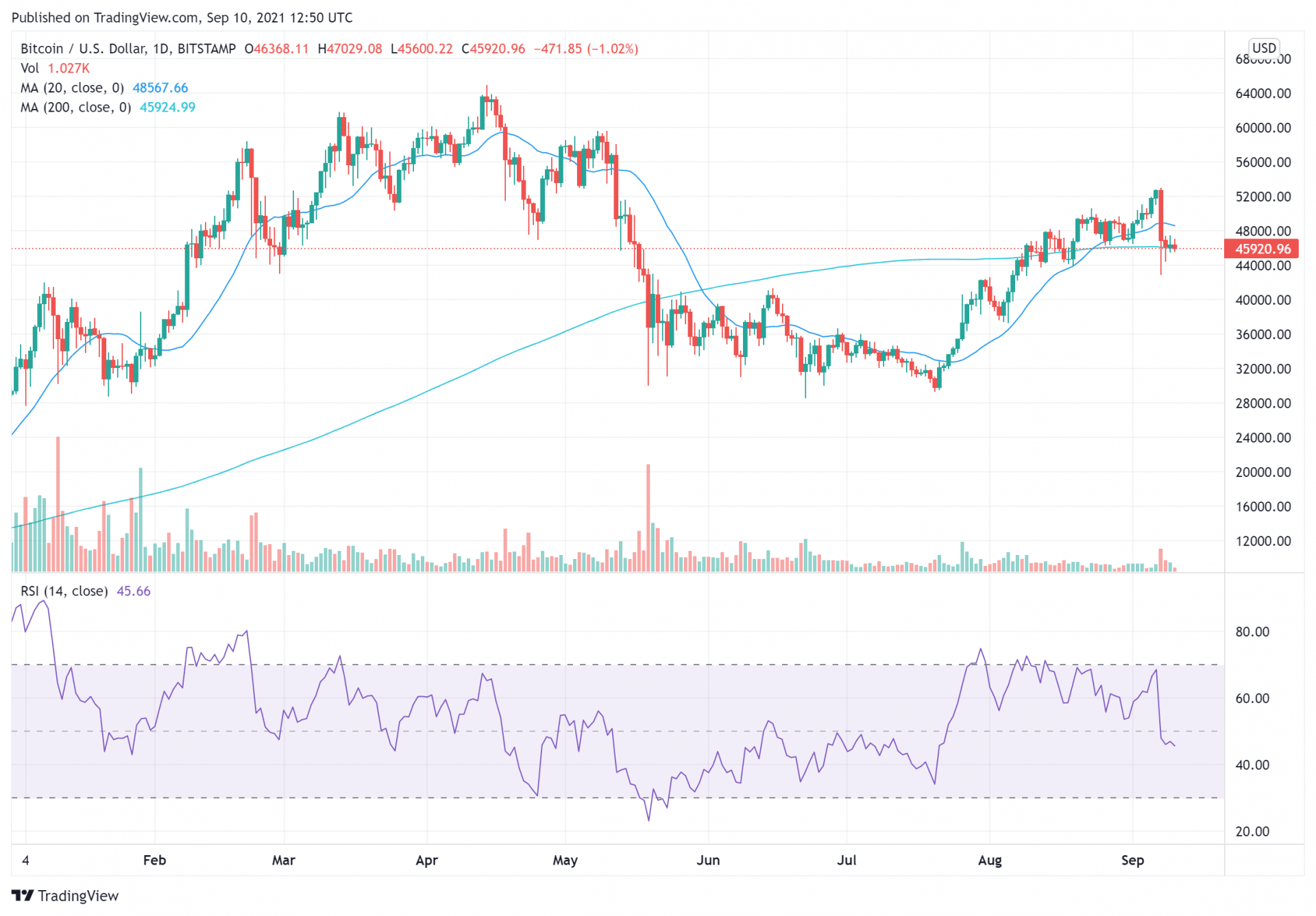 Bitcoin remains the best bet for crypto investors looking for long term returns. The asset always has a special place in the market, and this is an exciting time to be a Bitcoin investor.
Bitcoin saw a bit of a dip over the week, but that could play well into investors' hands. As is common knowledge, a dip is simply the perfect excuse for you to buy more of an asset.
Currently, Bitcoin trades at $46,021 – this is a gain of 0.38 percent from yesterday, although BTC is down 9.41 percent for the week. It is in a murky place as it trades behind its 20-day and 200-day moving averages (MAs) of $48,603 and $46,382, respectively. But, investors should enable to pull it ahead in the next few days.
Bitcoin's relative strength index (RSI) had plunged to 45.49, so it is very underbought.
3. Cardano (ADA)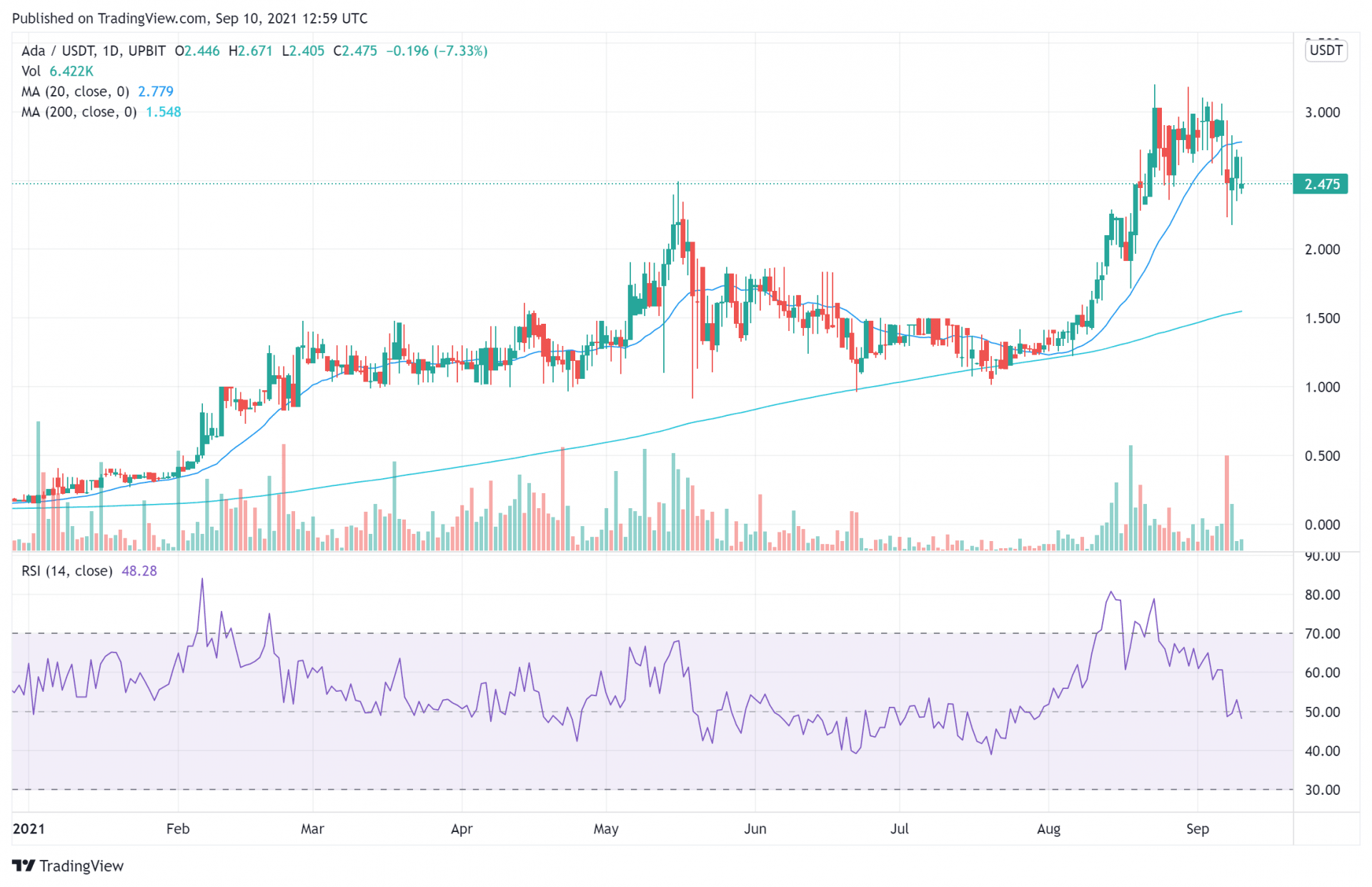 The 3rd most valuable cryptocurrency Cardano is riding an unprecedented high. The asset has been delivering some impressive short-term returns, and there is hope for its long term performance too.
The primary catalyst for this optimism is the incorporation of Cardano's Alonzo hard fork. The hard fork introduces smart contracts to Cardano, making it more useful for building decentralized applications (dApps). Alonzo is set to go live on September 12. The Cardano network also secured support from the top exchange Binance on the project.
If Alonzo is successful, Cardano's ADA token will almost likely see a huge surge. The asset recently set a new high, crossing $3 for the first time. It is now trading At $2.47 – down 4.6 percent in the past day and 17.4 percent in the past week. ADA's 20-day and 200-day MAs stand at $2.75 and $1.54 respectively. The asset's RSI 49.20 shows that it is also very much underbought.
4. Solana (SOL)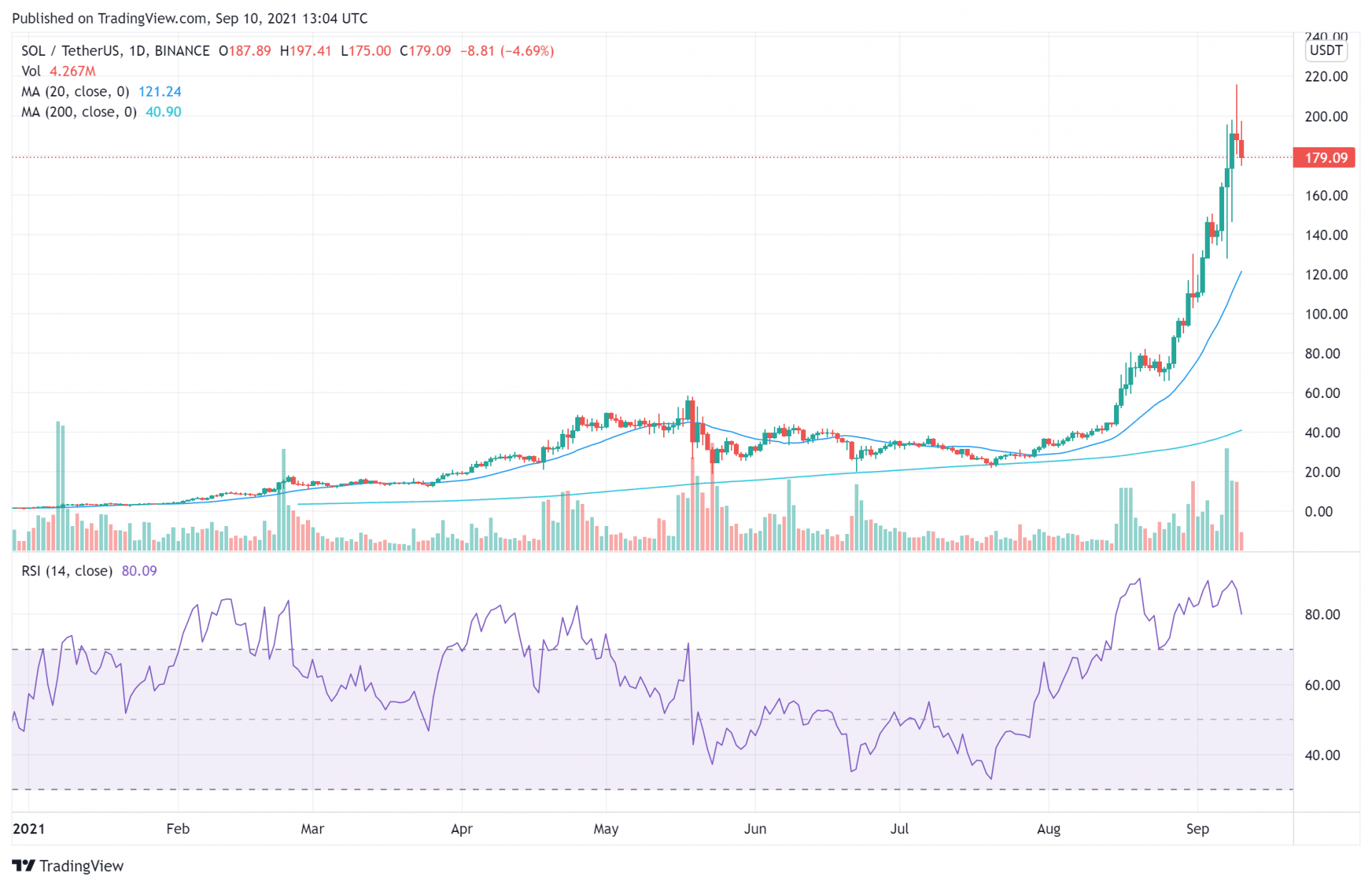 Solana has been one of the standout crypto projects this week and for good reasons. If you're interested in long term returns, Solana is a great choice. The SOL token has been on a roll lately. The coin has performed well in the face of this week's downturn, even crossing $200 for the first time. Also, it has gotten massive institutional attention – evidenced by asset manager Osprey Funds' launch of an SOL-based Trust earlier this week. All of this should spit the asset even higher.
SOL currently trades at $180.54 – down 8.3percent in the past day, but up 29.5 percent in the past week. The asset's 20-day and 200-day MAs stand at $121.72 and $41.74 respectively, and its RSI is at 80.74. That shows consistently high demand, even as other large-cap coins wane.
5. Polkadot (DOT)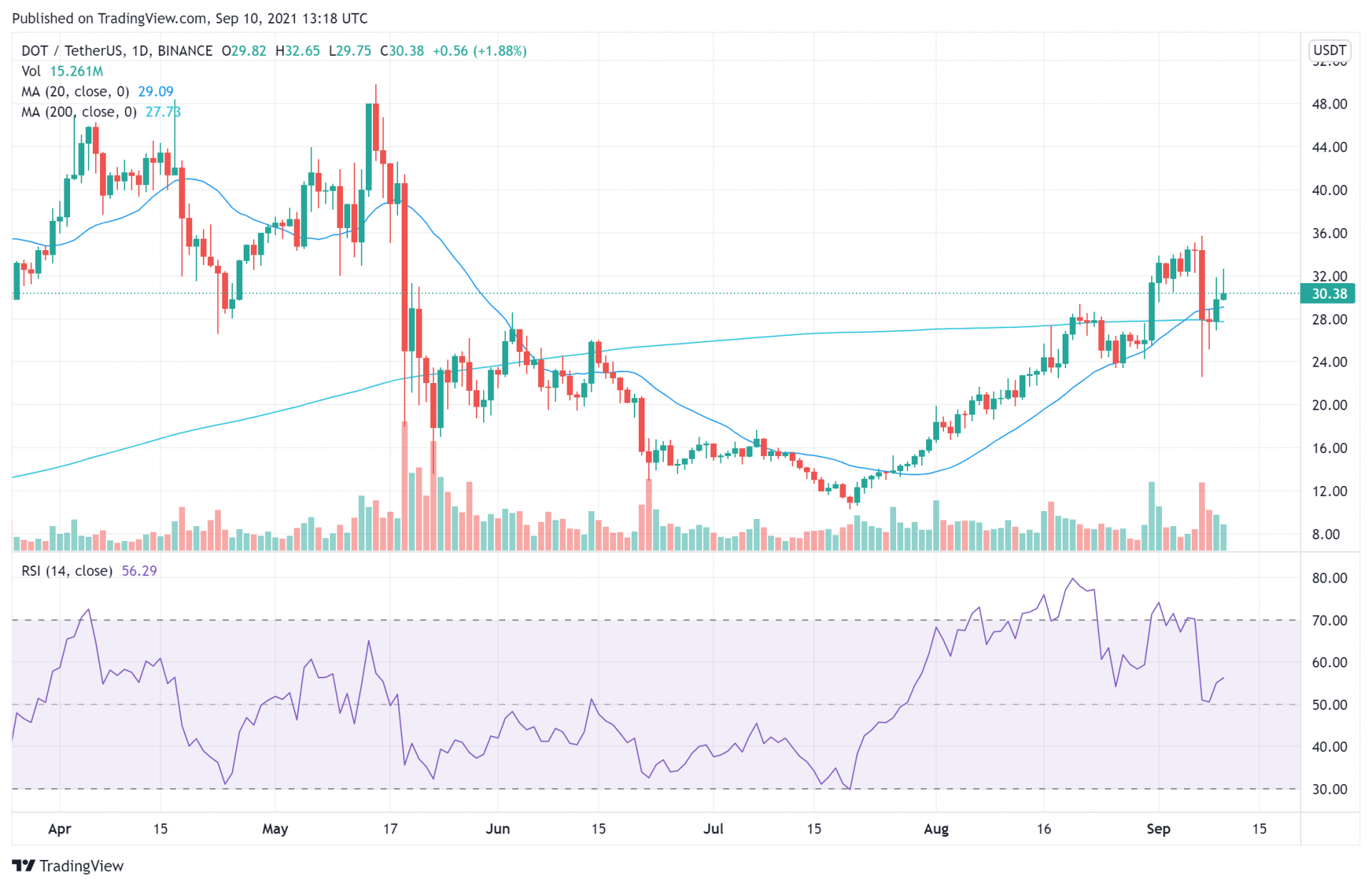 Polkadot has grown in prominence following Etehreum's scalability issues. The chain has become very popular this year, much to the benefit of its native token – DOT.
DOT itself has a high chance of delivering long term returns, the token has a strong use case, and it will only get better as blockchain technology continues to grow. Just this week, SubQuery – a decentralized data aggregator – raised $9 million to build Polkadot's first data aggregation layer. This will strengthen Polkadot's data indexing for Polkadot and its sister chain, Kusama.
DOT is doing pretty well, with its current price of $30.40 being a jump of 3.83 percent in the past day and a loss of 8.43 percent in the past week. The asset's 20-day and 200-day MA stand at$29.25 and $27.70 respectively, and its RSI is 56.37.
Read more: