In August, the crypto market regained some of its massive gains, with the nascent industry touching the $2 trillion mark after its May crash. However, the bears have seized the market again, and the emerging asset class is on a downturn again. Meanwhile, savvy investors know that this is the best time to buy before the bull season sets in. If you are on the hunt for cryptocurrency to buy, we profile five with the best growth potential.
5 Best Cryptocurrency to Buy For Long-Term Returns September 2021 Week 3
1. Bitcoin (BTC)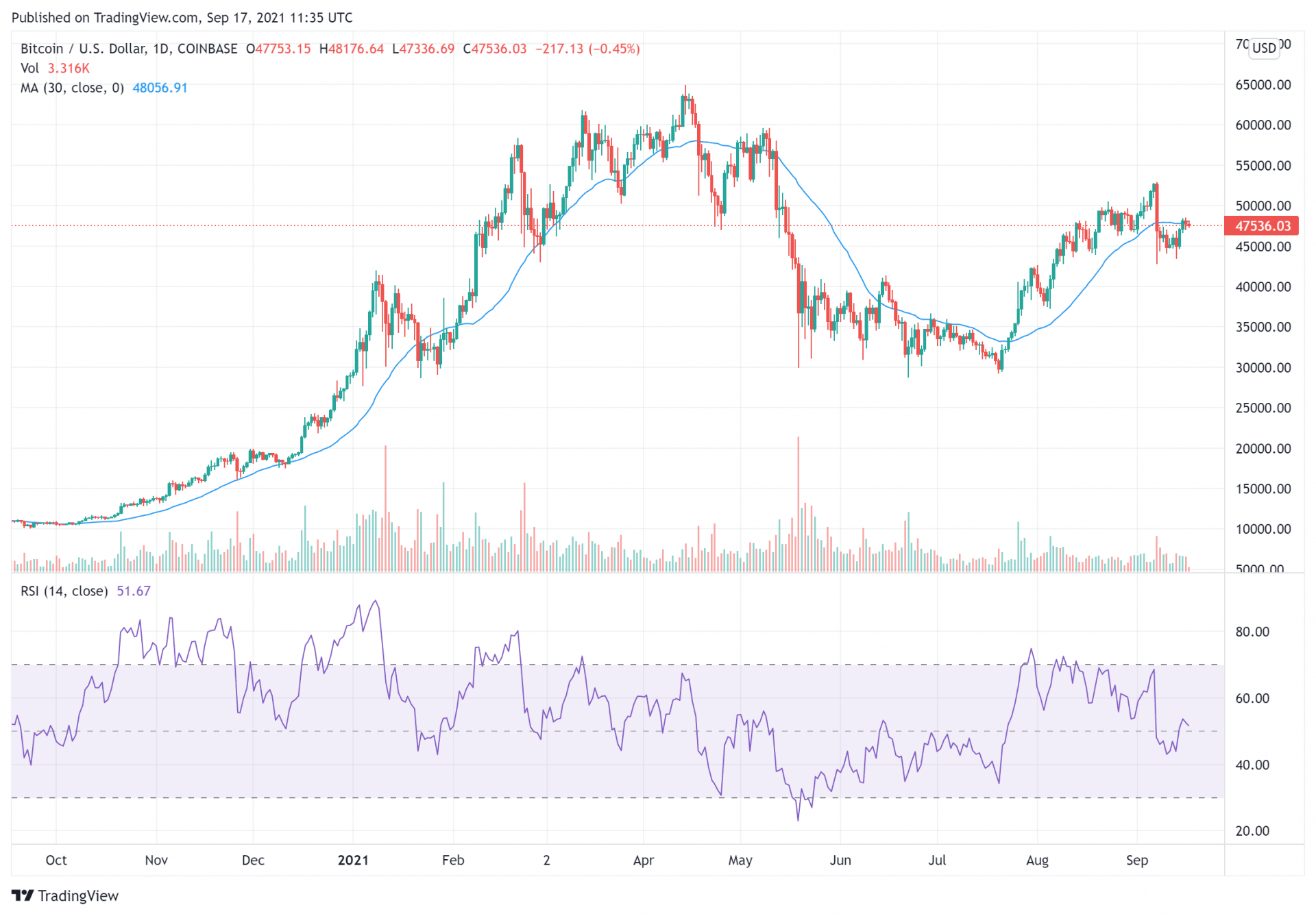 Bitcoin still features prominently in media reports worldwide and is the a top cryptocurrency to buy for long-term returns.
Following growing adoption, the benchmark digital asset is a recognised brand in the sector that easily attracts institutional investment. So far, the deflationary digital coin has grown over 9 million per cent from its opening price of $0.08 and recently hit an outstanding value of $65,000 during the April boom. Despite a lull that followed its value spike, Bitcoin has remained top of the crypto food chain controlling over 40% of the nascent market. It is also the only digital currency with a significant adoption rate.
Latin American nation El Salvador now accepts BTC as a medium of exchange even though the country has entered troubled waters. Despite this, Bitcoin Hodler has seen their investments grow over the years. At press time, the premier digital asset is down 1.6% and is trading at $47,333.69.
The #bitcoin price has gone from $4,389 to $50,827 in the last 4 years. That's a 12x price increase or an 84% compound annual growth rate. pic.twitter.com/D1mhF043Qg

— ChartsBTC (@ChartsBtc) September 5, 2021
Meanwhile, Bitcoin has been up 3.11% in the last week, and more uptrend is anticipated. Bitcoin's technical indicators are also showing bullish tendencies. The virtual token is trading slightly below the 20-day moving average (MA) support price of $47,775. The bullish signal is further confirmed with BTC trading above the 200-day MA support price of $45,988.54. The relative strength index (RSI) is also healthy, and Bitcoin is currently standing at 51.41.
2. Avalanche (AVAX)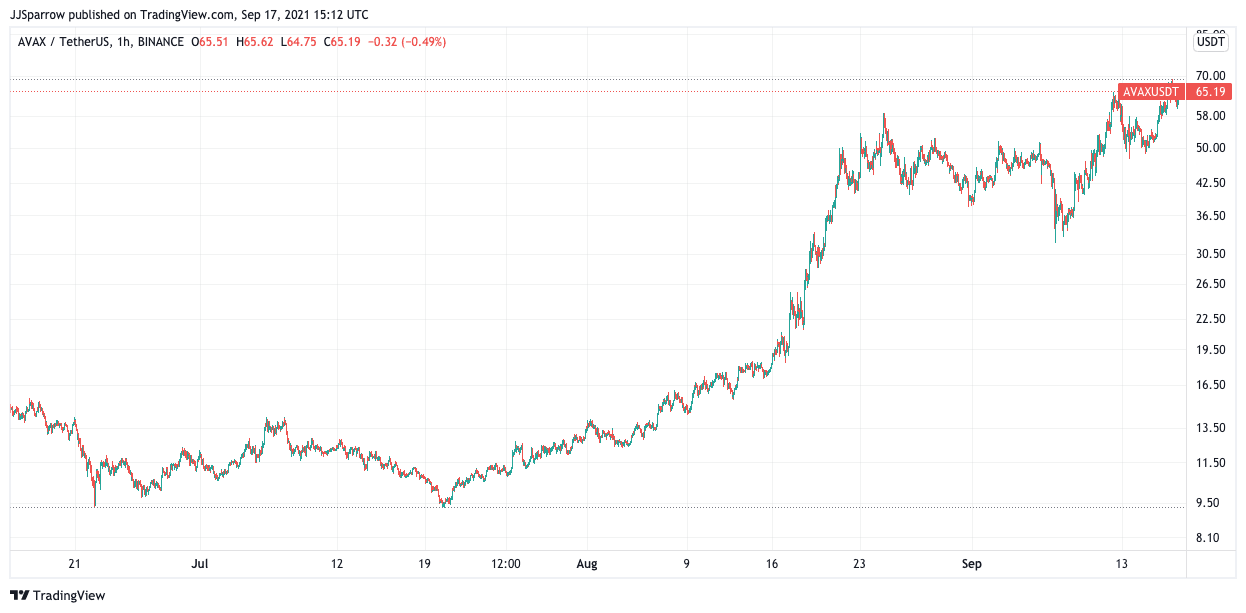 Avalanche is a popular blockchain protocol that seeks to topple Ethereum from the corporate decentralised finance (DeFi) ladder. Sporting a more advanced consensus protocol, the Avalanche blockchain has a higher transaction throughput and is more environmentally friendly. The Ethereum network has been flooded with huge network traffic leading to congestion and high gas fees due to the NFT network. Rival blockchains like Avalanche have keyed in on the older blockchain's troubles and are now a popular destination for NFT and DeFi services. DeFi developers can't get enough of this network, making it a top cryptocurrency to buy.
Excited to bring the @ToppsNFTs Inception #NFT collection to the @Brave community today 🏆

Thanks @BraveSampson for putting this collage together 💪 pic.twitter.com/YiBDZHk2GR

— Avalanche 🔺 (@avalancheavax) September 15, 2021
This low-cost energy-efficient protocol has seen remarkable adoption, which has positively impacted its token price. AVAX is on an uptrend despite the market downturn, and with DeFi set to play a more crucial role in future business, this might just be the beginning yet. AVAX is currently up 12.64% and is trading at $66.71. Seven-day returns stand at 44.63%, and the digital asset is also trading way above the 20-day MA at $49.18, which could find resistance at the $70 range. The 200-day MA is clearly bullish as it stands at $26.22. The virtual asset's RSI is treading dangerously close to the overbought region at 67.33.
3. Polkadot (DOT)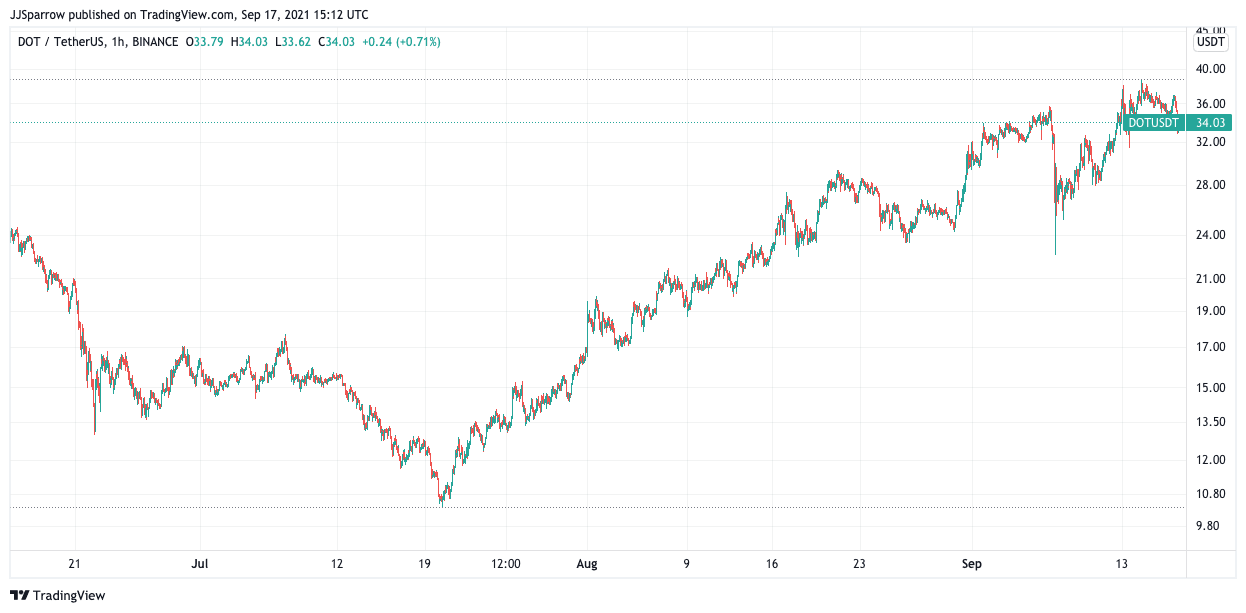 Polkadot is another proven competitor for the DeFi race and another major cryptocurrency to buy. Founded by former co-founder of the Ethereum network, Gavin Wood, Polkadot aims to solve the blockchain trilemma by leveraging sharding technology.

Polkadot is a heterogeneous multi-chain protocol that facilitates cross-swapping of assets and data types between both private and public blockchains. Crypto protocols connect to the protocol's Relay Chain architecture to communicate with one another. According to Wood, Polkadot wants to break the walls that separate the blockchain space.
So far, the company is preparing for its parachain auction, and the DOT token has been one of the best performers in a highly uncertain market. DOT is down 3.14% at press time but is up 11.66% on the one week chart. It currently trades at $33.62. Despite what may seem like a downtrend, DOT is actually rallying as its technicals show. The digital asset is trading well above the 20-day MA price of $32.16. This bullish outlook is confirmed by the longer-term 200-day MA price of $27.87. This metric shows that DOT is breaking even in the coming days.
The RSI stands at a healthy 57.17, which shows that interest in DOT is strong as investors look to pile up on cryptocurrencies.
4. EOS (EOS)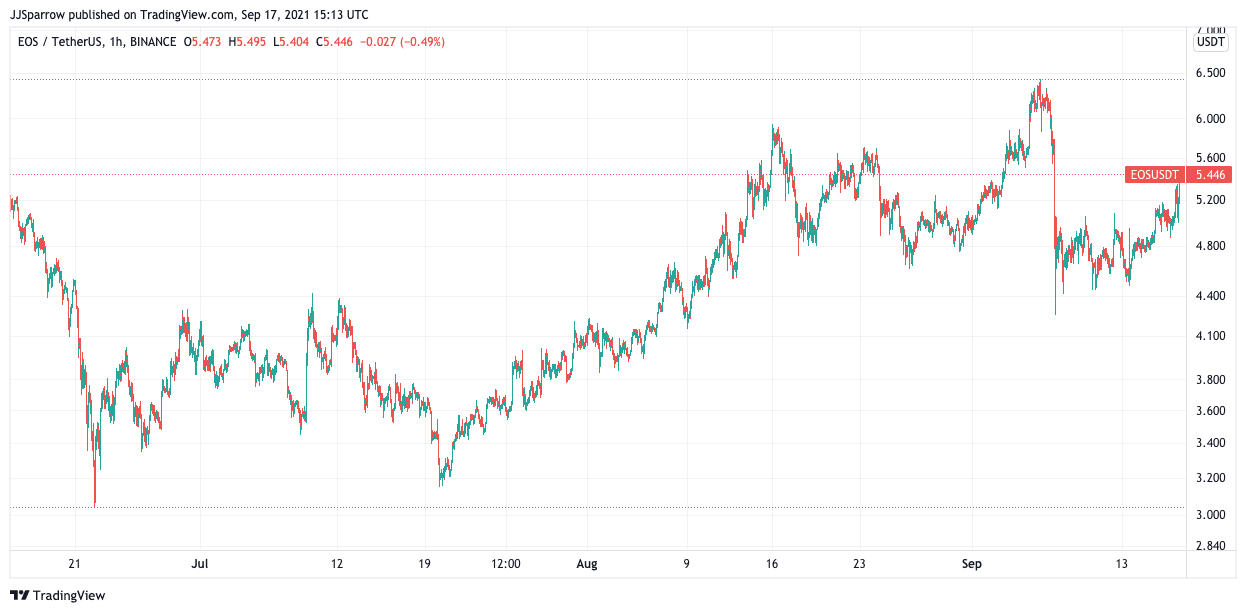 The EOS blockchain is a well-known crypto protocol that has been talked up as an 'Etherum killer.' Built around the ideology of making the platform developer-friendly, the EOS blockchain is one of a group of top-notch protocols looking to revolutionize finance and the world in its entirety. Development teams can build decentralised applications (DApps) across several popular programming languages. The EOS blockchain also offers data hosting and enterprise solution services to businesses.
#EOS will be the next coin to do what #SOL and #ADA did

You can 10x your investment quickly

Why?

* Best tech, low fees, environmentally friendly

* Backed by Google Cloud

* Peter Thiel's crypto exchange is validating on #EOS

* TA says a HUGE pump is coming. Don't miss it pic.twitter.com/nt1wV3HqhZ

— EOS mainnet news (@eosmainnetnews) September 16, 2021
The EOS blockchain is a popular choice due to its low fees, high throughput and ESG-minded approach to changing the financial landscape. Like Ethereum, it operates as a decentralised internet computer and provides tools for deploying and maintaining DApp services. However, the EOS token still operates on the lower rungs of crypto in terms of value. The digital asset is trading at $5.304, up 5.21% in the last 24 hours. EOS shows bullish potential and trades above the 20-day price of $5.156, with a more uptrend expected. The 200-day MA is slightly above at $5.316, which is still bullish. The RSI is also good and stands at 54.37, which shows EOS may close the week at $5.5 minimum.
5. Elrond (EGLD)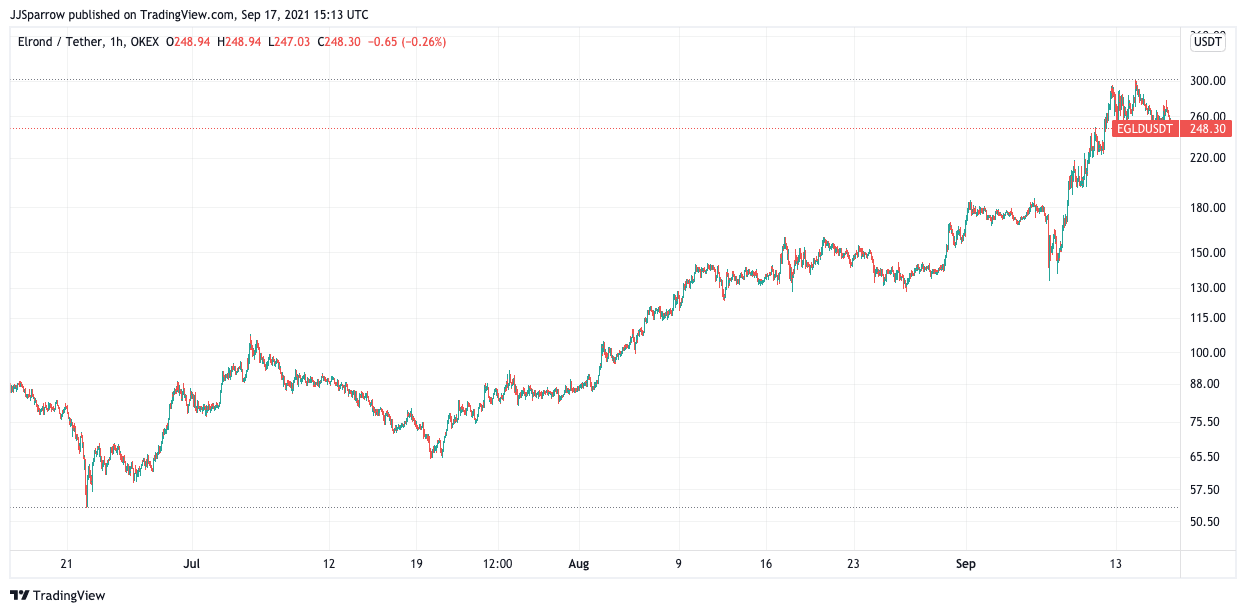 Finally on our list of popular cryptocurrency to buy is Elrond. Elrond aims to enable faster transactions for a negligible amount. The platform has a purported transaction throughput of 15,000 TPS and is out to allow a new internet, which includes fintech, DeFi, and the Internet of Things (IoT). It uses sharding technology like Polkadot and looks to solve the scalability issue.
EGLD powers the Elrond ecosystem and is used to pay for network fees, staking, and rewarding validators for verifying transactions on the network. The EGLD token is making a statement today and is showing bullish tendencies. It is down 0.24% and trades at 250.50. however, EGLD was up 22.48% in the 7 days period, with more uptrend expected. The 20-day MA price of $206.57 shows that EGLD is not only breaking even but making a beeline for more rallies, while the 200-day MA price of $133.65 is a signal of more surge. EGLD is trading close to the overbought region, and its RSI stands at 64.04.
Read more: